Fact Check: Was Tyre Nichols' Girlfriend a Wife of Memphis Cop?
Rumors have spread on social media linking Tyre Nichols—the man who died after he was allegedly beaten by police officers in a routine traffic stop—to the partner of one of the officers charged with his murder.
Police stopped Nichols, 29, in Memphis, Tennessee, on January 7 on suspicion of reckless driving, according to police statements.
The family's attorney, Ben Crump, said in a press conference that Nichols was returning from Shelby Farms, a large parkland east of Memphis, where he had taken photos of the sunset.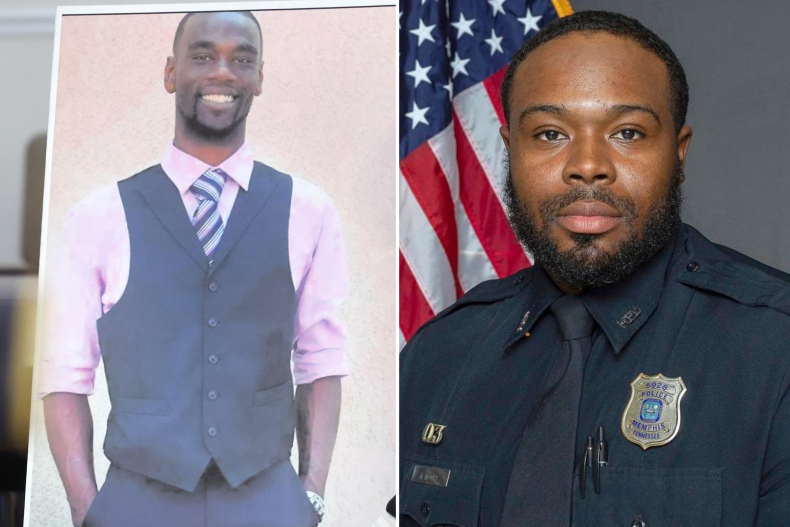 Five officers—Tadarrius Bean, Demetrius Haley, Emmitt Martin III, Desmond Mills Jr. and Justin Smith—are in custody after being charged by the Shelby County District Attorney General Steve Mulroy with murder, as well as aggravated assault, aggravated kidnapping, official misconduct and official oppression.
The Claim
Various claims have been made that Nichols was in a relationship with the former girlfriend of Haley. The girlfriend, these claims say, worked with Nichols at FedEx.
It was claimed that following the alleged beating of Nichols, Haley took images of Nichols to send to his partner as a warning.
Sir Maejor, an actor and model, tweeted on Monday: "I am being told that Tyre Nichols was in a relationship with and worked at a Memphis FedEx with Memphis Police Demetrius Halys's ex-girlfriend & baby mama. After the beating Officer Halys took a pictures of Tyre Nichols' face and sent it to his babymama."
He qualified soon after that tweet, which has been viewed nearly 60,000 times, the assertions were "merely speculations" and the information "has not been confirmed."
Meanwhile, Lisa Campbell, a Washington D.C.-based "life advisor", said she was "being told" that the alleged beating "was personal" and that Nichols was sleeping with Haley's wife, in a post that has been viewed more than 2,000 times. In another post, viewed nearly 1,500 times, she claimed the wife had "reported this to the police."
The Facts
Newsweek could not find evidence to substantiate the claim that Nichols was in a relationship with the former girlfriend or ex-wife of Haley. Newsweek has contacted Crump and the Memphis Police Department for comment.
According to John Best, general manager of school radio and TV for Memphis-Shelby County Schools, per his LinkedIn profile, the parents are aware of the rumor and believe it to not be true.
In a Facebook post, Best said he met the "lovely and beautiful" parents of Nichols, RowVaughn and Rodney Wells, and asked them if they had a message "they wanted me to send to the community".
He claimed Rodney told him "with a stern and firm tone" to "PLEASE SQUASH THAT RUMOR THAT IS NOT TRUE."
In a follow-up post, he added: "We can't bring our brother back. Whatever comes out, comes out, his pops asked me to do something and I did it."
No suspected motivation for the alleged beating of Nichols has yet been given by police, and separate investigations into the matter by the Memphis Police Department, Tennessee Bureau of Investigation, the Department of Justice, and the FBI are ongoing.
The Ruling
Unverified.
Newsweek could not independently verify the claims made about Nichols' alleged relationship. The claimants did not present corroborating evidence.
The claim that Haley's partner worked for FedEx in the Memphis area also remains unevidenced. Moreover, the relationship rumor is disputed by an individual claiming to have spoken to Nichols' parents, who he said denied any such relationship.
Official investigations into the incident are ongoing. The Shelby County District Attorney's Office told Newsweek it is investigating the rumors. An attorney representing Haley could not be found.
Therefore, we rate this claim Unverified.
FACT CHECK BY ALEKS PHILLIPS
Updated, 2/2/23, 09:00 ET: The ruling section was updated with new information from the Shelby County District Attorney's Office.