U.S. Army Veteran and His Wife Rescued From Kyiv After Week-Long Operation
A retired U.S. Army veteran and his wife have been safely evacuated from war-torn Ukraine while their small town outside of Kyiv has been under attack for two weeks.
Non-profit Project DYNAMO has rescued hundreds of civilians from Ukraine since the Russian invasion began last month. The organization said volunteers had been trying for weeks to rescue retired Army Sergeant 1st Class Robert Platt and his wife, who have lived in Ukraine for over a decade. Their earlier attempts were unsuccessful due to Russian troop artillery fire, Military Times reported.
"Having been on the receiving end of Russian artillery, it puts in painful perspective what the Platt family and their neighbors have been enduring over the last several weeks as Russian troops were literally in their backyard," Bryan Stern, a veteran and Project DYNAMO co-founder, said in a statement.
Platt said they were running low on food and water before they were evacuated on March 19. Project DYNAMO told Military Times that "he and his wife had to shelter in place as 'Russian forces looted their neighbors' surrounding homes while their neighborhood was being mercilessly shelled by artillery with Russian tank battalions blocking their roads."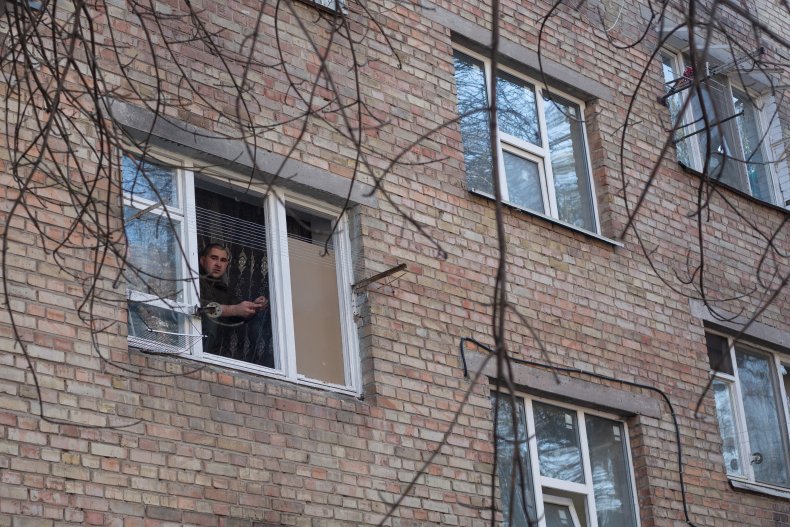 Project DYNAMO eventually got the couple out "underground-railroad-style" with house-to-house movements and handoffs, Stern told the National Review. He said it was a "miracle" they were able to succeed.
"We never lose sight of our number one priority, which is to never leave Americans behind, especially a fellow combat veteran," Stern said in his statement. "So we pressed on, devised a new plan and found a window of opportunity. I am proud to say we were finally able to rescue Platt from Russian-occupied territory and transported him to safety in Poland on Saturday evening."
Platt and his wife will remain nearby in Poland until the war is over. They plan to continue living in Ukraine and start rebuilding.
During his 22 years of military service, Platt went on a tour of Crimea and fell in love with the country. After retiring, he and his wife moved to Ukraine. Platt told Military Times that he's had permanent residency for 14 years.
Project DYNAMO is based in Tampa, Florida, and was created last year to help Americans and U.S. allies out of Afghanistan. On its website, the volunteer-driven organization has a Ukraine evacuation request form for those seeking refuge to fill out.
Newsweek reached out to Project DYNAMO for comment.