Exclusive Poll: One in Six U.S. Voters Never Wear a Mask on Public Transport
One in six U.S. voters never wear a mask while on public transport, according to an exclusive Newsweek poll.
Of the 2,500 registered U.S. voters who took part in the poll conducted by Redfield & Wilton Strategies for Newsweek between September 16-17, eight percent said they never wore a mask covering their mouth and nose on public transport. With just over half (52 percent) saying the question did not apply to them, that means one in six respondents admitted to never wearing a mask while on public transport. 27 percent said they always wore a mask in this situation, five percent answered 'most of the time', a further five percent 'sometimes', and three percent 'rarely'.
The nationally representative survey also revealed that more than half (60 percent) of Americans always wore a mask when leaving the home, with a fifth responding 'most of the time', and 11 percent 'sometimes'. The poll found four percent of participants said they rarely wore a mask when leaving home while another four percent said they never did.
At 74 percent, the vast majority of respondents said they wore a face covering at the grocery store, with nine percent saying 'most of the time', eight percent 'sometimes', and three percent stating either rarely or never.
Respondents were also asked about their mask-wearing habits when outdoors, showing that 36 percent wore one when with a friend outside, 16 percent most of the time, 15 percent sometimes, 14 percent never, and 12 percent rarely. When walking in the park, 28 percent said they always donned a mask, with 12 percent answering either 'most of the time' or 'sometimes'. Just over a fifth (21 percent) never wore a mask while walking in the park, followed by 10 percent who said they rarely did so.
Fewer than half (35 percent) of voters said they always put on a mask when entering a home other than their own, with 15 percent saying never, 14 percent 'sometimes', 13 percent 'most of the time', and 11 percent 'rarely'.
The poll had a margin of error of 1.96 percent, according to Redfield & Wilton Strategies.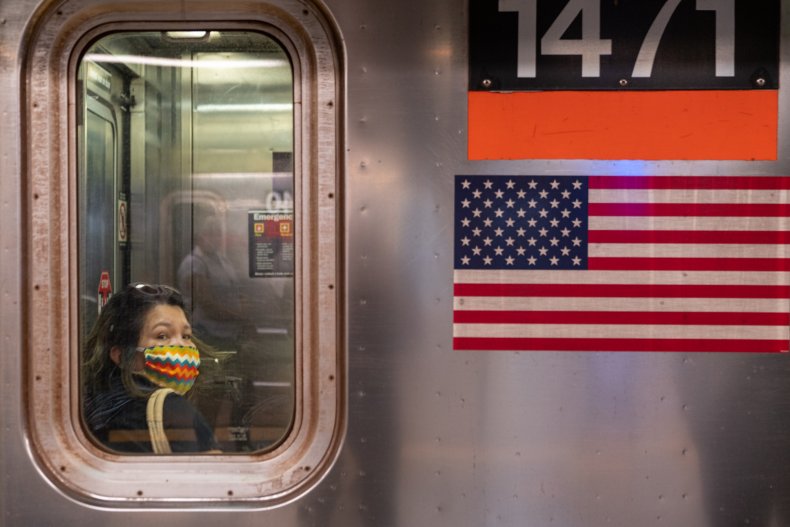 Unlike many other countries, such as the U.K. and South Korea, the U.S. has not nationally mandated mask-wearing amid the COVID-19 pandemic, and president Donald Trump has changed his stance on the coverings over the course of the crisis.
However, dozens of states do have some form of mask requirement, and the U.S. Centers for Disease Control and Prevention (CDC) recommends people wear masks in public settings around people who do not live in the same household, and when it is not possible to stay at least six-feet apart.
Masks are not appropriate for everyone, the CDC states, and should not be worn by children younger than two, people who have breathing problems, or cannot remove the covering without help.
Amid a debate on whether some people with certain health conditions should be exempt from mandates for medical reasons, leading chest medicine organizations including the American Lung Association released a joint statement in July. It stated the organizations were aware of individuals who are unable to tolerate breathing with a facial covering in place, and said their physician must decide whether to give an exemption—weighing the patient's concerns against the societal need to prevent the virus spreading.
More than six months into the COVID-19 pandemic, the U.S. continues to have the highest reported case and death counts, according to Johns Hopkins University. Of the 30 million-plus coronavirus cases reported worldwide, more than 6.6 million have been in the U.S., and 197,000 people have died. The global death toll is creeping towards one million, currently standing at 946,346.
This article has been updated to include the margin of error for the poll.