An Uber driver who was stranded with his teenage passenger on the interstate for more than five hours is receiving praise after his determination got her home safely.
Davante Williams was dropping off his teenage passenger on Tuesday when they were stuck with hundreds of other cars on I-95 in Virginia after icy conditions caused car accidents.
Williams, an Uber driver from Washington, D.C. said he was dropping off the young passenger when the vehicle was stuck in traffic. He told WNYW that the teen was "overwhelmed" and "emotional" but that he felt determined to get her home.
"My passenger, she was so distraught," he told NewsNation. "Apparently, I picked her up from Union Station, and her train was canceled due to derailment. So she only could call for Uber, and I was her driver."
But neither of them realized they would be stuck in gridlock traffic during a winter storm on the way to her house.
Williams provided his passenger with water and snacks that he had in the car but said he began to worry about running out of gas as the hours went by. He also told NewsNation that he spoke to the teenager's parents and assured them he was going to take care of their daughter.
"I had to explain to her parents that, 'Hey, I'm not anyone crazy. I'm just trying to get your daughter somewhere safe,'" he told NewsNation. "I wind up having to put her in a hotel because she wasn't old enough to get a room...So I wanted to make sure she was comfortable. And I didn't want to leave her stranded."
He said that the next morning the young woman's parents called and thanked him for everything he did for their daughter.
Williams' story quickly went viral and on Monday, Uber tweeted about Williams thanking him for his actions. He also said he received a job offer from Ride Alto as a lead driver.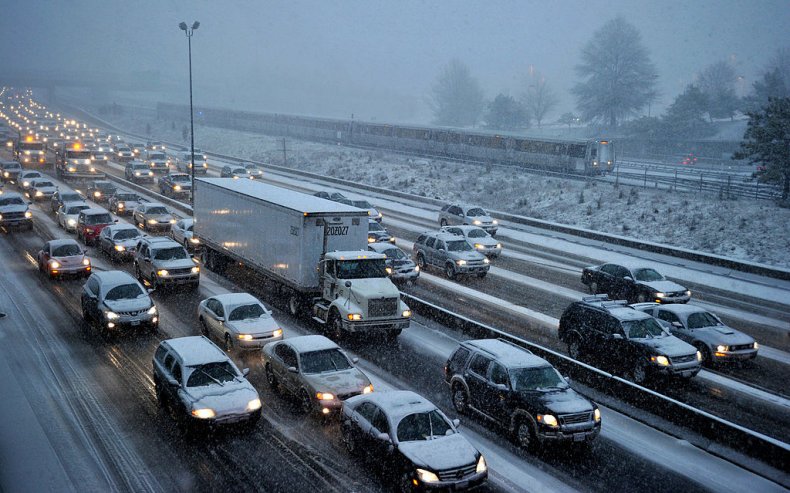 Another Uber customer was refunded $600 after he was stuck inside his Uber during the winter storm on Monday.
In a statement to the Associated Press, Uber explained that the customer, named Andrew Peters, received a full refund on his ride and that they were glad he made it home safely. Uber also said that the refund will not affect the driver's pay.
Peter said he was taking the Uber from the airport home after flying in from San Francisco, California when they got stuck in traffic, WTOP-FM reported. He said when he arrived home after being stranded for about nine hours he paid a $200 bill for the Uber.
But Peters said Uber then charged him an additional $400 to the ride, which he successfully disputed.