Uber Driver Praised for What She Did to Man and His Mistress: 'Savage'
In a now-viral video, a Dallas-based Uber driver said she recently kicked two passengers—a man and his mistress—out of her car.
The video was posted to TikTok under the username UnBreakable (@perfectly_unbroken), and has amassed over 7 million views and more than 45,000 comments, including some from those who've experienced infidelity themselves.
Infidelity in Marriage
Some research suggests that infidelity is common in marriage. Speaking to Brides, psychologist Briony Leo said roughly 15 to 20 percent of marriages "have infidelity," and men tend to cheat more than women.
"Research tells us that on average, around 20 percent of men are unfaithful to their spouse, as compared to 13 percent of women," Leo said. "Of course, the only research available is from self-report surveys, so the number might be somewhat higher—but most surveys and studies support this finding."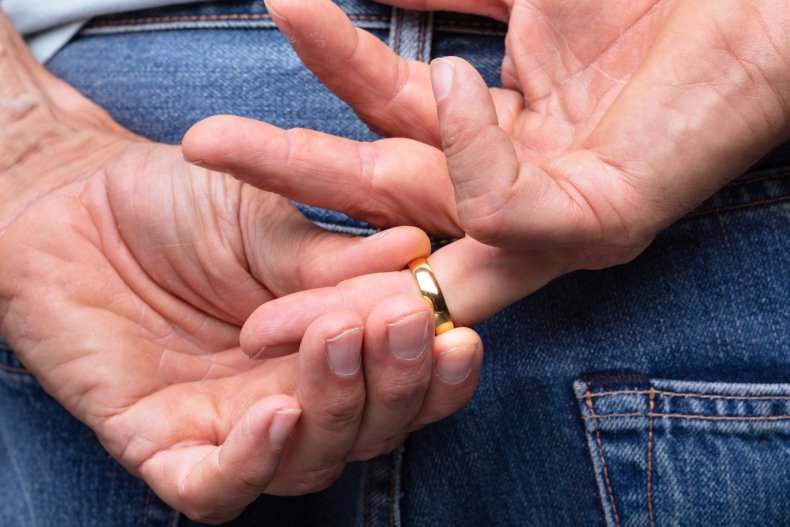 Dating app Relish conducted a relationship survey in 2020 and found that of those who'd experienced infidelity, 23 percent said it was emotional, 21 percent said it was physical, and 55 percent said it was a combination of the two.
The passengers that @perfectly_unbroken picked up were purportedly having a full-blown affair—something that the Uber driver refused to support.
'Listen Up, All You Cheaters'
"Listen up, all you cheaters," @perfectly_unbroken said at the beginning of her video. "If you live in the Dallas-Fort Worth area, and you ever need a Lyft or an Uber, and you get in my car, be forewarned—if you ever pull [the] kind of s**t this guy pulled today, you've got the same thing coming."
The woman said the man in question has a wife and kids, and she knows this because they walked him to her car. After saying goodbye to his family, the man got into the car and added a stop to his trip. When they arrived at the stop, a woman got into the car and said: "I'm so glad you finally got away from your damn wife."
The two kissed, and then the woman asked: "I'm tired of you putting me off—when are you going to leave?"
The man responded: "I [have] some things I [need] to take care of, so let's talk about this later."
Infuriated, @perfectly_unbroken decided not to take the couple to their destination. Instead, she turned around and dropped them off back at his house.
"I drove up and made [them] get out of my car, at his home, where his wife and his kids were," the Uber driver said in her video. "Both of them had their baggage, and both of them were standing in his front yard when I left. You [should] be ashamed of yourself. And I hope you see this..."
Viewers React
Viewers applauded @perfectly_unbroken, and those who've experienced infidelity thanked her as well.
"Yes! Thank you from all of us who have had to deal with cheating, lying husbands," denaodell24 wrote.
"You are awesome, girl!!! [We] need more people like you in this world! Thank you from all the wives out there that [are] being cheated on!!!!" Denise Cook said.
"Good on ya! Wear that cape, girl. Today, you're a hero," AngstRiddenMom said.
"SAVAGE!!! And rightfully so!!" Michelle commented.
Beth Wilkas Feraco added: "YOU ARE A QUEEN! Yes!! Good for you!"
Newsweek has reached out to @perfectly_unbroken for comment.
More Viral Posts Involving Infidelity
On Tuesday, a mother turned to Mumsnet for guidance after her 16-year-old daughter revealed that her husband of 20 years was having an affair. Also on Tuesday, a woman said her husband's "affair" turned out to be a lie crafted by her sister-in-law in a plot to break up the couple.
And last week, Redditors backed a man who told his younger siblings about their mom's secret affair.