Uber Passenger Alleges That Driver Left Her Alone Barefoot on Highway
A female Uber passenger claimed that her driver led her into a precarious and potentially dangerous situation, eventually leading to her walking home barefoot on a highway.
The rider, Catherine, sent out a tweet from her handle @lafabulous_ on Saturday that has been liked over 119,000 times. She said that during a ride on Friday night, her driver "got off an exit early" but when she told him it was the wrong place to get off, "he continued to drive into the park."
"He started to slow down and park behind another white car with tinted windows and it's [sic] engine on," she tweeted. "I immediately jumped out the car and as soon as I did the car in front sped off and my Uber car followed behind it. I literally had to walk barefoot on the highway until I got home safe."
The woman claimed that both Uber and local police neglected to help her, the latter of which allegedly said they couldn't provide aid because she wasn't harmed. The user never said where this incident occurred.
"Now that (driver) is on the loose giving other people rides putting other people in danger," she added.
The rider never shared where the incident took place, although Uber told Newsweek that the incident occurred in New York City and that the situation "has been resolved."
"What the rider describes is alarming," the spokesperson said. "We deactivated the driver, and we stand ready to assist law enforcement with their investigation."
They added that the company takes such reports "extremely seriously" and that the company has a team of safety agents that investigates these types of reports to take appropriate action. It has reached out to the NYPD in this instance to aid in any potential investigation.
The woman tweeted that Uber would not provide a license plate for the driver. However, as others noted in their replies, when an individual orders an Uber, they are usually provided with various information including the driver's name, car type, license plate number and estimated time of arrival. Riders are notified when drivers pull up.
"When you request a ride, your app sends your request to nearby drivers," Uber's website states. "After you're matched with a driver, your app shares info about the vehicle and driver headed to your pickup location."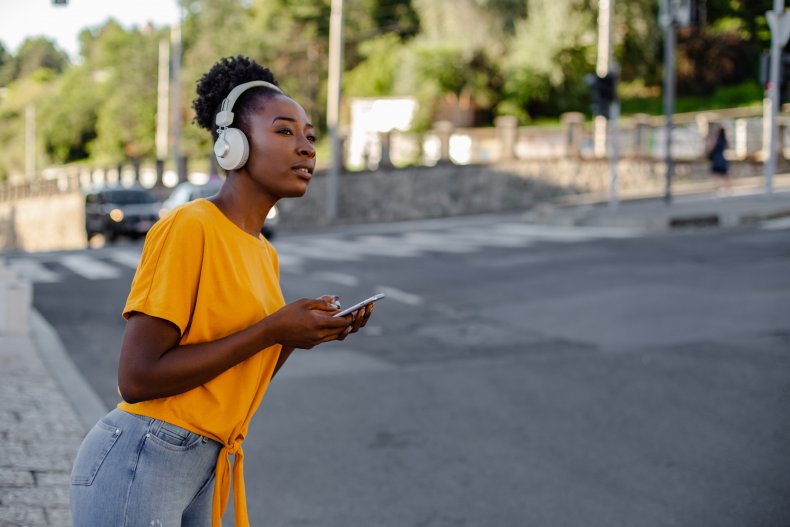 The Uber spokesperson said that driver information is always available before or during trips, but not after trips due to privacy protections. Law enforcement is privy to information at all times if police inquire "through valid legal process."
Uber encourages riders to check the vehicle plate number, make and model before getting into a car and starting their trip, the spokesperson added. That includes taking photos of license plates or screenshots of trip information.
While riders are not required to sit in the backseat, the company requests that they only sit in the front passenger seat if it's required due to group size.
Uber also says that all drivers, prior to hitting the road and being eligible to pick up passengers, "must undergo a multi-step safety screen" that involves delving into past driving violations, impaired driving, violent crime, etc. The company also claims that they re-screen drivers annually "and uses technology to look for issues in between."
"We use technology that proactively obtains criminal offenses from a number of data sources," the company's website states. "If an offense involving an active driver is identified, we'll review these notifications to determine whether they're still eligible to drive with Uber."
Different ways to stay safe
In December Market Watch reported that 19 alleged scam artists "stole thousands of identities to create fraudulent rideshare and food delivery drivers' accounts" across the United States. The accounts were then reportedly leased to drivers for both Uber and Lyft who never passed any background checks.
It was a federal investigation that dated back to 2019, involving identities procured from either the dark web or stolen straight from customers during delivery scam operations.
One Twitter user shared a story in response to the original tweet, saying that her driver also took the wrong exit on the way to Walmart at about 9 p.m. at night. When her driver reportedly turned down a secluded street, she pulled out her weapon and threatened the driver not to endanger her or his life was at risk.
Another Twitter user suggested for rideshare users to download an app called Noonlight. Their website says that when people feel unsafe, they open the app and hold a button. When they feel safe, they release a button and enter a four-digit pin.
The catch is that if the button is released but no pin is entered, the app will notify the police immediately with the user's exact location and emergency.
In March a man posing as an Uber driver allegedly raped a woman who he picked up from Miami International Airport.
Last month, an Uber passenger allegedly shot an Uber driver through a car seat in Philadelphia in what police suspected was an attempted carjacking.
Newsweek reached out to the Twitter user for comment.