A former lecturer at UCLA has reportedly made threats to the faculty and students in a video referencing a mass shooting, and an 800-page manifesto making "specific threats."
Matthew Harris made the threats toward the philosophy department on Monday evening, according to emails first obtained by The Los Angeles Times and shared on social media.
On a YouTube channel linked to the postdoctoral fellow, a video titled "UCLA PHILOSOPHY (MASS SHOOTING)" was posted on Sunday; it contained footage of the 2017 mass shooting at a music festival in Las Vegas, the Times reported..
The video, since removed, also had clips of 2003 film Zero Day, which is loosely based on the Columbine High School massacre.
Harris' whereabouts appeared to be unknown on Tuesday morning, with UCLA tweeting that there is no "specific information that this individual is in California."
An email, purportedly sent by a philosophy instructor to students, was posted on Reddit on Monday evening.
The message, seen by Newsweek, warned students and faculty about the researcher.
The email said Harris had shown "highly erratic behavior," and noted that "threatening communications and online activity caused great distress last spring."
Several in-person classes at the university were canceled on Tuesday. UCLA said on Twitter that classes would be held remotely, "out of an abundance of caution."
Students were advised to "avoid being anywhere near Dodd Hall or the philosophy department until further notice," said the email.
Campus police, UCPD, are investigating, student newspaper Daily Bruin reports.
Harris had been placed on leave last spring while UCLA investigated allegations he sent a video containing pornographic content to a student, the publication added.
The UCLA said in a statement that university police were aware of "a concerning email and posting sent to some members of the UCLA community."
It added that campus police were "actively engaged with out-of-state law enforcement and federal agencies," but provided no details on who was being investigated.
In a statement to Newsweek on Tuesday, a UCLA spokesperson said: "Out-of-state law enforcement has confirmed that the person who made threats to UCLA is under observation and not in California. Classes will remain remote today."
Some students have criticized university officials for having not raised the alarm sooner.
One student tweets: "I had class at Dodd hall today. Do you know how scared I was when I realized that specific building was/is a target? Thank you for taking your time."
Harris joined as a postdoctoral fellow in philosophy after completing a dissertation at Duke University, titled "Continents in Cognition," according to UCLA's website. His work was on the philosophy of race, personal identity, and related issues of mind.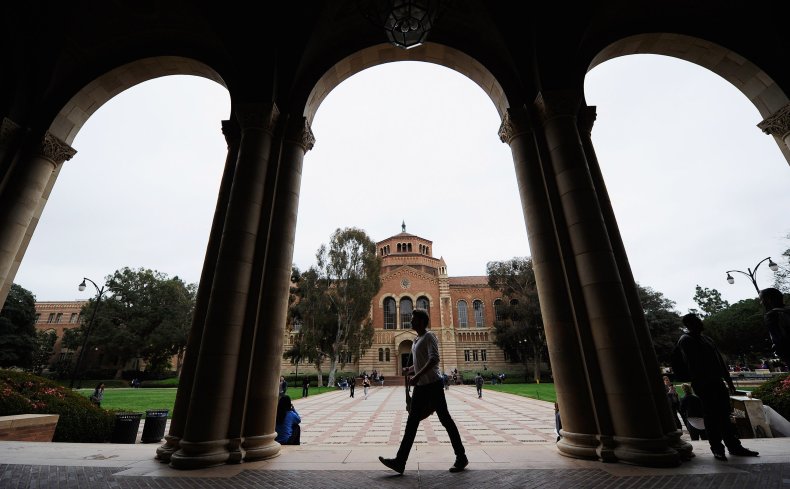 Update 2/1/22 11:30 a.m. ET: This article has been updated with a UCLA statement.