UCLA Student Brianna Kupfer Texted Friend About Suspect Before Fatal Stabbing
The man accused of killing Brianna Kupfer in a luxury furniture store last week gave the UCLA student a bad feeling when he entered the store, according to police.
The Los Angeles Police Department (LAPD) confirmed on Wednesday that the suspect, identified as 31-year-old Shawn Laval Smith, was taken into custody in Pasadena.
Kupfer was working alone at the Croft House store in Los Angeles' Hancock Park neighborhood when Smith allegedly entered the shop, according to police.
"She sent a text to a friend saying there was someone inside the location that gave her a bad vibe. Regrettably, that person did not see the text immediately," LAPD Lieutenant John Radtke said during a press conference.
About 15 minutes after Kupfer sent the text, a customer entered Croft House and discovered her lifeless body, which was covered in blood, Radtke said. The customer contacted police, but law enforcement and paramedics arriving at the scene determined that she was dead.
The suspect took off on foot and was seen in video footage walking behind the building in an alley moments after the fatal stabbing, Newsweek previously reported. He was dressed completely in black, including black shoes, black pants and a black sweatshirt with the hood up around his head.
The man was also wearing a white N-95 mask and carrying a black backpack.
Police identified the man in the video as Smith on Tuesday, and announced a $250,000 reward at the press conference for anyone who could provide information about Kupfer's death.
Another video released by the LAPD allegedly showed Smith walking into a 7-Eleven store to buy a vape pen about 30 minutes after the killing.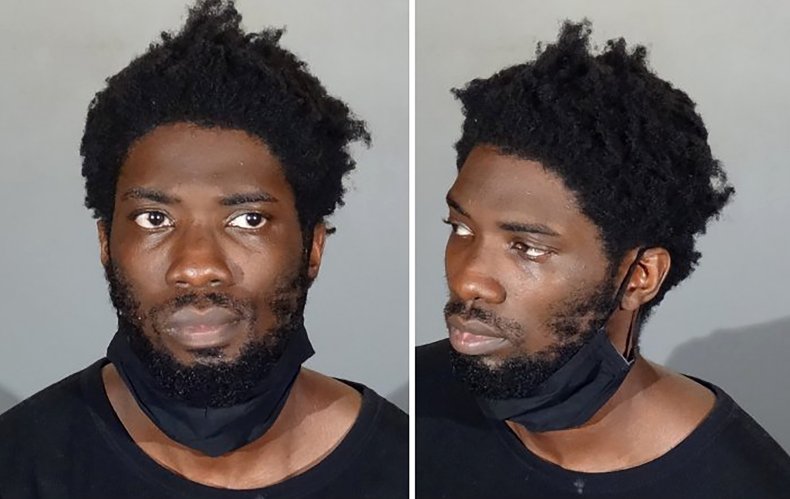 The LAPD announced on Wednesday that Smith had been located and detained by Pasadena police in the area of Fair Oaks and Colorado Boulevard.
"We would like to thank the public, the media and our partners at Pasadena PD for their support in apprehending the suspect," the department said in a tweet.
Detectives concluded that Kupfer and the suspect did not previously know each other, according to an LAPD press release.
The release described the suspect as a tall and thin Black male, and said that he was believed to be homeless, citing "evidence discovered by detectives."
Kupfer graduated from the University of Miami in 2019 and studied abroad at the University of Sydney in 2018, according to her LinkedIn profile. She had been pursuing her next degree at UCLA and working as a design consultant at Croft House.
Her father, Todd Kupfer, described her to Fox News as a "kind soul" who "cared about people." He also decried the crime levels in Los Angeles, and the political leaders, he said, haven't done enough to curb them.
"Crime is truly spiking, and we have a lot of criminals on the streets that shouldn't be out," Kupfer said.