UFO Organization Leader Arrested for Allegedly Soliciting Sex From a Detective Posing as Child
On July 3, Mutual UFO Network (MUFON) Executive Director Jan Harzan was arrested in Newport Beach, California, for allegedly soliciting sexual activity from a detective who was posing online as a 13-year-old girl. In response, the UFO organization announced Harzan would be "permanently removed" from his leadership position.
Harzan's arrest was publicized Tuesday on the Facebook page of the Huntington Beach Police Department. In its post, the HBPD announced the recent arrests of Harzan and another man, both for allegedly "targeting minor females online."
Harzan was arrested as part of ongoing enforcement efforts described to Newsweek by a HBPD public information officer.
"The suspect solicited the minor to meet for the purpose of engaging in sexual activity, and when the suspect agreed to meet the supposed minor, detectives were there to take him into custody," the HBPD said in the Facebook post.
In response to questions from Newsweek regarding the status of Harzan's role within MUFON, the organization's Board of Directors released a statement announcing that, "effective immediately," Harzan "will no longer serve any role in the organization."
"In light of recent events, Jan Harzan has been permanently removed as the Executive Director of the Mutual UFO Network (MUFON)," the statement said. "MUFON remains committed to its core mission: the study of UFOs for the benefit of humanity. This mission is greater than any one person or member of MUFON and supersedes all other considerations. We will continue to move forward and focus on our mission statement."
Newsweek also reached out to Harzan, via a previously used MUFON email address, but did not hear back by time of publication and cannot confirm whether Harzan continues to have access to the address.
Founded in 1969 as the Midwest UFO Network, after a schism with the defunct Aerial Phenomena Research Organization, MUFON now claims around 4,000 members and 500 investigators, which it employs to record and catalog sightings of anomalous phenomena from around the world, including chapters in every U.S. state.
Though often criticized for pseudoscientific practices and conspiracy theorizing, the organization continues to be one of the primary public faces in the search for alien life and the investigation of Unidentified Aerial Phenomena (or UAP, a term now often preferred over Unidentified Flying Object, or UFO). MUFON has been cited in both ostensibly non-fiction series, like the History Channel's UFO Hunters and Ancient Aliens, and was repeatedly mentioned on The X-Files.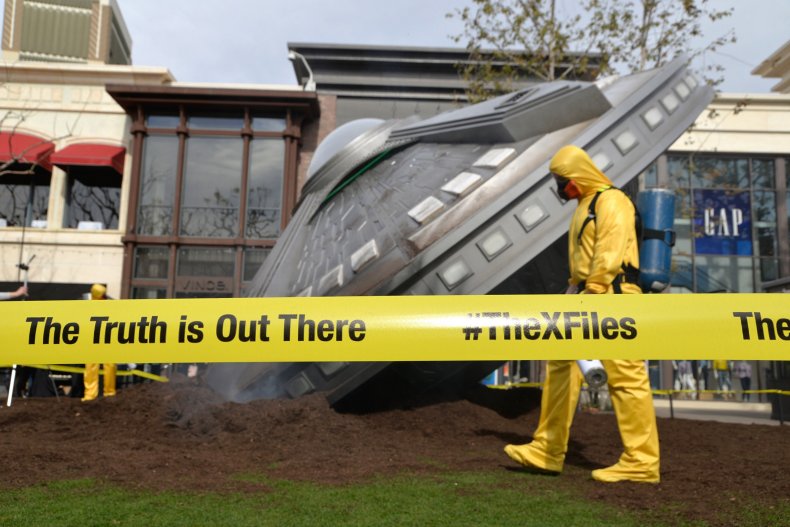 Harzan, who previously worked in an executive management capacity for IBM, became the UFO organization's Executive Director in 2013. In his bio—since removed from the MUFON home page—Harzan describes seeing a UFO as a child, which came within 30 feet before "shooting off over the horizon" "with no visible means of propulsion other than making a humming noise." During his tenure, Harzan oversaw the creation of an online Case Management System to improve UFO reporting and data archiving.
In 2018, Newsweek reported on racist, antisemitic and other extreme views propagated by MUFON officials and high-level donors to the organization. In the course of that reporting, Harzan shared with Newsweek his hope that UFO research could be put toward "improving life on our planet" and his belief that coming disclosures regarding extraterrestrials and classified technologies might lead to Star Trek-esque space travel in the coming decades.
"Some day we will be out among the stars ourselves," Harzan told Newsweek at the time. "Now, we become the aliens."
Harzan will be replaced as Executive Director by David MacDonald, the owner of a Ohio flight school and member of the MUFON Board of Directors.