Uganda 2016: Museveni Spends Big on Campaign Trail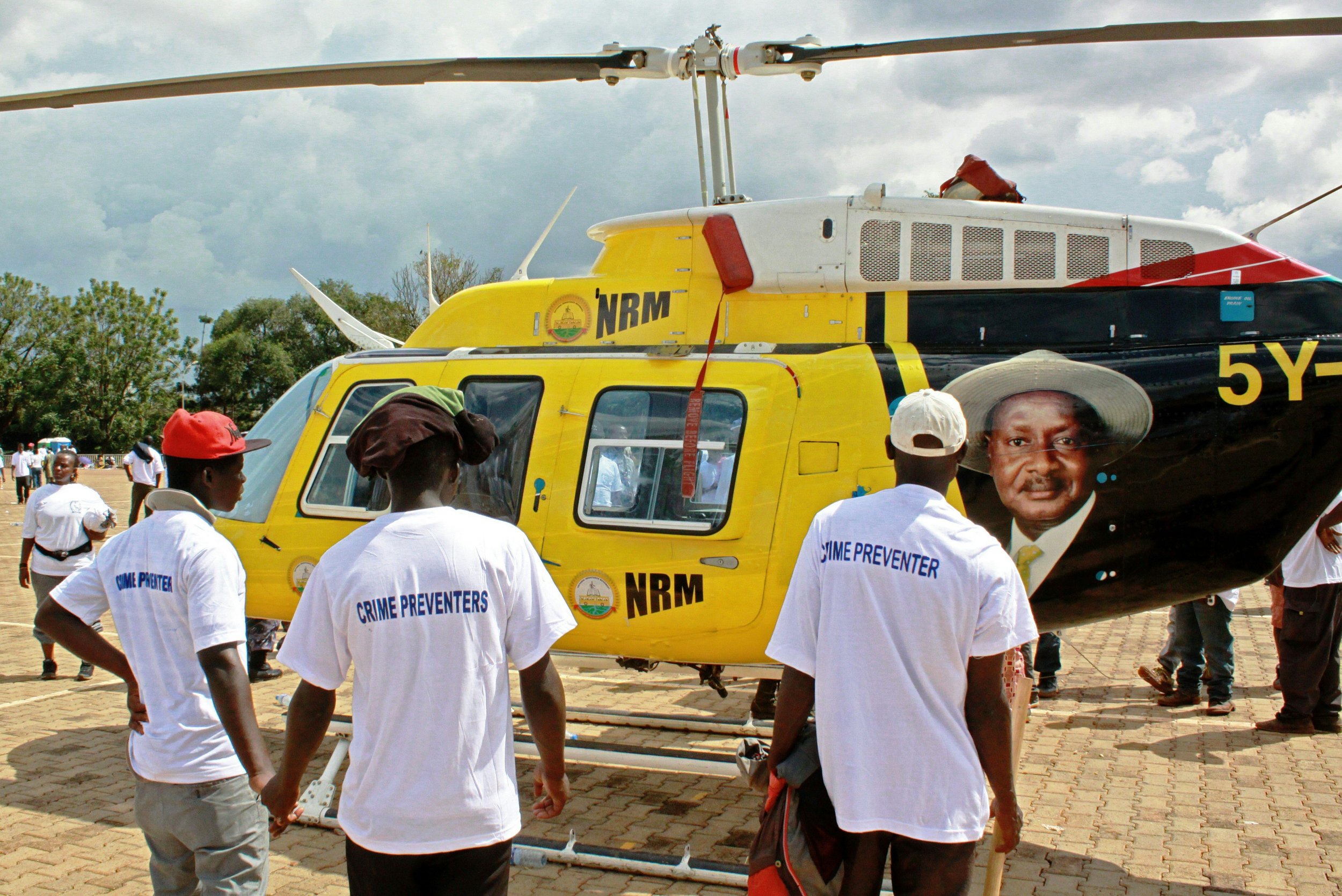 Ugandan President Yoweri Museveni spent almost 12 times more than his two closest opponents combined on his presidential campaign over the past two months, according to a report.
Ugandans go to the polls in presidential and parliamentary elections on February 18. Museveni and his National Resistance Movement have been in power for 30 years and have been accused of intimidating opposition activists in the run-up to the election.
The report, published on Thursday, records the minimum expenditure by parties and candidates during the election campaign. It is produced by the Alliance for Campaign Finance Monitoring (ACFIM), a Ugandan civil society coalition that includes anti-corruption watchdog Transparency International's Uganda branch.
Across 16 Ugandan districts in November and December, Museveni spent in excess of 27 billion Ugandan shillings ($7.8 million). Amama Mbabazi, Museveni's former prime minister and now an independent candidate running under the banner of Go Forward, spent 1.3 billion Ugandan shillings ($375,000), while veteran opposition candidate Kizza Besigye of the Forum for Democratic Change (FDC) spent 977 million Ugandan shillings ($282,000).
Museveni's NRM was also way out in front in terms of total party expenditure. The report stated that the NRM spent 121 billion Ugandan shillings ($35 million) on the campaign trail between November and December—equivalent to 87.9 percent of campaign expenditure by all parties. Besigye's FDC spent three billion Ugandan shillings ($865,000), while Mbabazi's Go Forward spent 1.5 billion Ugandan shillings ($432,000).
"In a situation where you have one candidate that is in a league of his own in terms of campaign spending and the others are trailing far behind, you cannot even start thinking about fairness in any election," Henry Muguzi, national coordinator of ACFIM, tells Newsweek, "We think this may undermine the integrity and also the fairness of the elections because the ground is clearly not level."
Muguzi pointed to Museveni's expenditure on media and journalists as an example of excess. According to the report, Museveni has a team of 20 local journalists following him on the campaign trail, each receiving a subsidy of 150,000 Ugandan shillings ($43) per day. Journalists following Mbabazi receive a minimum of 40,000 Ugandan shillings ($12) and those covering Besigye receive much less or nothing at all. The report did not specify how many journalists follow the two challengers on the campaign trail.
In November 2015, the Ugandan parliament controversially passed a motion to amend the Public Finance Management Bill, which allowed the government to secure loans from the central bank without parliamentary approval. According to Muguzi, the bill means that the NRM could well be raiding public finances to pay in part for their campaign expenditure.
Speaking to Ugandan newspaper Daily Monitor, Ofwono Opondo, a NRM spokesman, said that the party's campaign was financed by money received from the electoral commission and support from volunteers. Opondo also justified the party's expenditure based on the scale of their events. "No other party or organization has held activities such as NRM has done," he said. Opondo was not immediately available to comment further on the report.
Museveni is expected to win February's election, although recent opinion polls show he may be forced to sit through a second round of voting. A poll by Kampala-based Research World International found on Wednesday that Museveni received 51 percent support, ahead of Besigye on 32 percent and Mbabazi on 12 percent. In Uganda, a candidate is required to secure at least 50 percent of the vote in order to win a first-round election.