U.K. 'Considering Closing Border Completely' a Year Since Pandemic Began
Britain has not yet entirely shut its borders to new arrivals to stop the spread of COVID-19 but the option isn't being ruled out, a U.K. government minister has said.
It has been speculated that the country could become completely shut off after tightening requirements for travelers to stop the spread of the virus into the U.K., which already has one of the worst death tolls in the world. More than 94,000 people have so far died within 28 days of a positive test.
Environment Minister George Eustice said the government has "considered" full closure of U.K. borders, but it hasn't happened yet, despite calls for stricter measures at the country's major arrival points.
"We always keep these things under review and it's been considered," Eustice told Sky News. "There is concern at the moment about the number of mutant strains there are, concern that there's a risk that one day there will be a strain that might be able to evade the vaccine." He later toned down his position, telling LBC radio: "We don't think it's right at the moment to close it down altogether and close the border." Britain's current lockdowns ban international travel while new rules introduced on Monday require a negative pre-departure test for arrivals, as well as a period of 10-days self-isolation upon arrival into the country.
The decision came after a number of new strains were detected in the U.K., including one that started in Brazil and another first detected in South Africa. Ministers have imposed a ban on people coming into England if they have traveled from or through any southern African country in the last 10 days, including Namibia, Zimbabwe, Botswana, Eswatini, Zambia, Malawi, Lesotho, Mozambique and Angola, as well as Seychelles and Mauritius.
A travel ban also applies to those on the continent of South America, as well as Portugal. Eustice said putting a travel ban on every country outside the U.K. is something that will be kept "under review" by the government. "We can't rule anything out but for now [the new restrictions] we think are sufficient," he said.
The second wave of the pandemic is raging across the U.K. after a new rapid variant of the disease was detected in the south of England just before Christmas. The variant, known as B.1.1.7., has an unusually high number of mutations and is associated with more rapid transmission of the virus. It is also believed to be 30 percent more deadly than the original strain.
It had led to concerns about the effectiveness of COVID vaccines against it, but a study by researchers at Pfizer-BioNTech - which has yet to be peer-reviewed - found its vaccine was still effective in protecting against the U.K. variant.
Research on the South African variant found less positive results. Scientists at the National Institute for Communicable Diseases in Johannesburg found mutations of the new B1351 variant make it substantially resistant to antibodies in blood plasma donated by COVID patients. This suggests it may be more likely to reinfect people who have already had COVID, and that vaccines may be less effective, the research found. It is also yet to be peer-reviewed.
Experts say the new variants and concerns around vaccine effectiveness are the reasons why closing U.K. borders to stop the COVID spread is only now being spoken about. Mark Woolhouse, professor of infectious disease epidemiology at the University of Edinburgh, previously told Newsweek that the best time to close borders, if at all, is at the very start of a pandemic.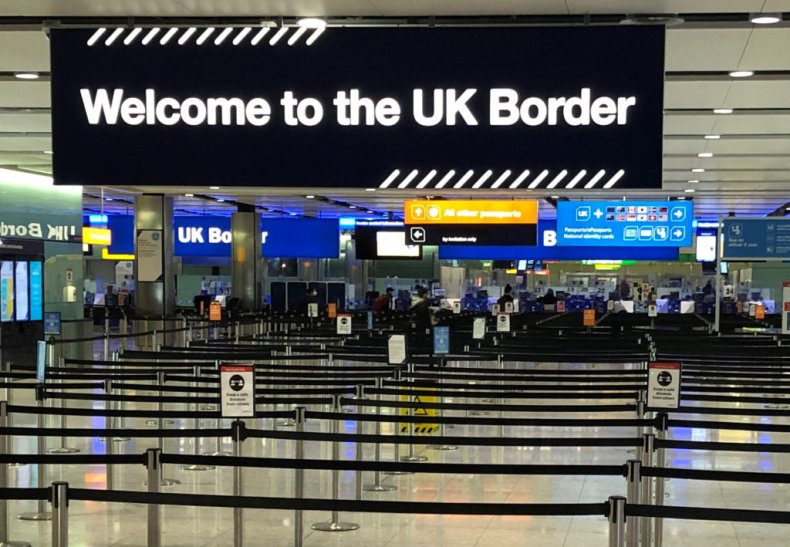 Does this mean the government is already too late? Or will it help at all with new variants? Another epidemiologist at Edinburgh University, Professor Rowland Kao, argues there may be some benefit.
"Border control does become more important with regard to new variants," he said. "Even if it has a chance of coming in, the chance becomes lower, so the likelihood it comes later is greater, which gives us more time to develop new variants of the vaccines to address these variants of the disease," he said.
It comes after U.K. Home Secretary Priti Patel admitted in an audio recording this week that she thought the U.K. should have closed its borders last March. The minister's comments, made to the Conservative Friends of India group and published by U.K. political website Guido Fawkes, are in contrast to public statements she has made in support of the government's border handling. Patel is yet to comment on the recording.
New Zealand, which has faced minimal disruption from COVID, was able to close its border at the beginning of the pandemic due to its remote position in the world and its ability to trade locally - which has never been an option for the U.K.
The Home Office has repeatedly maintained that all government decisions on border controls have been "been guided by the science, with appropriate measures introduced at the right time" to keep the U.K. safe. A spokesperson said there are now "strong measures" at the U.K.'s entry points.