Obama: U.S. Is 'Very Seriously' Considering Possibility Russian Plane Was Downed by Bomb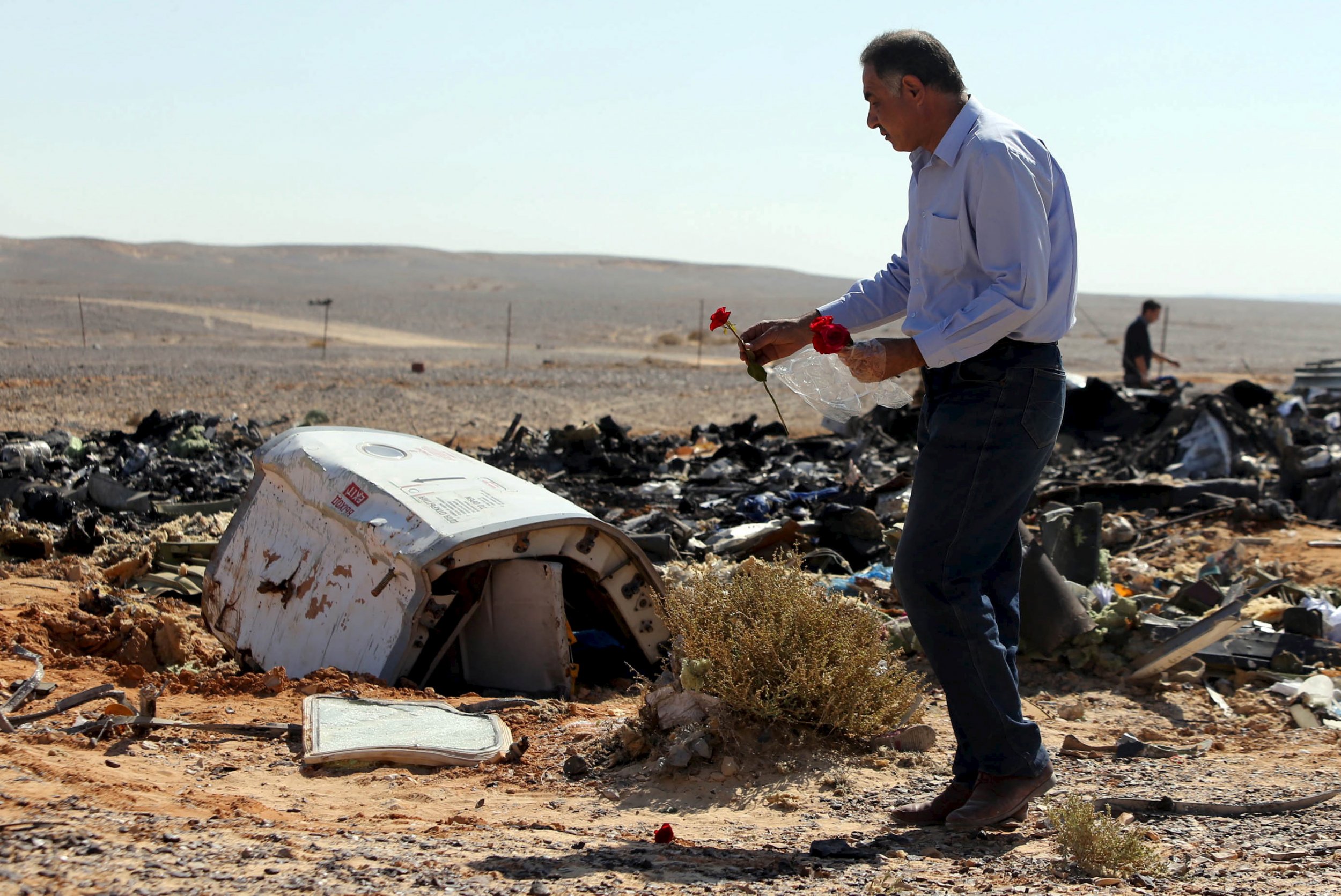 The United States is "very seriously" considering the possibility that the Russian plane that crashed last weekend was brought down by a bomb, President Barack Obama said Thursday evening.
The plane carrying 224 people crashed in the Sinai Peninsula while traveling between the sea resort of Sharm el-Sheikh and St. Petersburg, killing everyone on board. Though the cause of the crash has not been determined, a U.S. official said Wednesday that early intelligence reports indicate the plane was brought down by a bomb.
After suspending flights to and from Sinai earlier this week over safety concerns following the crash—and leaving thousands of Brits stranded—the United Kingdom will resume flights on Friday, the prime minister's office said Thursday.
Concerns about a bomb bringing down the Russian airliner led U.K. officials on Wednesday to stop travel to and from Sharm el-Sheikh, stranding thousands of vacationing British citizens. Of the estimated 20,000 Brits in Sharm el-Sheikh, at least 9,000 are believed to be on holiday.
Prime Minister David Cameron met with Egyptian President Abdel-Fattah el-Sissi on Thursday to discuss travel and security measures. "Our utmost priority is to make sure we have all the right measures in place to ensure that British citizens can return safely to the U.K.," Cameron's office said in a statement.
While travel to Sharm el-Sheikh remains suspended, Brits will be able to fly home on Friday with additional security measures in place. Carry-on luggage will be permitted on flights, but checked bags will have to travel separately. The British government is working with individual airlines to reunite travelers with their checked bags when they arrive back home.
German airline Lufthansa announced Thursday it will cancel flights to Sharm el-Sheikh over security concerns. The Irish Aviation Authority has redirected flights away from Sharm el-Sheikh as well. Edelweiss, a Swiss airline, has also canceled flights to the resort city.
Security at the airport was described as "patchy at best" by an aviation security expert, and officials in the U.K. had raised concerns a year ago, The Guardian reported.
Russia, meanwhile, still offers flights to Sharm el-Sheikh, despite the deadly crash. This may be because Russian officials are unconvinced by reports the plane was brought down by a bomb.
"Any sort of version of what happened and the reasons for what happened can only be put forward by the investigation, and we have not heard any announcements from the investigation yet," Dmitry Peskov, a spokesman for Russian President Vladimir Putin, said, according to Agence France-Presse. "Any other proposed explanations seem like unverified information or some sort of speculation."
On Thursday, the Egyptian minister for civil aviation dismissed claims that a bomb took down the airliner and said that airport security is up to international standards. "The investigation team does not yet have any evidence or data confirming this hypothesis," Hossam Kamal said.
Groups affiliated with the Islamic State militants, also known as ISIS, took responsibility for the attack online, but their claims have not been substantiated.