U.K. Hospitals 'Running Out of Beds' as COVID Cases Surge
Hospitals in England have started to turn patients away as COVID-19 cases surge and beds fill up ahead of a five-day Christmas relaxation period. Health workers warned that hospitals are already struggling to cope, with the peak of a long winter yet to hit.
National Health Service (NHS) leaders have warned that frontline services will come under even more intense strain in the next few weeks as the pressures of treating COVID patients during the height of winter will be compounded by the numbers of NHS staff who are themselves off work because of the virus.
As fears of a third national coronavirus lockdown in England continue to grow, The Guardian reports that hospitals had to tell ambulance crews to divert patients elsewhere 44 times last week – the highest number for four years.
London hospitals are particularly stretched by the sharply rising COVID cases with Whipps Cross Hospital in northeast London, part of Barts Health Trust, declaring a critical incident days before University College London (UCL) hospital, in central London, announced an "internal incident" because it had "insufficient capacity now for emergency and COVID patients, with patients waiting for admission".
Senior doctors were told to undertake extra ward rounds to identify patients who could be discharged, to free up space for those waiting for a bed. Three hospitals in Leicester, in the East Midlands, have been treating more people with COVID this month than they did in the spring, according to local reports.
It comes after Britain's Health Secretary Matt Hancock revealed average daily hospital admissions across the U.K. had increased 13 percent and average daily cases by 14 percent in the last week. The latest official U.K. data shows there are 18,009 COVID-19 patients currently in hospital with 1,340 in mechanical ventilation beds.
Newsweek first wrote about health workers' fears of COVID beds running out in October, when doctors warned a combination of a lack of space and a crippling shortage of staff could see treatments unrelated to the COVID crisis - such as cancer or heart disease - have to be abandoned.
The latest data from the NHS suggests almost 40,000 staff are currently off work due to COVID-19, either with the sickness or due to self-isolation. Health providers in England said the NHS was already facing a "workforce crisis" after data from June 2020 found a shortfall of 84,000 full-time equivalent staff.
Alastair McLellan, editor of the revered Health Service Journal said in a tweet that arguments the NHS will "cope" with a third wave of the virus by relying on its Nightingale Hospitals, specially-built at the beginning of the pandemic as overflow intensive care centers, ignore the fact that it will come at the expense of elective and non-urgent work. "THIS is the key point - and will be a major cause of 'excess' suffering & death," he said.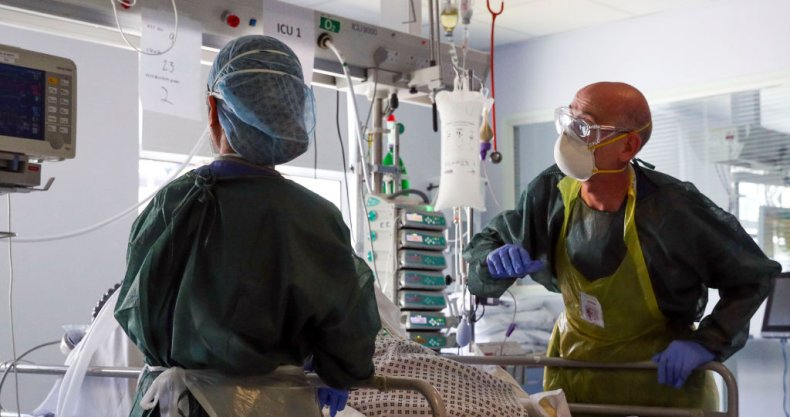 Millions of people across the U.K. are preparing for tougher coronavirus restrictions amid growing concern about the rising number of cases. On Thursday, 35,383 new cases and 532 deaths were reported.
Some 38 million people in England will be subject to the nation's strictest measures - tier three - from Saturday. Despite this, the government is still pushing ahead with a five-day break in restrictions to allow three households to meet up indoors over Christmas. Prime Minister Boris Johnson resisted calls for a re-think of the rules and instead urged people to opt for a "short" and "small" celebration.
Northern Ireland will begin a six-week lockdown from 26 December, with non-essential shops having to close. Wales will go into nationwide lockdown from 28 December which will be reviewed every three weeks and has no end date.
In Scotland, the government has warned that tougher restrictions, including a potential lockdown, after the festive period cannot be ruled out. When asked about the prospect of a further national lockdown in England in the new year, government minister Nick Gibb told the BBC the tier system was "very effective" but nothing was ruled out.