The U.K. parliament is reeling from revelations that a researcher working with a group co-founded by the security minister has been arrested on suspicion of being a Chinese spy.
The man, who has been identified as Chris Cash, 28, issued a statement via his lawyers on Monday denying any involvement. Tom Tugendhat, Britain's minister of state for security, has yet to comment publicly. Another man in his 30s, yet to be identified, was arrested at the same time as Cash on the same charges.
The revelations raise issues for key allies like the U.S. in the Five Eyes intelligence sharing community. Just as the U.K. softened its stance on China in recent weeks, the arrests, made in March, were revealed by The Sunday Times newspaper on Sunday. Any threat to the U.S. remains to be seen, but the two countries routinely share intelligence.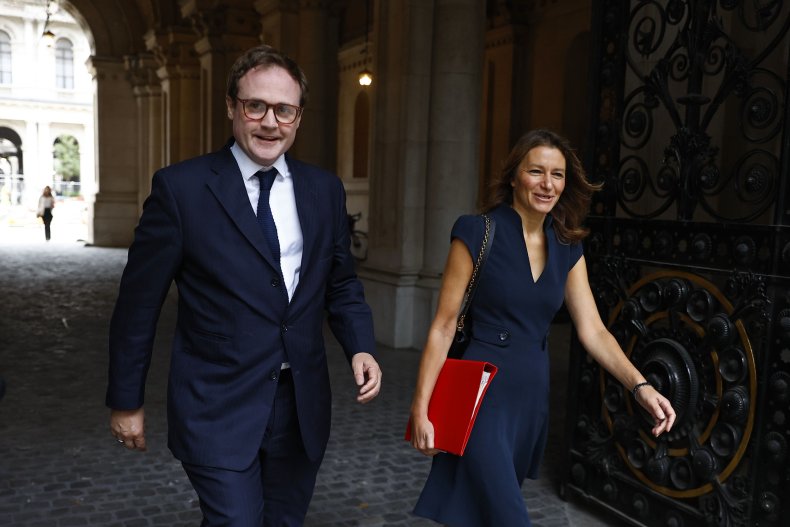 Cash, the alleged spy, was reportedly photographed at a U.S. embassy bash last year, according to The Times of London. The men had no security clearance but did have parliamentary passes and access to the likes of Tugendhat and other ministers, such as Alicia Kearns, chair of the Foreign Affairs Committee and the China Research Group (CRG), which employed Cash.
China has rejected accusations it was spying. "We urge the U.K. side to stop spreading fake information," Chinese foreign ministry spokesperson Mao Ning said at a briefing on Monday.
The Metropolitan Police in London confirmed on Saturday that two men were arrested under the Official Secrets Act in March.
The police said in a statement: "A man in his 30s was arrested at an address in Oxfordshire and a man in his 20s was arrested at an address in Edinburgh.
"Searches were also carried out at both the residential properties, as well as at a third address in east London."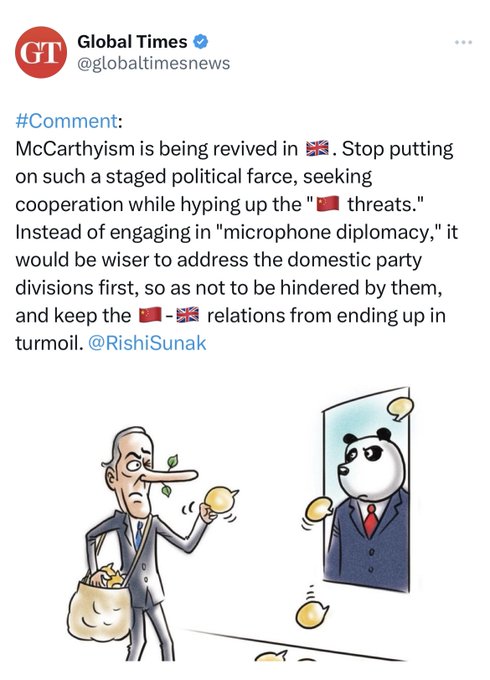 Earlier this year, the intelligence committee in the House of Commons published a scathing report stating that most of British society had been infiltrated in some way by China.
Richard Moore, the head of Britain's MI6 spy agency, recently revealed he had allocated more resources to China than any other country or threat.
Cash is the son of a GP and grew up in a wealthy suburb of Edinburgh, Scotland. He studied history at the University of St. Andrews and was later a graduate of the Lau China Institute at King's College London.
Cash issued a statement via his lawyers which reads: "I feel forced to respond to the media accusations that I am a 'Chinese spy.' It is wrong that I should be obliged to make any form of public comment on the misreporting that has taken place.
"However, given what has been reported, it is vital that it is known that I am completely innocent. I have spent my career to date trying to educate others about the challenge and threats presented by the Chinese Communist Party. To do what has been claimed against me in extravagant news reporting would be against everything I stand for."
Some members of parliament, who are hawkish about China's relations with the U.K., have been sanctioned by Beijing, including Tugendhat. Another of them, former Conservative Party leader Sir Iain Duncan Smith, told The Times: "It's a remarkably dangerous situation. This is a guy who allegedly spies on behalf of the Chinese government in the place where decisions are made, and sensitive information is transferred.
"It is vitally important that he is named because many people who came into contact with this individual will be unaware that he has been arrested on suspicion of espionage. There is a clear public interest."
The CRG publishes analysis on China and runs regular seminars with leading experts from the U.K. and abroad. The last published report on its website is dated October 26, 2022, on China's 20th party congress. It was chaired by Tugendhat and now Kearns.
Reached by Newsweek, the CRG declined to comment on the live investigation.
Tory MP Caroline Nokes has called for a review of the parliamentary pass system. Luke de Pulford, executive director of the Inter-Parliamentary Alliance on China, called the House of Commons vetting team's decision to issue a pass to Cash a "massive due diligence failure," according to a report in The Telegraph.
Kearns, the Tory MP for Rutland and Melton, wrote on social media that she "will not be commenting," adding: "We all have a duty to ensure any work of the authorities is not jeopardized."
Sir Lindsay Hoyle, speaker of the House, made a statement in the Commons on Monday: "Members and others will have seen media reports yesterday about a security issue relating to the Chinese state and access to this house. I understand that the Metropolitan Police have now confirmed that two men were arrested in March on suspicion of offences relating to espionage and that they are on police bail until early October.
"As you know, we do not discuss the details of security issues on the floor of the house, for reasons which are well understood. This is an ongoing, sensitive investigation and members will of course understand that public discussion will be wholly inappropriate.
"We keep our security arrangements under review at all times in order to deal with evolving threats. The extremely small number of people who needed to know were immediately briefed on a strictly confidential basis, given the national security of this sensitive matter."
On Wednesday reports emerged that the domestic security service MI5 had warned the Conservative Party that two of its potential candidates to become MPs could be spies for the Chinese state.
A Tory spokesperson told Newsweek: "When we receive credible information regarding security concerns over potential candidates we act upon them."
Prime Minister Rishi Sunak is under pressure to formally declare China a threat to Britain.
Earlier this year, reports emerged of secret Chinese police stations, designed to intimidate Chinese who moved to the U.K. to seek freedom, prompted calls for a full inquiry.
Hong Kong human rights advocate Finn Lau, writing on X, said it raised safety concerns for anyone cooperating with the U.K. government. Amnesty International echoed his fears.
Polly Truscott, Amnesty International U.K.'s foreign policy advisor, said in a statement: "Amnesty International continues to document the Chinese government's ever-expanding repression at home and abroad, and the chilling effect it has on Tibetans, Uyghurs, mainland Chinese and Hong Kongers' fight for their rights, including those living in the UK.
"If true, this spying scandal reveals yet another layer of intrusion being inflicted on foreign soil and puts activists from these groups—who believed they were being protected when seeking help and giving vital information to parliamentarians—in very real danger."
Speaking in the House of Commons on Monday, Sunak said he was "appalled" by claims of espionage. Sunak says he was "emphatic" with Chinese Premier Li Qiang during face-to-face talks at the G20 summit in India last weekend that targeting British democracy "will never be tolerated." Business Secretary Kemi Badenoch said on Monday that declaring China a threat would "escalate things" further.
Update 9/13/23, 5:30 a.m. ET: This article was updated with additional comments.