Crucial medical supplies earmarked for Ukraine sat stranded in an Arizona warehouse for weeks after the war in the country destroyed the transport routes that charity workers relied on.
Although the shipping container is now on its way to Europe after a month of delays, it is likely to take even longer to reach desperate Ukrainians because of global supply chain disruption and port closures in Ukraine following Russia's invasion.
Volunteers from Project C.U.R.E., which has been giving aid to Ukraine since the 1990s, were devastated when fighting closed the country's port of Odesa—just as up to $1million worth of equipment was about to leave its warehouse in Tempe.
Project C.U.R.E. executive committee board member Charles Irion told local news site AZ Family: "It's heart-wrenching for us to have the knowledge that what is sitting here could be saving lives there right now."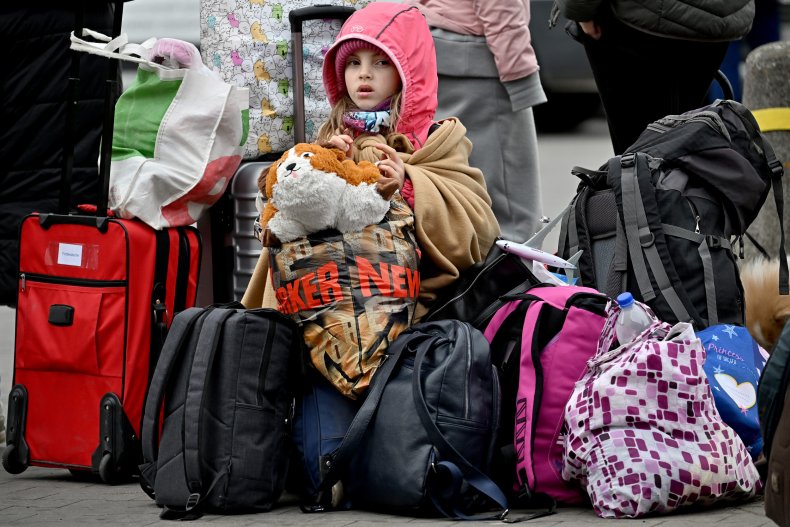 Ruth Sanchez, the executive director of Project C.U.R.E. in Arizona, explained how a shipment had been scheduled only for the shipping company to back out at the last moment as the volatile situation escalated.
Speaking on February 26—two days after the Russian invasion began—she said: "We had been scheduled actually for two weeks, and we finally got a confirmation two days ago, 'it's going to be here,' and overnight that changed, and the freight forwarder said we're not comfortable sending anything to that region."
Each 40-foot shipping container has between $250,000 to $1 million worth of supplies inside it, she said, such as x-ray machines, ultrasound equipment, syringes, wheelchairs, baby warmers and COVID-19 PPE.
Sanchez said she found it tough to see the containers stuck in a warehouse instead of being where they are desperately needed: "I've been seeing this equipment for… weeks and I myself have questioned, 'Why is it sitting here?'"
Even the United Nations admitted it is struggling to get aid to those who need it because of heavy bombardments and roads blocked with land mines or burned-out vehicles.
On Friday, a spokesperson for the UN High Commissioner for Refugees, said agency workers were stuck and unable to provide aid: "They are blocked in these areas that are encircled or where the roads are now inaccessible… This has been one of the reasons why it's so difficult to get to Mariupol."
UN World Food Programme (WFP) spokesperson Tomson Phiri said Ukraine's entire food supply chain system was "broken" with "trucks and trains destroyed, airports bombed, bridges fallen, supermarkets emptied and warehouses drained."
He added: "The encircled city of Mariupol is running out of its last reserves of food and water. No humanitarian aid has been allowed into the city since it was encircled on 24 February. The only way to reach Mariupol is through humanitarian convoys which until now have not made it through."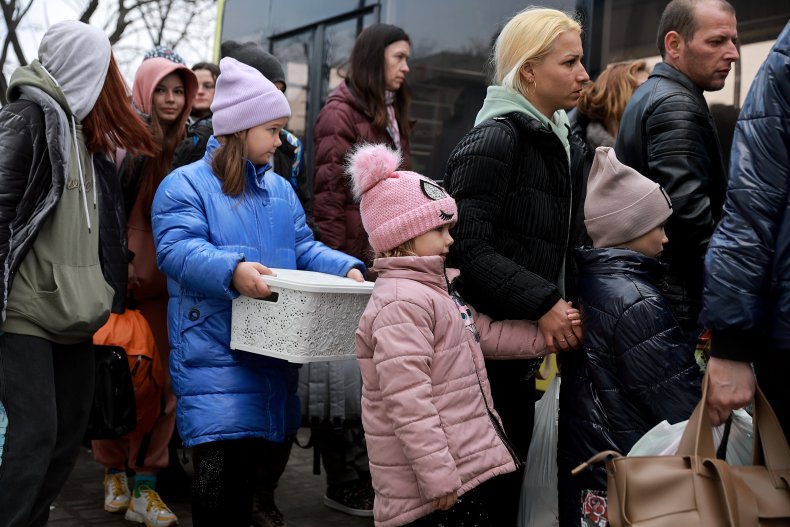 With the huge organizational might of the UN struggling to get aid to Ukrainians in need, smaller local groups in the U.S. have sought to find solutions.
Many are focusing on reaching neighboring countries instead, where they can help refugees fleeing across the border or find it easier to get access to Ukraine via land routes.
Project C.U.R.E. finally arranged to get a shipment out of the port of Los Angeles on March 12 bound for Poland, organizers told Newsweek, but it is still en route now. Given the problems with shipping routes, the group has decided to switch to using planes instead. Lance Oversole, Director of Marketing and Communications at Project C.U.R.E., told Newsweek: "Typically, in non-emergency situations, Project C.U.R.E. sends cargo containers via ocean freight. However, we are pivoting and are now sending emergency shipments to Ukraine via air cargo.
"These flights are landing in Poland, where we are working with logistics partners on the ground to have the shipments trucked into Ukraine. To date, we have sent eight emergency relief air shipments to Ukraine, with more on the way each week.
"The contents of these shipments are being distributed to recipients in Ukraine in conjunction with the Ukrainian Ministry of Health. However, the cost of air shipments is exponentially higher, so we are relying on donations from the public and from corporations and businesses, as well as donations from airlines who are donating cargo space and covering the cost of air shipments to aid us in getting items into the country."
He said the public can support this effort at projectcure.org.
Dr. Douglas Jackson, President/CEO of Project C.U.R.E. said: "Project C.U.R.E.'s shipments will make a tremendous impact on the lives of Ukrainians fleeing the conflict and support the hospitals and clinics who are treating the wounded.
"We have heard from our partners on the ground how critical the need is for supplies and equipment to treat refugees, civilians and military personnel who've been wounded in battle… we remain committed to serving the people of Ukraine until the ravages of this war have been erased."
Other humanitarian groups are also focusing their efforts on neighboring countries to help those fleeing over Ukraine's border.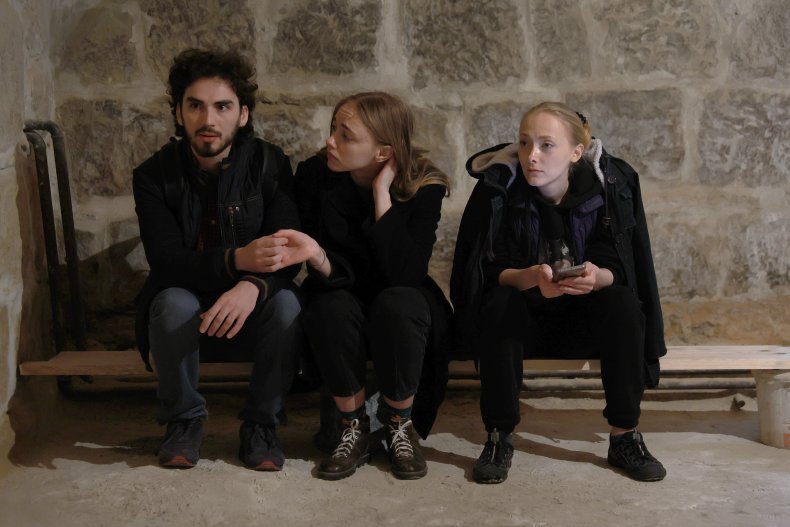 Project HOPE, another healthcare non-profit organization, says on its website: "Project HOPE's response continues to expand in Poland, Moldova, and Romania, including support for a mobile medical team that is treating refugee children crossing the Ukraine/Moldova border."
Islamic Relief says it does not have teams on the ground but has aid workers in neighboring countries. And the charity Mercy Corps says it has some crews on the ground in Ukraine, but others are also working from Romania and Poland.
Update 3/30/22, 10:12 a.m. EDT: This article has been updated to include comments from Project C.U.R.E