Putin Loses 9 Military Planes in One Day After Crimea Explosion: Report
Ukrainian military officials on Wednesday said that nine Russian warplanes on the Crimean Peninsula were destroyed, but Ukraine has still not officially taken credit for the action.
Explosive attacks at the Saki air base in Crimea were worse than described by the Kremlin, The New York Times reported, with Russia's defense ministry initially stating that no equipment had been destroyed and no casualties occurred. Videos have purportedly showed more damage than Russian officials have acknowledged.
In social media posts on Facebook and Telegram, the Ukrainian Air Force displayed wartime statistics since the conflict began February 24—adding that the "nine invader planes" are included. Totals since the war's inception include the destruction of 232 Russian aircraft and 193 helicopters.
Russia said Wednesday that none of its aircraft had been impacted or destroyed, according to the Associated Press, and it did not acknowledge any attack on its fleet. However, The New York Times reported that the Kremlin-installed leader of Crimea, Sergei Aksyonov, declared a state of emergency after dozens of nearby homes and commercial structures were hit, leading to over 250 displaced residents.
A senior Ukrainian military official also reportedly said Wednesday that Ukraine's special forces—in addition to local partisan resistance fighters loyal to the government in Kyiv—were responsible.
The newest reported attack comes on the heels of days of air-based back-and-forth strikes between both nations' militaries as weapons aid from the United States in the form of U.S.-made HIMARS (High Mobility Artillery Rocket Systems) have successfully connected with Russian targets.
Anton Gerashchenko, advisor to the minister of internal affairs of Ukraine, tweeted satellite images of the Saki airfield in Crimea that reportedly "show that more than 30 planes and helicopters were there before the explosion, worth more than $1 billion in total."
The replacement of them would take over 18 months even without sanctions, he added.
"Seems like no chance that a single plane remained intact. The impact of the yesterday's explosion is no less than the destruction of the cruiser Moskva. Dozens of warplanes will no longer be able to drop bombs and missiles on us," Gerashchenko tweeted Wednesday.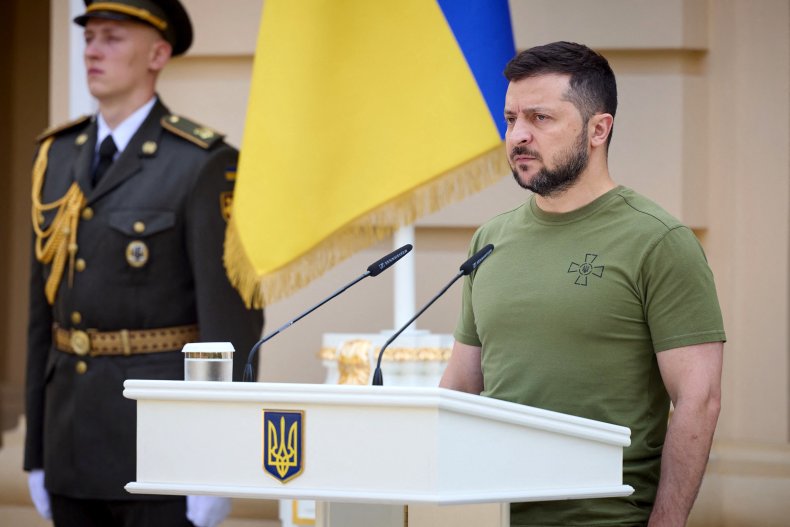 The Russian flagship Moskva cruiser was struck with a missile by Ukrainian forces in April, ultimately causing it to sink. It was then described by a former adviser of President Vladimir Putin as a "very, very painful blow" for the Russian military, both in terms of its fleet and symbolism.
On Wednesday, the Russian state-owned news agency RIA Novosti referenced a Russian defense ministry report saying that Ukraine's 56th Motorized Infantry Brigade "lost its combat capability" following airstrikes near the settlement of Peski in the Donbas region.
"Up to 70 percent of the personnel were destroyed in the units of the formation," the report included, according to an English translation. "Most of the Ukrainian citizens mobilized to make up for the losses of the brigade refused to advance to the line of contact and deserted."
In his most recent video address on August 9, Ukrainian President Volodymyr Zelensky said he and his people will never forget how Russia first escalated the conflict eight years ago when it annexed Crimea.
"Russia has turned our peninsula, which has always been and which will always be one of the best places in Europe, into one of the most dangerous places in Europe," Zelensky said, adding that it has become an epicenter of large-scale repression, environmental problems, economic hopelessness and war.
"There will be no stable and lasting peace...as long as Russia is able to use our peninsula as its military base," he continued. "This Russian war against Ukraine and against the entire free Europe began with Crimea and must end with Crimea—with its liberation."
Newsweek reached out to Gerashchenko and the defense ministries of Ukraine and Russia for comment.