If Ukraine is behind the series of explosions in the area of a Russian airbase in Crimea, it could result in an escalation in the war, which has been ongoing since Russia's invasion in late February, according to experts.
Videos showed the blasts near the Saki airfield on Tuesday, and Russia's Defense Ministry said they were caused by detonated aviation ammunition, killing one and injuring several others, the Russian state-owned news agency RIA Novosti reported.
But while Russia points away from an attack as the cause of the explosions, The New York Times reported that a senior Ukrainian military official with knowledge on the matter said that Ukraine was behind it.
Newsweek was not able to independently verify the report that Ukraine was behind the blasts.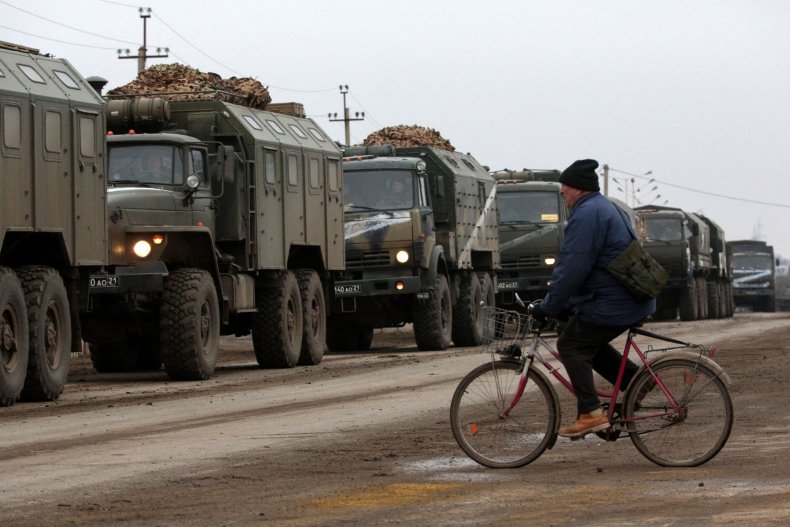 Michael C. Kimmage, a professor and chair of the history department at the Catholic University of America in Washington, D.C., told Newsweek that the war could "definitely" escalate if Ukraine was involved in the explosions.
Kimmage said that there are two reasons that Russia "would really care about this."
The first is that there has been a string of attacks on Russian ammunition depots in recent weeks, "a real military issue" that is setting Russia back and is costly as well, he said. The second is that there are indications of a "public relations issue" for Russia when it comes to addressing the explosions.
Kimmage said that there seems to have been two simultaneous explanations coming out of Russia for the blasts: Russia saying that it was an ammunition detonation rather than an attack, and the "Russia propaganda machine blaming Ukrainians."
Russian state television host Olga Skabeeva, for example, wrote in a Telegram post on Tuesday that the "Ukrainian Armed Forces carried out strikes on the airfield in the Crimea."
The mixed messaging "just suggests that they don't know how to handle it," Kimmage said.
"I think that that's a big issue for them, especially with the Russian population if it looks like things are not going well," he added.
Russian state media reported last month that Dmitry Medvedev, a former Russian president serving as the deputy chairman of the Security Council of Russia, said a Ukrainian attack on Crimea would warrant a "doomsday" response.
If the war were to escalate because of the explosions, Kimmage said that he doesn't think it would happen on the front lines due to Russia's reported manpower shortage and some recent setbacks in their offensive.
Instead, he thinks an escalation could manifest in carpet bombing the major cities of Lviv and Kyiv, attacks on Ukraine's electrical grid and major cyber attacks.
Several others have suggested that a Ukrainian attack on Crimea could mark a shift or send a strong message in the months-long conflict.
Yair Navot, a journalist and Russia analyst, said during an interview with I24NEWS on Tuesday that if Ukraine was behind the blasts, it would be a "significant development in the war."
"I will even say that it might be an opening for a new stage [in the war]," he added.
Referencing a social media video of the explosions, Alexander Vindman, a retired U.S. Army lieutenant colonel and former director for European Affairs for U.S. National Security Council, tweeted that they "should be taken as a clear warning" that attempts to organize referendums and annex territory in eastern and southern Ukraine "will have severe consequences."
Russia annexed Crimea in 2014 and has pushed for international recognition that it is part of Russia ever since. But the peninsula at the top of the Black Sea has remained the subject of dispute.
Ukrainian President Volodymyr Zelensky said during an interview with CBS' 60 Minutes in April that he would not let Russia officially recognize Crimea as its territory. The U.S. has said that it views Crimea as part of Ukraine and urged Russia to return full control of the peninsula to Ukraine.
"In Ukrainian eyes and U.S. eyes, [Crimea is] occupied territory so it's fair game for a war," Kimmage said. "But if Russia really perceives this as an attack on Russia proper, on Russian territory, then it could be really kind of no-holds barred. So, maybe that's something that they want to retain ambiguity on just for their own purposes."
He added that Russian President Vladimir Putin is facing "political pressure" from "people who feel he's not doing enough on the war." Kimmage believes that Putin "has to manage that crowd" and there might be "a bit of information manipulation to that end."
Newsweek reached out to the defense ministries of Russia and Ukraine for comment.