Ukraine's Zelensky Reveals His Red Line for Russia, Putin Peace Talks
Ukrainian President Volodymyr Zelensky named recognition of the annexation of the Crimea region as one of his red lines for Moscow in any potential peace talks with Russian President Vladimir Putin to end war between the two countries.
Russia annexed the southern region of Crimea in 2014. Russian-backed separatists and forces, as well Ukrainian soldiers, have since been fighting in the eastern region of Ukraine.
In an interview Sunday on CBS News' 60 Minutes, the Ukrainian leader said it would be worth meeting for face-to-face peace talks with his Russian counterpart, acknowledging that they won't agree on everything but might agree on a ceasefire. Talks so far between the two sides have failed to yield a peace agreement, although there have been some humanitarian corridors agreed upon allowing citizens to evacuate.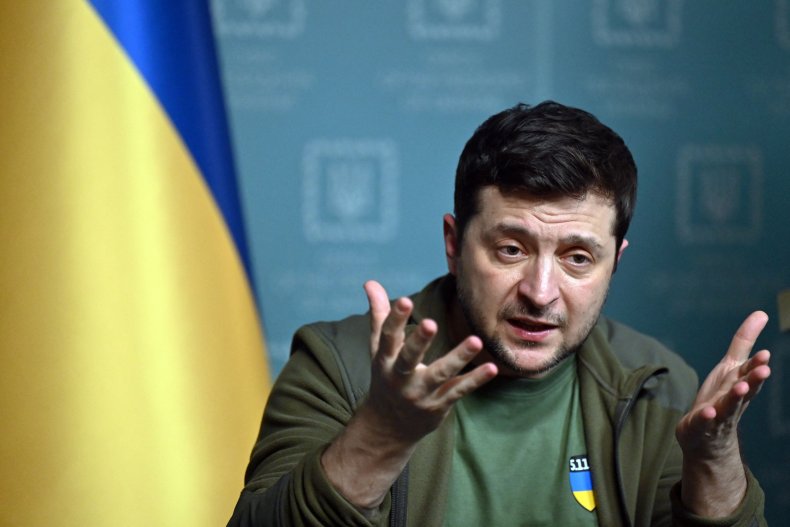 Putin declared the "special military operation" in Ukraine on February 24, launching attacks at several major cities, including the capital Kyiv. Despite heavily outnumbering the Ukrainian army, Putin's forces failed to capture the capital and most other urban centers, and the Russian military has since moved its attack to the east of the country. Thousands have died, including civilians, and millions have had to evacuate their homes and flee to surrounding countries.
In the CBS interview, Zelensky said that Ukraine was "not ready to give away our country."
"I think we've already given up a lot of lives, so we need to stand firm for as long as we can. But this is life, different things happen," he said.
"We understand the Russian side. We understand one of their provisions has always been to recognize Crimea as Russian territory. I would definitely not let them recognize that," he added.
Zelensky also said Russia wants to take southern parts of Ukraine, like Mariupol, the port city that has come under some of the worst Russian shelling since the war began, killing hundreds of civilians and leaving them struggling to evacuate the city safely. Many remain trapped in the city and have been deprived of access to electricity and clean water, according to Ukrainian officials.
Zelensky said that in negotiations, Moscow would probably ask to lay claim over some of this territory.
"I clearly understand that questions like this would be raised in negotiations if there ever are any, but we were not willing to give up our territory from the beginning. Had we been willing to be giving up the territory, there would have been no war," he said.
Ask what would winning look like to him, Zelensky said: "First of all, our people would definitely feel victory. They would come back; the return of refugees is blood for the body of Ukraine. Without them, there's nothing. The bombardments would end, we would recover our territory, and there would be no Russian soldiers in our country."
"Yes, I understand they will not withdraw from Crimea and will be arguing and negotiating for one territory or another in the south of our country, the Donbas. I know exactly what has happened after which we can say 'this is victory', but if you don't mind, I'm not going to talk about it just yet."
Newsweek has contacted the Russian foreign ministry for comment.
Now that Russian forces have moved to the east of Ukraine, a huge battle for the Donbas region is expected to ensue, and Ukrainian officials have urged citizens to evacuate before Putin's forces invade.
Meanwhile, in the UK's ministry of defense warned on Monday that Russia may look to use phosphorus munitions in Mariupol, after they were allegedly deployed in the eastern region of Donetsk.