The criticisms of Russian President Vladimir Putin have continued to grow over the last month amid Russia's invasion of Ukraine. However, public outcry hasn't seemed to persuade his inner circle to turn on him.
Aside from a few dissenters, Putin has managed to maintain the support of Russia's political elite. Only two current and former high-level officials have broken ranks—Putin's international envoy Anatoly Chubais and former Kremlin aide and ex-deputy prime minister Arkady Dvorkovich.
While there appears to be an anti-war sentiment among the Russian public—with thousands of people in the country being arrested for protesting the invasion—those seen as propping up Putin's regime have largely remained silent.
The international community had tried to strike at Putin by targeting Russian oligarchs close to the Kremlin. Thirty-eight of Russia's wealthiest and most powerful figures have been sanctioned in an unprecedented move by the U.S., the U.K., and the European Union, but no political break has been seen publicly.
"We know that many members of the Russian elite were shocked by the 24 February invasion," Ben Noble, an associate professor in Russian politics at University College London, told Newsweek. "The vast majority had not been involved in the decision-making process, and, it seems, thought that Vladimir Putin was engaging in brinksmanship, rather than sincerely preparing for war."
Noble said that while many of those elites had not been anticipating the war, Putin's leadership has cultivated a situation where they feel obligated to continue towing the Kremlin's line.
"Vladimir Putin has created a personalist authoritarian system in which loyalty is often privileged over competence," he said. "It is also a system with extraordinary coercive means domestically. Taken together, loyalty and the threat of violence are potent ways to prevent elite splits that might challenge the president's rule, even if people disagree significantly with particular policy decisions."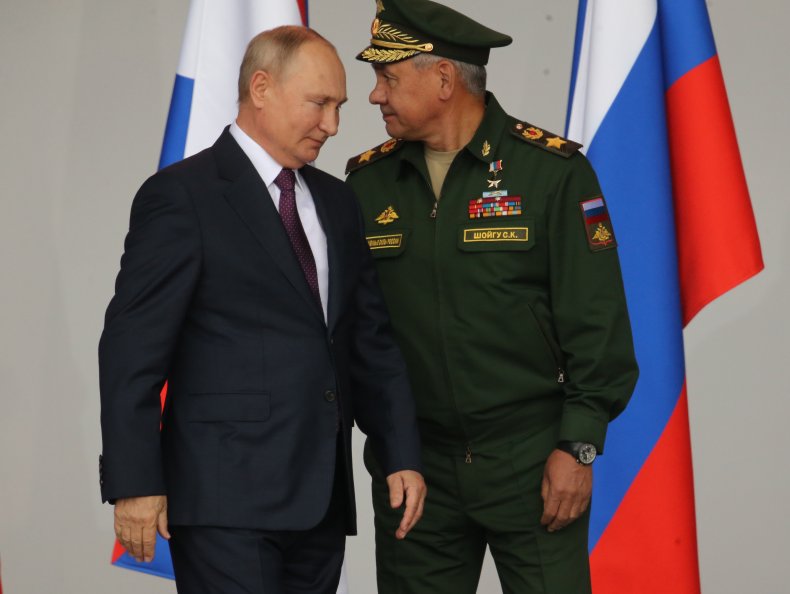 None of the 12 security council members who backed Putin's highly-controversial move to recognize two separatist regions of Ukraine—Donetsk and Lugansk—as independent three days before the invasion began have gone back on those opinions, which, have collectively been viewed as the antecedent that sparked the war.
Even among those who have called for peace, like billionaires Oleg Deripaska and Mikhail Fridman, there have been no direct criticisms of Putin.
"We may well see more voices obliquely calling for peace," Noble said. "But Putin's increasingly venomous rhetoric – of setting a black-and-white narrative of 'us versus them,' patriots versus traitors – may dissuade many from speaking up."
On Wednesday, a Kremlin spokesperson announced that Chubais had resigned on his own accord. Yuri Zhukov, an associate professor at the University of Michigan, told Newsweek the circumstances of Chubais' departure are different from other officials close to Putin because Chubais had already been a marginal political figure in recent years, breaking away from the rest of the president's inner circle.
"He was one of the last remaining 1990's-era liberal reformers in Putin's administration," Zhukov said. "He has long been almost universally reviled by other groups of Russian elites on both the nationalist and communist sides of the country's political spectrum. His reputation is forever tainted by presiding over the botched privatization reforms of 1991, which helped create the oligarchs as a class in Russia. So, I suspect most members of Putin's coalition are happy to see him go."
While several senior officials have been placed under house arrest in recent weeks, Zhukov said those developments have more to do with the Kremlin's frustrations with how the war has unfolded.
"Senior leadership changes are common in wartime, especially when things aren't going well. These men are likely being punished for their incompetence, not their disloyalty," he said.
Earlier this week independent Russian journalist Andrei Soldatov told The New Yorker that Putin only listens to three or four people these days.
"There is Minister of Defense Sergey Shoigu, whom he trusts, and that is why Shoigu has played the main role in this invasion. There is Nikolai Patrushev, his head of the Security Council, and one of his oldest friends, who's still close to him and was his successor as the director of the [Federal Security Service]," he continued. "And probably one or two other friends from St. Petersburg, but that's about it."
Although there doesn't appear to be any public dissent, Soldatov hinted that there may be more behind the scenes.
The investigative reporter explained that when the oligarchs lost their contracts in the West, Putin offered them financial help in the form of military contracts, forcing them to become dependent on Russian funding—and in turn, unable to say anything about the president.
"All of a sudden, the military became really ambitious, and I would say that now it's not about oligarchs and siloviki, the current and former security-services people," Soldatov added. "Now you have the military and the military-industrial complex, and oligarchs are dependent on the military-industrial complex."