Ukraine Artillery Attacks 5 Russian Strongholds, Damaging Ammo Warehouses
The General Staff of the Armed Forces of Ukraine posted a celebratory message on its Facebook page on Monday, telling citizens that Ukrainian forces damaged Russian strongholds and other key resources during attacks earlier in the day.
Russian President Vladimir Putin launched his "special military operation" on Ukraine on February 24, with belief that he'd quickly secure control over the eastern European country. Ukraine responded with an unexpectedly strong defense, and the troops are still fighting nearly seven months later.
In its latest update, the General Staff of the Armed Forces of Ukraine's Facebook post detailed actions of its troops against Russian forces, including the destruction of several Russian strongholds and ammo warehouses.
Ukrainian forces said they mounted attacks, with aviation forces targeting 11 areas concentrated with Russian troops and equipment, an anti-aircraft missile system and an ammunition depot. Other aerial attacks by Ukraine destroyed a Russian aircraft and three unmanned aerial vehicles. Rockets and Ukrainian artillery damaged five Russian strongholds in an effort that also damaged three ammunition warehouses.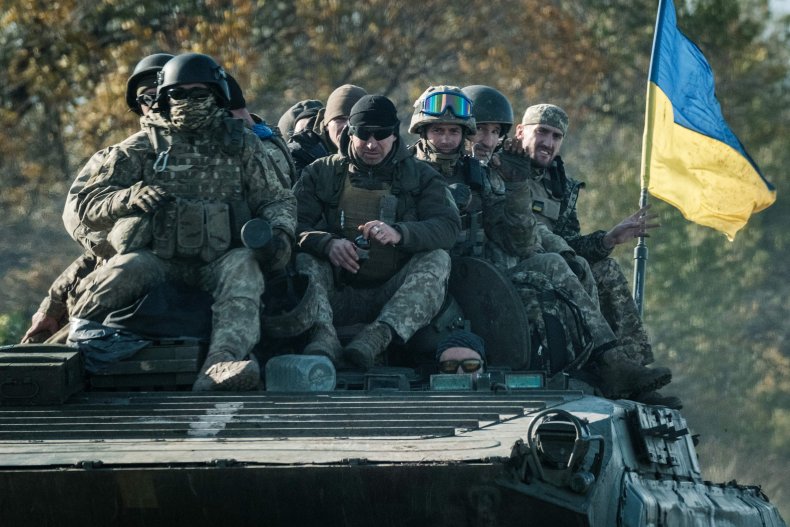 The post said total enemy losses are still being totaled. The attacks follow a heavy day of damage to Russian forces on Sunday, when 10 artillery systems, five units of military equipment and enemy troops were targeted. The post reported that more than 100 Russians were injured in the attacks.
"We believe in the Armed Forces! Together we will win!" the post said. "Glory to Ukraine!"
Russian attacks
In addition to detailing Ukrainian attacks, the post also outlined its defense efforts. On Monday, Ukraine defended enemy attacks in Mykolaivka Druha, Kurdyumivka and Zaitseve.
"The enemy continues to focus its efforts on the organization of defense and holding the captured territories, attempts to fully occupy the Donetsk oblast, as well as disruption of the active actions of the Defense Forces in certain areas," the post said. "It fires at the positions of our troops along the contact line, takes measures to regroup his units in certain areas, introduces reserves and does not stop aerial reconnaissance."
Threats of air and missile strikes remain throughout Ukraine. On Monday, Russia launched four missiles and nine air strikes, as well as more than 11 multiple-launch rocket system attacks on military and civilian targets, according to the post, which said the attacks violate "the norms of International Humanitarian Law, laws and customs of warfare."
Newsweek, which could not verify Ukraine's claims in the post, reported that British intelligence showed Moscow ramping up attacks against civilian infrastructure.
Other Ukrainian victories
In addition to targeting Russian resources, Ukraine has persevered in other areas, as well. It has launched several counteroffensives attempting to reclaim territory in the south and eastern parts of the country. One counteroffensive near Kharkiv forced Russian troops to retreat from key cities they occupied. Another counteroffensive attack reportedly cornered Russian forces between Ukrainian troops and the Dnipro River.
Meanwhile, Putin is attempting to bolster his forces, proposing academic leave for students who fight in the war and enlisting prisoners as morale and manpower dwindle.
Newsweek reached out to the Russian Defense Ministry and the General Staff of the Armed Forces of Ukraine for comment.