As Ukraine Calls for More War Aid, U.S. Senators Want Europe to Step Up
As the Senate Armed Services Committee gathered on Capitol Hill on Tuesday to discuss the state of Russia's ongoing war in Ukraine, senators called on European allies to step up support for the war-torn nation that has requested an ever-growing amount of aid from abroad.
The meeting marked the second of the year so far for the committee, and included testimony from experts on Eurasia and military strategy. Lawmakers discussed the morale of Russian forces that have made recent gains despite a number of setbacks, the need for sustained military support for Ukrainian troops, and the connection between maintaining respect for Ukrainian sovereignty and upholding international law.
But as the costs of a war that is entering its second year continue to mount, concerns are being raised over the longevity of what Angela Stent, director emerita of the Georgetown University Center for Eurasian, Russian and East European Studies, described during the hearing as "remarkable" transatlantic unity in offering aid to Ukraine.
"Europeans are suffering the economic fallout from the sanctions and the end of Russian hydrocarbon influence," Stent told lawmakers.
While she said that "public opinion remains supportive of Ukraine, and a mild winter has mitigated some of the economic pain," she argued that "it is likely that as the war drags on this year there could be more public resistance to some significant economic support to Ukraine."
And yet lawmakers such as Republican Senate Armed Services Committee ranking member Roger Wicker of Mississippi asserted during the hearing that "there are some larger European partners who need to do much more, notably Germany and France."
Following the hearing, Wicker reiterated the importance of maintaining support to Ukraine in comments to Newsweek.
"I think it behooves us all, our NATO allies and the United States, to continue to support [Ukraine], and I think we will," Wicker said. "I think among the people who analyzed this across the political spectrum, there's consensus that we need to do everything we can to make sure we don't lose this."
Fellow Republican Senator Joni Ernst of Iowa, a member of the committee, also emphasized this message.
"We can't allow Ukraine to fall. That sends a signal to the rest of the world. It triggers off the Chinese, the Iranians, you look at all of these other bad countries," Ernst told Newsweek. "We don't want to be dominated by that. So, let's continue to step up with American leadership, provide transparency for our American taxpayers, and let's just, darn it, do the right thing."
"We want [our allies] to continue to step up," she added. "They're important partners on this, but we can always push them to do more."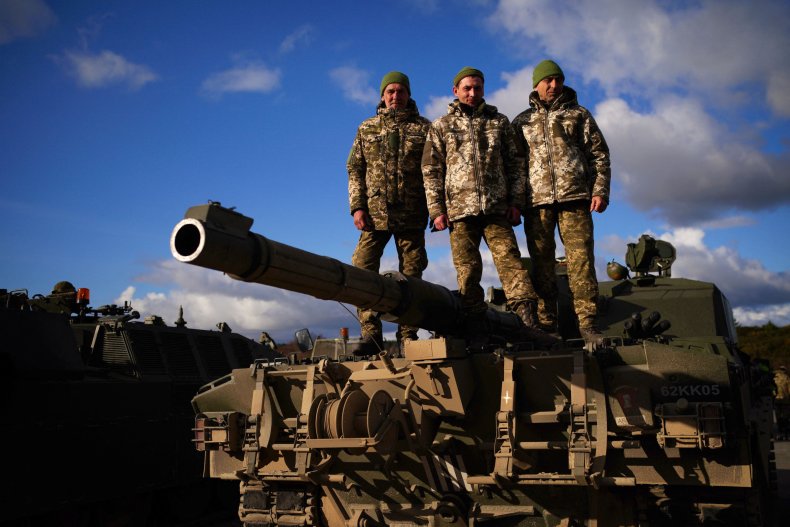 The United States has led by far in terms of the total dollar amount of contribution to Ukraine with some $77.5 billion counted to date by the Ukraine Support Tracker project. When this figure is adjusted for percentage of gross domestic product (GDP), however, the U.S. came in fifth place behind the smaller Baltic nations of Estonia, Latvia and Lithuania, and then Poland, which borders Ukraine directly.
The wealthiest European states all trailed, including Germany (14th), the United Kingdom (8th), France (22nd) and Italy (23rd).
Democratic Senate Armed Service Committee Chair Jack Reed of Rhode Island recognized the contributions of the Baltic nations and Poland.
"If you look at the support they're giving in every dimension, it's significant support," Reed told Newsweek. "The millions of refugees that have been assumed by Poland and the Baltic, and they're being provided for."
"They've given military equipment, they've given humanitarian assistance into Ukraine, they've given budgetary support to the Ukrainian government, and they also been through winter in which they have significant shock because of cutting off of Ukrainian lines," he added. "We haven't had to do that."
Independent Senator Angus King of Maine, who caucuses with Democrats and sits on the committee, also argued that, while there was room for improvement, Europeans have stepped up in other ways as well.
"We've clearly contributed the most in terms of dollars, and I'm not letting the Europeans off the hook. But what I'm saying is that they are stepping up, and they have stepped up," King told Newsweek. "Poland has been unbelievable in what they've done to accommodate millions of refugees in their country. They're taking them into their homes, their schools; they're supporting them. I've been there I've seen it."
Republican Senator Rick Scott of Florida, a committee member, took note of Poland's contributions as well, though he argued it was incumbent upon Europe as a whole to do more.
"I think what we sought to be focused on is how to provide lethal aid," Scott told Newsweek. "I'm very appreciative of what Poland has done, in particular, in allowing so many citizens to come in and basically be part of their social service system and help them get their lives restarted, but, I think what Europe's got to do is start showing up."
"This is close to home for them," he added.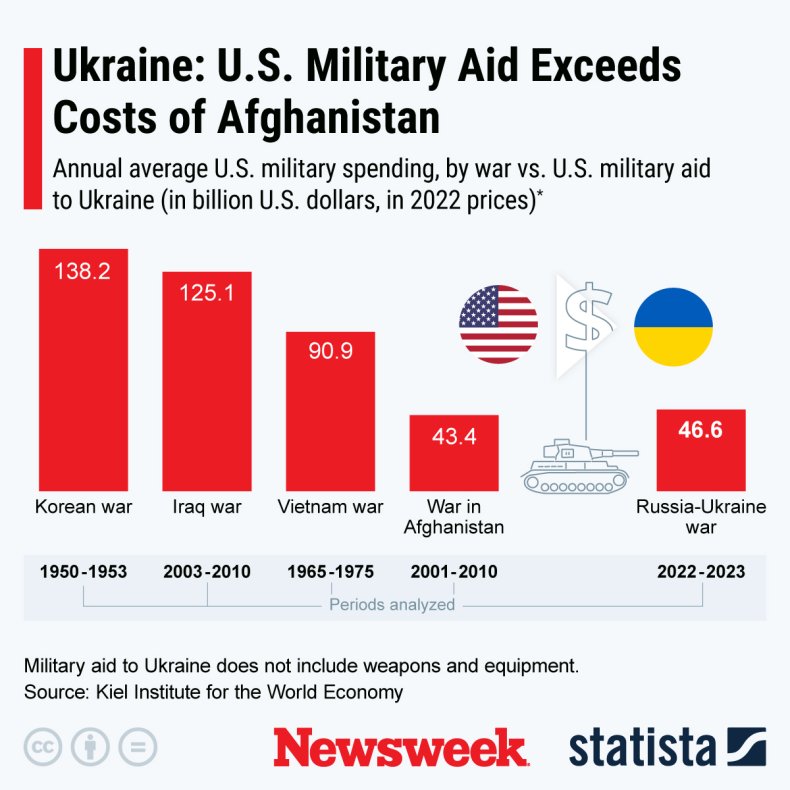 The above graphic was provided by Statista.
The proximity of the conflict to European nations was also a central point brought up by retired U.S. Army Lieutenant General Keith Kellogg, who raised the alarm on the need for Europe to step up on battlefield aid during Tuesday's hearing.
"Our allies must do more, spend more, and do it more quickly," Kellogg told the Senate Armed Services Committee meeting. "This war is in their backyard, and they cannot expect the citizens of the United States to continue to carry the overwhelming financial burden as they do today."
Speaking to Newsweek afterward, Democratic Senator of Tim Kaine of Virginia, who serves on the committee, described the support shown to Ukraine by NATO and European allies as "more than we feared that it might be."
"But I do think we all have to do more," he added, "and that includes Europe."
Referencing Kellogg's remarks regarding the war taking place in Europe's "backyard," Kaine said European states are "grappling with a lot of tough challenges," including "the military dimension of what they provide" as well as "the whole energy transition that they have to make to wean themselves away from over-dependence on Russia."
"That's kind of a lesser told story, but that has long term positive impacts for European security," Kaine said. "So, I think the message from all of our witnesses, even though they were different, is that, bottom line, we all need to do more."