Ukraine Destroys Russian Ammo Depot as Battle of Donbas Intensifies
Ukrainian forces say they struck a Russian ammunition depot in the eastern part of the country on Sunday, as clashes intensified in the region.
Ukraine's Operational Tactical Group "East" said in a statement on social media that forces destroyed one infantry fighting vehicle, one armored personnel carrier, five armored fighting vehicles, two artillery systems, three heavy artillery tractors, one fuel tanker, and three unmanned aerial vehicles.
"Ukrainian defenders continue to deter the aggressor in the area of responsibility of the Operational and Tactical Group East," the statement read. "Today, on May 29, our artillery fired at the personnel and equipment of the Russian fascist troops."
Sunday saw intense fighting and fierce close combat clashes in Severodonetsk, an eastern Ukrainian city, as Russia sought to seize full control of the country's eastern Donbas region.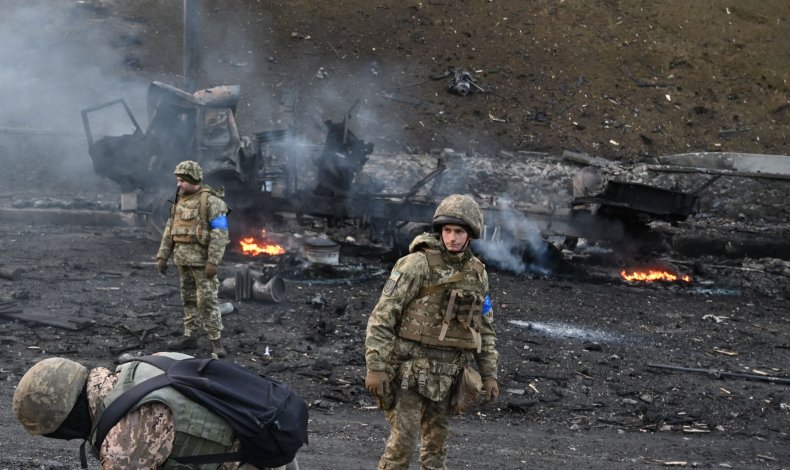 The Donbas region has been the focus of Russia's war against the country in recent weeks, after forces withdrew from Kyiv. Russian President Vladimir Putin is looking for military victory by attempting to seize the two big eastern regions, Luhansk and Donetsk, swathes of which have been under the control of Kremlin-backed separatists since 2014.
If Putin's troops capture the two twin cities of Severodonetsk and Lysychansk, then all of Luhansk would be under Russian control.
British intelligence said Friday that Russian ground forces are continuing their attempt to surround Severodonetsk and Lysychansk, after recently capturing several villages northwest of Popasna.
"Russia is pressuring the Severodonetsk pocket although Ukraine retains control of multiple defended sectors, denying Russia full control of the Donbas," the Ministry of Defence said in an intelligence update.
Ukrainian President Volodymyr Zelensky, during a rare visit to the frontline in Kharkiv, described the situation as "indescribably difficult."
"Capturing Severodonetsk is a principal task for the occupation force," Zelensky said, adding that Russian troops don't care about casualties.
The Ukrainian leader visited soldiers in the country's second-largest city, where some 90 percent of buildings and critical infrastructure have even been destroyed amid the ongoing war, which is reaching its 100th day.
"I feel boundless pride in our defenders. Every day, risking their lives, they fight for Ukraine's freedom," Zelensky wrote on the Telegram messaging app, shortly after his visit to Kharkiv.
Separately on Sunday, Russia's Foreign Minister Sergey Lavrov told French TF1 television that Putin's "unconditional priority" in the war is "the liberation of the Donetsk and Luhansk regions."
Zelensky has repeatedly asserted that Ukraine will never give up territory to help reach peace in the ongoing conflict.
Newsweek has contacted Russia's Ministry of Foreign Affairs for comment.