Ukraine Destroys Russian Battery of S-300 Air Defense Systems: Military
The Ukrainian military released a new video on Sunday, claiming that it shows the destruction of a battery of Russian anti-air defenses in Southern Ukraine.
The video was first shared by the Ukrainian military's Operational Command South formation on its official Facebook page. The video appears to show numerous burnt-out and smoking wreckages, including one near the beginning that resembles a truck of some kind. The post claimed that the targets were a battery of S-300 surface-to-air missile systems operated by Russian forces.
"While performing firing missions, our missile and artillery units destroyed a battery of S-300 air defense systems near Zelenotropynske," the post stated.
Zelenotropynske is located in Ukraine's Kherson Oblast, one of the southernmost regions in the country. The region is located just north of the Crimean peninsula, which Russia annexed from Ukraine in 2014. It was also reported on Sunday by Euromaiden Press that seven "port and industry infrastructure" targets had been struck by S-300 missiles near Mykolaiv, a port city located less than 200 kilometers north of Zelenotropynske. It is unknown if the S-300 systems destroyed on Sunday were responsible for these strikes, but it is unlikely given their dated nature.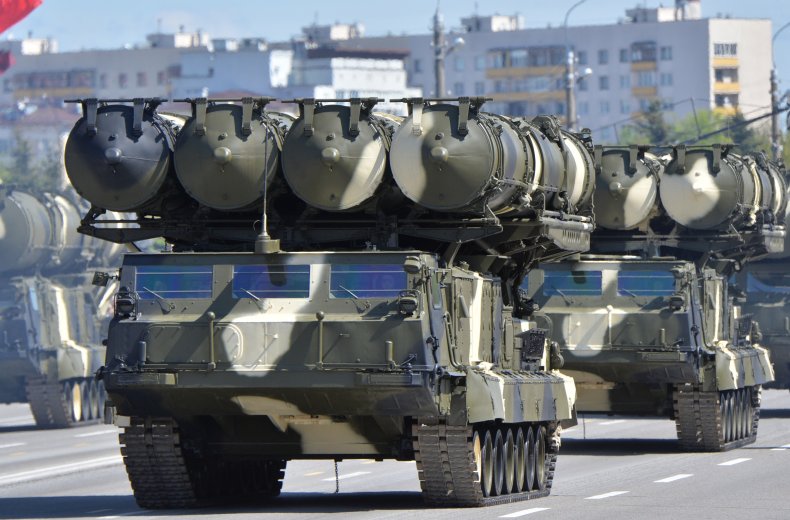 The S-300 anti-air missile systems are Soviet-era military technology introduced roughly 40 years ago, with a targeting range of only 75 miles. Earlier in July, it was reported that Russian forces were becoming increasingly reliant on such old hardware as modern munitions have been depleted by the protracted conflict in Ukraine. Six strikes in Mykolaiv were attributed to S-300 missiles over the first weekend of July.
Around the same time, it was reported that Russia was also increasingly reliant on Kh-32 missiles, which were originally designed to sink ships. Versions of the Kh-32 missiles were credited for strikes on a Kremenchuk shopping center that killed 18 people and an Odessa apartment complex that killed 20 in June.
Despite the original intentions of these weapons, with their stockpiles dwindling Russian forces have been forced to rely on S-300s and Kh-32s to strike land targets. In order to do so, they have been outfitted with GPS systems that allow them to be roughly directed at military targets.
"The Soviet Union built up vast stocks of munitions for its chosen weapon systems and the S-300 has been replaced by a new, more advance [surface-to-air] system. There will be a lot of S-300 missiles in the Russian inventory," a Western intelligence report recently explained. "It would make sense from the Kremlin's perspective to retro-fit the S-300s with a GPS capability and redeploy them in a different role. But the problem is that at the end of the day they remain second-rate precision strike weapons and more innocent people will die as a result."