Ukraine Expected to 'Capture or Encircle' Lyman Within 72 Hours: ISW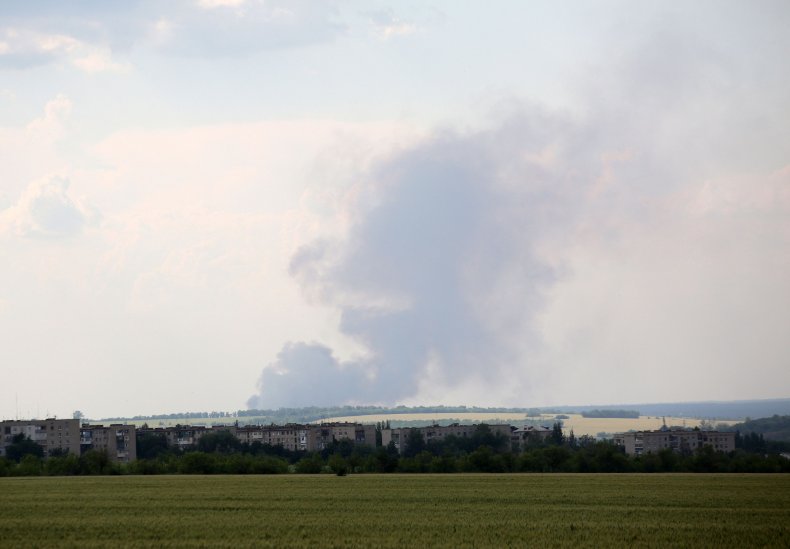 The Ukrainian military is likely to retake or fully encircle the Russian-occupied city of Lyman within 72 hours, according to the Institute for the Study of War (ISW).
Lyman is in eastern Ukraine's Donetsk region, one of the four Ukrainian regions that Russian President Vladimir Putin illegally declared to be annexed for Russia on Friday. Ukraine's military reported on the same day that Russian forces were partially enclosed near Lyman and said the operation to retake the settlement was "at the final stage."
A report from ISW, the U.S.-based think tank, assessed the state of the war on Friday and predicted the city would fall within days, potentially dealing a significant blow to Putin's claim of controlling the region. The report cited Russian military bloggers who described a "chaotic retreat" from the area by Russian troops, while also criticizing the Kremlin for not sending "necessary reinforcements" to Lyman and "instead firing rockets at Mykolaiv Oblast."
"Ukrainian forces will likely capture or encircle Lyman within the next 72 hours," the ISW assessment stated. "Russian forces continued to withdraw from positions around Lyman on September 30 as Ukrainian forces continued to envelop Russian troops in the area."
Russian correspondents and the Russian-backed government in the "Donetsk People's Republic" reportedly said that Lyman was still controlled by Russian forces as of Friday but that troops had withdrawn from key positions. Russian sources also reportedly claimed that Moscow was still "bringing additional reserves to reinforce Russian positions near Lyman."
Earlier on Friday, the Russian-appointed governor of Donetsk, Denis Pushilin, acknowledged in a Telegram message that Ukrainian forces had taken the upper hand.
"Our guys are fighting, we are pulling up reserves, we must hold out, but the enemy has also thrown serious forces," Pushilin wrote. "Very unpleasant news, but we must look soberly at the situation and draw conclusions from our mistakes."
Putin declared in a speech from Moscow on Friday that residents of Ukraine's Donetsk, Luhansk, Zaporizhzhia and Kherson regions would be Russian citizens "forever" following annexation.
Justin Bronk, senior research fellow at Royal United Services Institute, a British defense and security think tank, told Newsweek that Ukraine retaking Lyman would be "politically embarrassing for Putin," given his annexation claim.
"More significantly, perhaps, will be the potential role effects on already shaken morale among Russian troops elsewhere in Ukraine," Bronk added. "Assuming the encirclement results in large scale Russian personnel and materiel losses on top of those suffered in Kharkiv oblast over the past month."
During a televised address on Friday, Ukrainian President Volodymyr Zelensky described the military's advances near Lyman as one in a series of "substantial results" for the eastern counteroffensive.
"We have substantial results in the east of our country," Zelensky said. "There is already enough public information about this. Everyone has heard what is happening in Lyman, Donetsk region. These are steps that mean a lot to us ... It is very important."
Newsweek has reached out to the Russian government and ISW for comment.