Four Killed, 13 Injured in Russian Rocket Attacks: Ukraine
At least four people were killed and 13 others were injured in Ukraine following Russian rocket attacks on Thursday, according to the Ukrainian military.
Ukraine's Operational Command South (OCS) said in a Facebook post that an attack on a residential area in Mykolaiv, which used a "Smerch" rocket launcher, had killed three people and injured 12 others who required hospitalization on Thursday evening. The command said the following morning that one additional person had been killed and another injured in a separate Russian attack that used a "Grad" rocket launcher.
Russia also launched several attacks using "kamikaze" drones in the southern Mykolaiv region and near Odesa on Thursday, according to OCS. At least three Iranian-made "Shahed-136" drones were reportedly shot down by the Ukrainian military in Mykolaiv, while two others were shot down over the Gulf of Odesa.
One of the drones in Mykolaiv was said to have struck an administrative building, while another hit an unspecified "object of critical infrastructure." No information about potential casualties was released, although emergency workers and rescuers were reportedly working in the area following the attacks.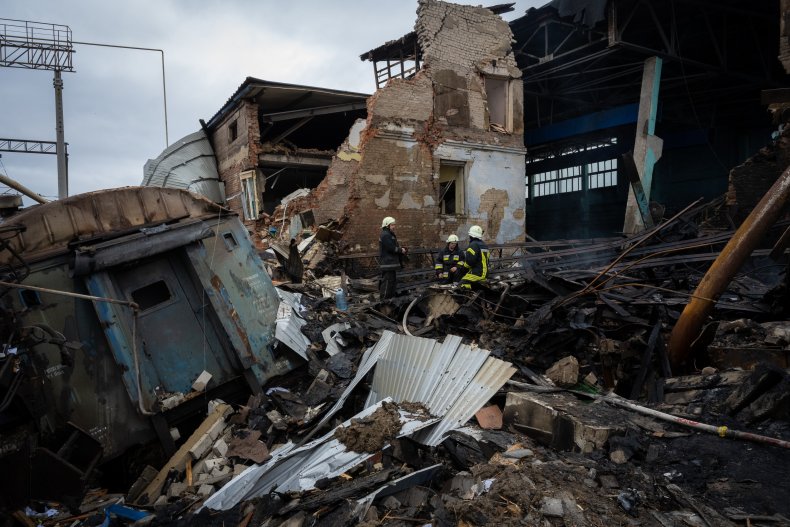 Russia has recently been ramping up drone attacks while Russian President Vladimir Putin's continues his push to replenish troops by mobilizing reservists and drafting others.
The mobilization effort has been met with protests and a wave of potential soldiers fleeing Russia. In addition, questions have been raised over the allegedly poor training of the new Russian troops who have been sent to war.
While Russian drone attacks have increased, Ukraine has also claimed to have shot down a significant number of drones in recent weeks. Meanwhile, Russian rocket and missile strikes have continued to reportedly cause damage and casualties in Ukraine.
Rescue workers in Dnipro, which is Ukraine's fourth-largest city and located in the eastern part of the country, said that a family of four was killed following a missile attack on Thursday, according to The Globe and Mail.
Missiles reportedly struck a market near a bus station and a residential neighborhood, resulting in the total destruction of four homes and damage to 61 others.
The General Staff of the Armed Forces of Ukraine said on Facebook that over 20 settlements were hit by Russian forces on Thursday. The total number of casualties was unclear.
A missile strike in Kharkiv on Wednesday struck a railway yard and knocked out power to over 18,000 homes, according to RadioFreeEurope, although no casualties were reported.
OCS reported several successes in Ukrainian counteroffensives on Thursday, which included 276 rocket and artillery attacks and 12 airstrikes.
A total of 43 Russian troops were reportedly killed in the attacks, while four tanks, four howitzers, two "Grad" rocket launchers and five armored vehicles were destroyed.
OCS also claimed that two Russian Sukhoi Su-25 were shot down and that two ammunition depots were destroyed on Thursday.
Newsweek reached out to the Russian government and the Institute for the Study of War for comment.