Iranian-Linked Drones Downed as Russia Ramps Up Air Attacks: Ukraine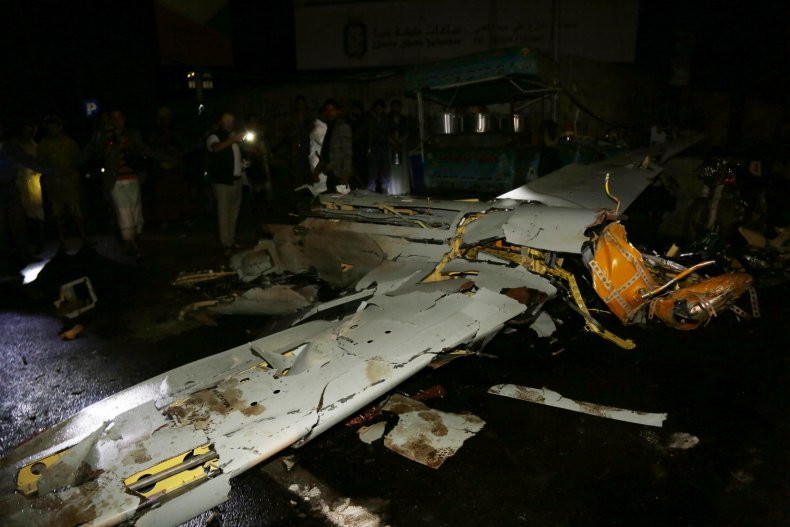 Ukraine says that it has destroyed multiple Iranian-made "kamikaze" drones that Russia has used in an effort to ramp up air attacks.
The Air Force Command of Ukraine's Armed Forces said on Facebook that four Iranian "Shahed-136" drones had been "shot down at once" in the Mykolaiv region by mid-range anti-air missiles on Thursday. Ukraine's Operational Command South (OCS) said that at least five of the Iranian unmanned aerial vehicles (UAVs), which had been used in Russian attacks that caused damage but no human casualties on Thursday, had been destroyed in the region.
"The enemy continues aerial reconnaissance using UAVs and also activates air attacks using Iranian kamikaze drones of the Shahed-136 type," OCS said in a Facebook post. "It was in this way that the port infrastructure of Ochakov was once again struck. One of the two attacking drones was shot down by our units, the other hit a port tug. Firefighters promptly extinguished the fire. There are no casualties."
"Another kamikaze drone 'Shahed-136' attacked Kryvyi Rih," the post continued. "As a result of hitting a two-story non-residential building, a fire broke out, which was promptly extinguished. There are no casualties."
Ukraine said that a Russian reconnaissance drone was also destroyed in Mykolaiv. Multiple howitzers, tanks and armored vehicles were also reportedly destroyed, while Ukraine claimed to have killed at least 27 Russian troops. Newsweek has not independently verified any of Ukraine's claims.
In addition to drone attacks, Thursday's Russian offensives purportedly included a significant number of rocket and artillery attacks. Russia was said to have "terrorized" the Nikopol district with rocket attacks, killing one Ukrainian civilian and destroying schools, a museum and residential buildings.
OCS warned Ukrainian residents to avoid "panic" while urging them to pay attention to government warnings and to remain vigilant in the face of potential new air attacks, including further kamikaze drone strikes.
"Do not panic, but keep an eye on the situation," OCS said. "The enemy may activate missile terror, increase shelling, and will continue to launch kamikaze drones. Do not ignore messages about air danger, monitor the situation and actions of suspicious persons, inform the competent authorities."
Ukraine also reported the destruction of a Shahed-136 drone near the frontlines of the war in the Kharkiv region this month. The U.K.'s Defence Ministry said that Russia was being forced to use weapons sourced from countries like Iran and North Korea due its own supplies dwindling.
The Iranian-made drones are considered to be technologically superior to the Turkish-made Bayraktar TB2 combat drones that Ukraine's military is using, having the capability of flying almost 1,100 miles farther while carrying payloads weighing 500 pounds more.
Iran previously denied sending the Shahed-136 drones or any other weapons to Russia. However, the head of the country's Revolutionary Guard later boasted about arming the world's top powers, according to the Associated Press.
White House press secretary Karine Jean-Pierre said during an August 30 press conference that Iran had sent Russia both Shahed-136 and Mohajer-6 drones, with the UAVs having been transferred to Russia "over the course of several days in August."
Newsweek has reached out to the Russian government for comment.