Ukrainian Air Force Questions Quality of Russia's New Iranian-Made Drones
Ukrainian military officials are optimistic that Iranian-manufactured drones recently provided to Russian forces do not pose a major threat due to their production value.
"The only thing that needs to be [taken into account] is that this is a modern strike drone," Yuriy Ignat, a spokesperson for the Ukrainian Air Force, said on Ukraine internet station Espreso TV, according to The Guardian. "But we do not know the quality of its production because Iran [made it] from contraband parts because the country is under sanctions.
"Let's hope that [the drones] are not too well made and our anti-aircraft guns will shoot them down like all other enemy [drones]."
U.S. State Department spokesperson Vedant Patel and other U.S. officials have said that sanctioned countries like Iran lack supplies and reliability in equipment, saying that some unmanned aerial vehicles (UAVs) "have already experienced numerous failures."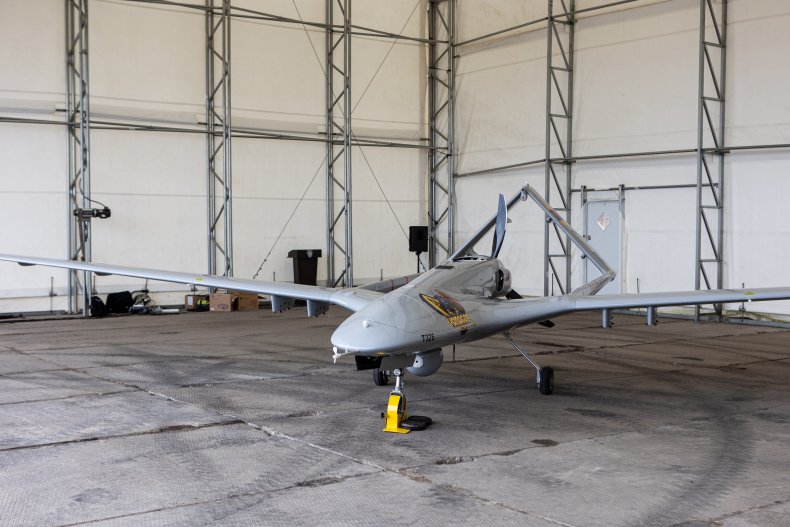 The Pentagon confirmed last month that drones had been transferred from Iran to Russia due to what Patel referred to as "major supply shortages" resulting from levied sanctions. He and other military and foreign policy experts remain skeptical about the intensive training necessary for Russian troops to take advantage of the weaponry, as well as the drones' ability to properly target and destroy moving U.S.-supplied High-Mobility Artillery Rocket Systems (HIMARS).
Ignat told Espreso TV on Monday that the Iranian-made drones can carry three times more munitions than the Turkish-made Bayaktars used by Ukrainian forces. He believes his country has the air capability to shoot down the Iranian-supplied drones.
However, Iranian drones like the Shahed-129 are superior technologically to the Bayraktar TB2 drones in Ukraine's possession. They can travel almost 1,100 miles farther and carry over 500 pounds more.
White House Press Secretary Karine Jean-Pierre confirmed during an August 30 press briefing that Russia has received Mohajer-6 and Shahed-series UAVs from Iran. They were loaded at an Iranian airfield and transported through the air last month.
A newly declassified U.S. intelligence finding reported by the New York Times showed that Russia is also buying millions of rockets and artillery shells from North Korea. One anonymous U.S. official said Russia's Ministry of Defense has sought resources because "the Russian military continues to suffer from severe supply shortages in Ukraine, due in part to export controls and sanctions."
The total amount of rockets and shells Russia expects to purchase from North Korea was not specified.
North Korea has been publicly supportive of Russia over Ukraine, especially as it relates to Donetsk People's Republic and Crimea—both of which North Korea have called territories belonging to Russia, not Ukraine, after Russia's 2014 annexation of Crimea.
Newsweek reached out to the defense ministries of Ukraine and Russia for comment.