Ukraine War Updates: Ukraine May End Mandatory Military Service
Ukrainian President Volodymyr Zelensky visited the recently liberated city of Izium in the Kharkiv Oblast Wednesday, thanking his troops for their continued counteroffensive efforts.
Zelensky said Ukrainian forces have recaptured 8,000 square kilometers of land from Russian occupation since the beginning of the month.
Ukrainian's Ministry of Foreign Affairs said Russian missiles targeted water systems in Kryvyi Rih on Wednesday, causing flooding in the city amid elevated water levels in the Inhulets River.
European Commission President Ursula von der Leyen was expected to Kyiv to show Europe's continued solidarity with Ukraine.
Von der Leyen also said EU sanctions against Russia "are here to stay."
Three power lines to the Zaporizhzhia Nuclear Power Plant have been restored after Russian shelling caused power outages, according to the International Atomic Energy Agency (IAEA).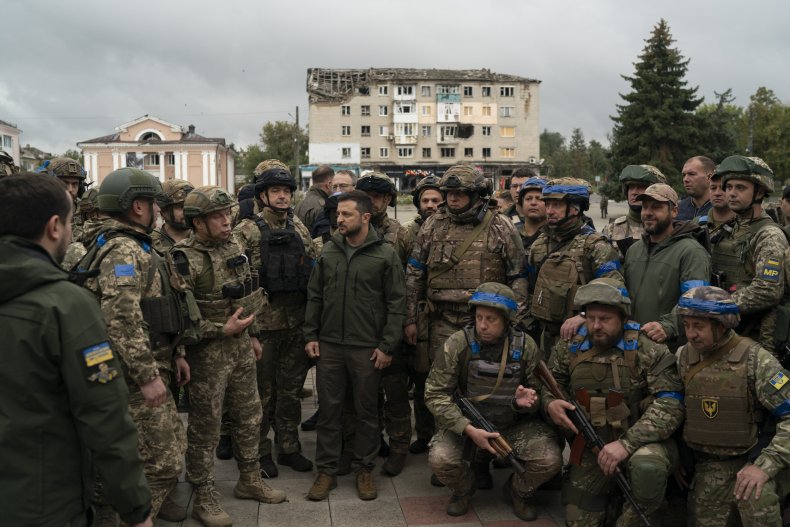 Live updates have ended.
Ukraine May End Mandatory Military Service
Ukrainian Prime Minister Denys Shmyhal told reporters on Wednesday that Ukraine is considering bringing its mandatory military service requirement to an end.
The rules currently in place are in the style of Soviet Union-era military service requirements. This style should be "abolished" and "cannot" be how the Ukrainian army moves forward after its war with Russia ends, Forbes reported Shmyhal as saying.
The prime minister told reporters that investing people's time in "learning how to march makes no sense" and that the current war demonstrated that younger men could be trained within months rather than over the course of a year or more. Shmyhal said the discussion on whether these changes will be made is "ongoing," according to Forbes.
Shmyhal appeared to encourage the adoption of a military service style in which all men are trained to serve in two- or three-month periods, after which they would update their training "every 10 years." He compared this style of military service to that used in Israel, the outlet added.
Commercial Flight Leaves Ukraine For First Time Since April
For the first time since April, a commercial flight has left Ukraine.
Wizz Air has been grounded in the western Ukrainian city of Lviv since for months. On Tuesday, a flight from the airline left the city and landed in Poland, according to flight monitoring site Flightradar24.
Flightradar24 Director of Communications Ian Petchenik confirmed to CNN that the A320 HA-LWS flew from Lviv to Katowice yesterday. The plane was registered to Wizz Air, but Flightradar24 could not confirm with carrier was operating it.
The plane took off before 11 a.m. ET but the exact time it left Ukraine or cross into Poland is unclear.
Petchenik added that Wizz Air has three more aircrafts with Hungarian registrations grounded in the Ukrainian capital of Kyiv.
Russian Missiles Hit Dam, Cause Flooding
Russian missiles targeted water systems in Kryvyi Rih, one of the 10 most populous cities in Ukraine, on Wednesday.
Eight rocket strikes targeted the city's hydraulic systems, according to Anton Gerashchenko, an adviser to Ukraine's minister of internal affairs. The strikes resulted in rising water levels in the Inhulets River, "threatening the city," Gerashchenko said in a Wednesday tweet.
Kyrylo Tymoshenko, the deputy head of Ukraine President Volodymyr Zelensky's office, said Russia "obviously wants to cause a crisis situation," according to Gerashchenko.
Accompanying Gerashchenko's tweet was a video showing the Inhulets River after the missile strikes. Civilians could be seen standing along the river's edge while taking photos or videos of the increased water levels.
Zelensky addressed the latest missile strikes in a Wednesday post on Instagram, which featured an image of the damaged water system. He referred to Russia in his post as a "terrorist state" and said Russia was trying to flood the city.
"All the occupiers can do is to sow panic, create an emergency situation, try to leave people without light, heat, water and food," the caption for Zelensky's post said. "Can it break us? Not at all.
Will they face a fair response and retribution? Definitely yes."
Ukraine's Ministry of Foreign Affairs shared the same photo on Twitter with a link to Zelensky's post.
U.N. Chief Says Ukraine is 'Far From' Peace
United National Chief Antonio Guterres said the war in Ukraine is "far from the possibility of peace" Wednesday.
"A ceasefire is not in sight," he told a reporter. "I would be lying if I said it would happen."
He said it will take time and a lot of changes in the present situation to allow peace to be possible.
Guterres said the United Nations will always be available for peace, ceasefires, support to exchange of prisoners and to guarantee human rights are respected. He added that the U.N. will continue to mobilize its capacities for the Ukraine people.
Guterres spoken with Russian President Vladimir Putin Wednesday about the situation in Ukraine. The leader touched on the grain export deal, prisoners of war and the safety of the Russian-held Zaporizhzhia Nuclear Power Plant.
The Kremlin said he "made a positive assessment of the constructive cooperation" with the International Atomic Energy Agency (IAEA) over the recent inspection of the Zaporizhzhia nuclear plant," according to Russia state media.
Shelling Decreased in Kharkiv, Ukraine Army Reports
The Ukraine armed forces said Russian shelling in the Kharkiv region has decreased, but the threat of air strikes remain throughout the country.
General Staff of the Armed Forces of Ukraine spokesman Alexander Štupun gave an address with an update on the status of the war Wednesday.
He said Russia continued to "terrorize" civilians and break the laws and customs of warfare, including attacks on infrastructure.
"In the Kharkiv direction, the intensity of enemy shelling has significantly decreased," Štupun said.
In other areas, however, Russia shelling on civilian infrastructure does continue in more than 15 settlements.
Štupun said the "threat of aviation and missile strikes throughout Ukraine remains."
Just Wednesday, he said eight rockets, four air strikes and 15 shelling from Russian battalion-fire jet systems were reported.
Russia continues to focus its efforts in the Donetsk and Luhansk regions, Štupun said.
"The opponent continues to focus efforts on attempts to complete occupation of the Donetsk region, hold the occupied territories and disrupt the Defense Forces offensive actions in individual directions," he said. "The enemy is firing the positions of our units along the encounter line, attempting to recover lost position, mobilizing troops and conducting air reconnaissance."
Despite the continued shelling and missile strikes, Štupun said Russia "does not leave an attempt to advance deep into our territory." He added that Ukrainian defense forces have been able to repel enemy attacks in several settlements.
Štupun also said Russian moral and psychological condition is "extremely low" since the recent success of Ukraine forces and the destruction of Russian forces.
"The command of the occupying forces units by threatening to send to the unarmed front line positions tries to force the personnel to participate in combat," he said, noting up to 50 Russian soldiers reportedly said they refuse to participate in combat.
Putin Reportedly Refused Early Ukraine Peace Deal
Russian President Vladimir Putin reportedly refused to pursue a peace deal recommended by one of his advisers in the early days of his country's war with Ukraine.
Three people with knowledge about the deal told Reuters that Putin's chief envoy to Ukraine, Dmitry Kozak, worked on the deal with Ukrainian officials and recommended Russia take it. The unnamed sources aware of the proposed deal said it would have made the invasion that followed unnecessary.
The deal reportedly addressed concerns Putin held about Ukraine seeking North Atlantic Treaty Organization (NATO) membership. Political experts have since the early days of battle cast doubt about the extent to which Ukraine's hypothetical NATO membership played a role in Russia's invasion.
By the time the deal was brought to Putin, the Russian president wanted to go beyond discouraging NATO membership and start annexing parts of Ukraine, the individuals familiar with the deal told Reuters.
A Kremlin spokesperson dismissed reports about the deal when questioned by Reuters, telling reporters they had "absolutely incorrect information."
US Senators Push for Russia Terrorism Designation
U.S. Senators Lindsey Graham of South Carolina and Richard Blumenthal of Connecticut called for the U.S. to designate Russia as a state sponsor of terrorism during a Wednesday press conference.
The senators' push for the designation came shortly after Ukraine marked the 200th day of war with Russia.
Graham said Russian President Vladimir Putin has "challenged the world" and is "putting into question everything we believe in."
"If he's still standing when this is over and he's not labeled a state-sponsored terrorism, we've missed a mark," Graham said.
The South Carolina Republican said Putin has "literally gotten away with murder" for the past two decades. "Now it's time to designate him in a fashion befitting his conduct. He is a terrorist," Graham said.
Blumenthal, a Democrat, said Putin "embodies terrorism and totalitarianism and torture."
"This resolution is absolutely appropriate, and it will put Russia outside the pale of civilized nations," Blumenthal said.
Graham previously introduced a resolution in May that encouraged Secretary of State Antony Blinken to officially identify Russia as a state sponsor of terrorism. The U.S. currently recognizes four countries as state sponsors of terrorism: Cuba, North Korea, Iran and Syria.
Graham's initial resolution cited calls by Ukrainian President Volodymyr Zelensky in March for the international community to identify Russia as a terrorist state following Russia's invasion of Ukraine in late February.
President Joe Biden's administration has thus far decided against identifying Russia in this way. During a press briefing earlier this month, White House Press Secretary Karine Jean-Pierre told reporters a terrorist state designation "could have unintended consequences to Ukraine and the world." The White House does not believe the designation would be "the most effective way to go or the strongest path forward," Jean-Pierre said.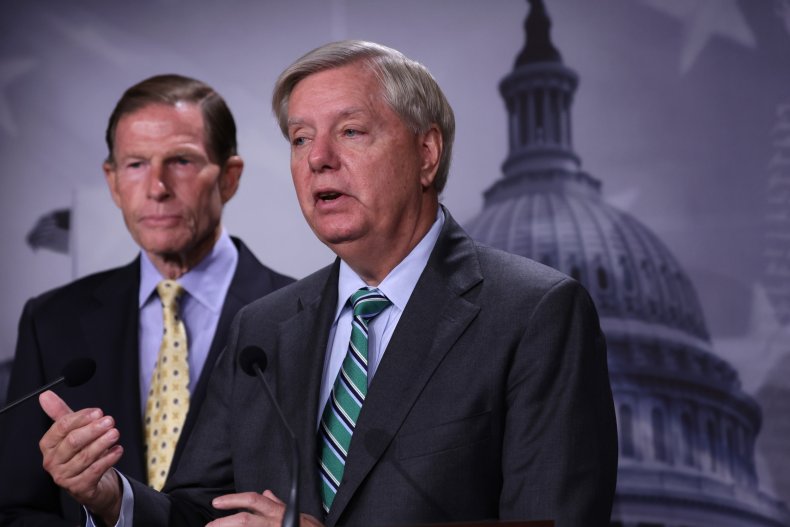 Biden Picks New US Ambassador to Russia
President Joe Biden will name his nomination for the new Ambassador to Russia.
According to the Associated Press, the president will nominate Lynne Tracy to represent the U.S. in Moscow. Tracy is a career diplomat who is currently serving as the U.S. Ambassador to Armenia.
She is expected to replace John Sullivan, who stepped down from his position earlier this month amid his wife's failing health.
Officials in the Biden administration familiar with the matter told AP that her nomination will be submitted to the Senate as soon as the Russian government approves the choice, in accordance to diplomatic protocol.
Her nomination comes at a time of high tensions between Moscow and Washington amid the ongoing war in Ukraine.
Russia reportedly received word on Biden's nomination several weeks ago but has not yet formally signed off on Tracy.
Tracy speaks Russia and previously served as a senior adviser for Russian affairs in the State Department's Bureau of European and Eurasian Affairs, as the deputy chief of mission at the U.S. Embassy in Moscow from 2014 to 2017, and has also held several posts in Central and South Asia.
She was also honored by the State Department for her work as the embassy deputy in Moscow.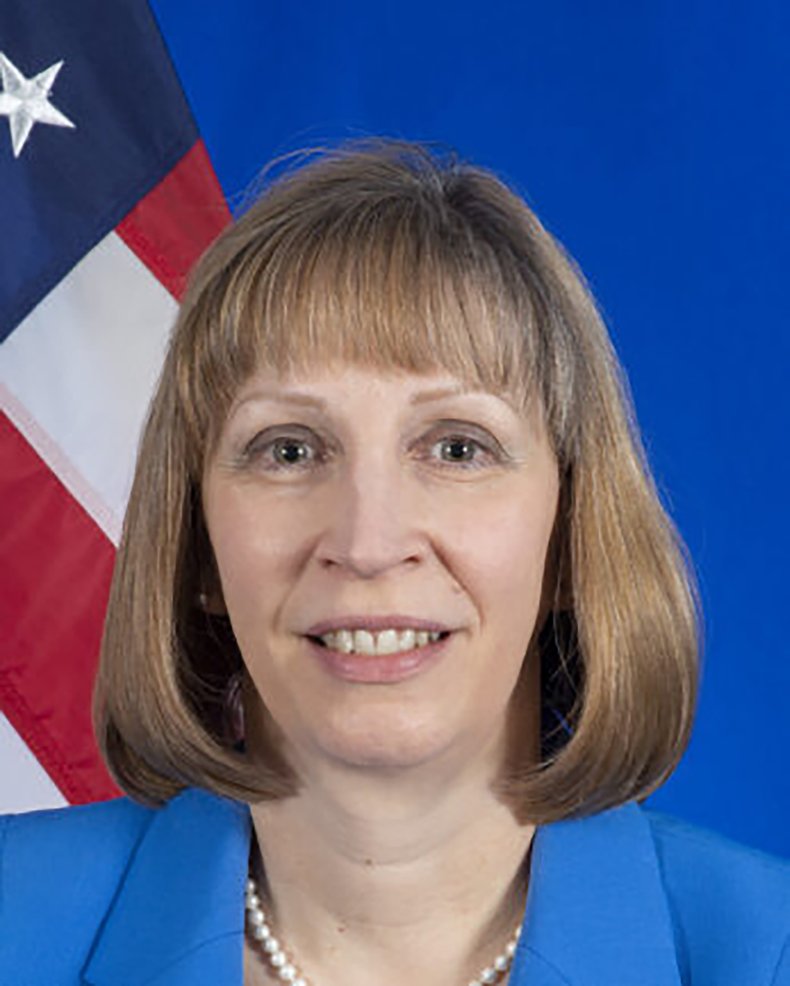 What Ukraine Needs to 'Speed Up' War's End
Mykhailo Podolyak, an adviser to Ukrainian President Volodymyr Zelensky, shared a short list of items Wednesday that he said are needed in order to "speed up" the end of the war Russia started through its February invasion of Ukraine.
Ukraine needs multiple launch rocket systems (MLRS), tanks and other armored vehicles, air and rocket defense capabilities, and drones, Podolyak tweeted. The MLRS and drones are needed for "destruction of rear logistics" and "targeting," while the air and rocket defense needs are for "critical infrastructure protection," he said.
Government officials in Ukraine and human rights organizations have raised concerns about airstrikes and shelling that has hit vital Ukrainian infrastructure often over the course of the war.
The armored military vehicles are needed to assist Ukrainian troops as they work on reclaiming occupied territory, Podolyak's tweet said.
"Time for the final strike against Evil Empire," he wrote.
Zelensky said this week that Ukrainian forces have recently reclaimed about 8,000 square kilometers of territory. Ukrainian Prime Minister Denys Shmyhal told reporters during a Wednesday press conference that efforts are already underway to build new fortifications in reclaimed territories.
Russia Using Iranian, North Korean Weapons, U.K. Reports
Russian forces have deployed Iranian weapons in Ukraine, according to United Kingdom U.K. Ministry of Defence.
The ministry said it is "highly likely" that Russia used Iranian uncrewed aerial vehicles (UAV) in Ukraine for the first time. Ukrainian officials reported Tuesday that their forces shot down a Shahed-136 UAV near Kupiansk, amid Ukraine's ongoing counteroffensive.
The latest British intelligence says similar Iranian-manufactured weapons have been used in attacks in the Middle East.
The Kremlin is also using weapons from another western adversary, North Korea.
"Russia is almost certainly increasingly sourcing weaponry from other heavily sanctioned states like Iran and North Korea as its own stocks dwindle," the U.K. Defence Ministry reported Wednesday.
The ministry said the loss of a Shahed-136 near the front lines suggests there is a "realistic possibility that Russia is attempting to use the system to conduct tactical strikes rather than against more strategic targets farther into Ukrainian territory."
Ukraine Shipped 3.1M Tons of Grain in UN Deal
Ukraine has exported an estimated 3.1 million tons of agriculture items since signing a United Nations-backed agreement known as the Black Sea Grain Initiative in July.
Oleksandr Kubrakov, Ukraine's minister of infrastructure, provided the updated export numbers in a Wednesday tweet.
A total of 134 ships carrying grain have left Ukrainian ports since the initiative was signed, according to a chart Kubrakov shared on Twitter. Seventy-one ships bound for Asia carried 1.4 million tons of products, 44 ships carrying 1.1 million tons left for Europe and another 19 ships with 0.6 million tons on board were headed for Africa.
The chart also provided a breakdown of where in Africa the shipments were headed. Egypt was set to receive the largest amount of products at 274,000 tons, followed by Sudan with 115,000 tons. Kenya, Algeria, Yemen, Somalia, Djibouti and Libya were also expected to receive shipments.
The Black Sea Grain Initiative was signed on July 22 by Ukrainian and Russian ministers as a way to ensure agriculture exports could continue despite Russia's ongoing war with Ukraine. At the time the initiative was signed, the UN said it would "help to stabilize spiraling food prices worldwide and stave off famine, affecting millions."
In his Wednesday tweet, Kubrakov said the initiative "helps to stabilize global food markets" but said the ongoing war sparked by Russia's invasion of Ukraine earlier this year "continues to plunge the world food market into turmoil."
"As a result, the hunger crisis already hit African countries," he said.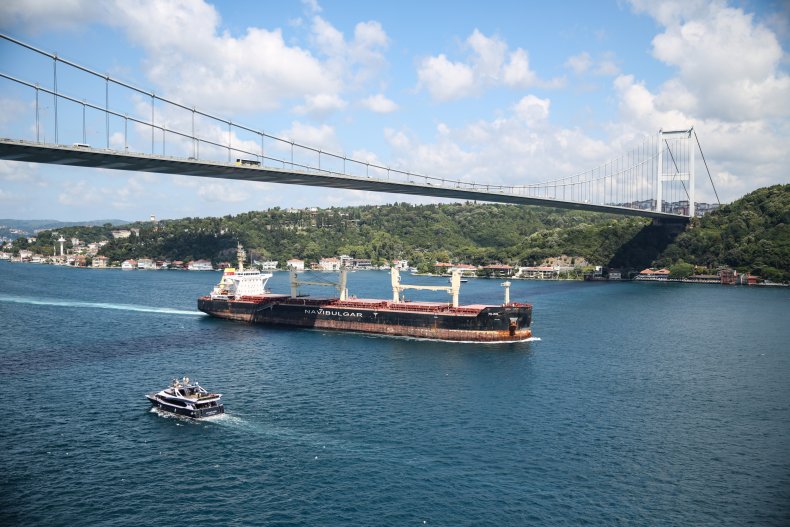 EU Chief Promises to Maintain Sanctions on Russia
European Commission President Ursula von der Leyen will travel to Kyiv Wednesday to show the bloc's support for Ukraine.
In her State of the European Union address, von der Leyen said the EU will continue to send aid to Ukraine by opening its seamless single market more to Ukrainian products. She said she will "discuss all this with President [Volodymyr] Zelensky."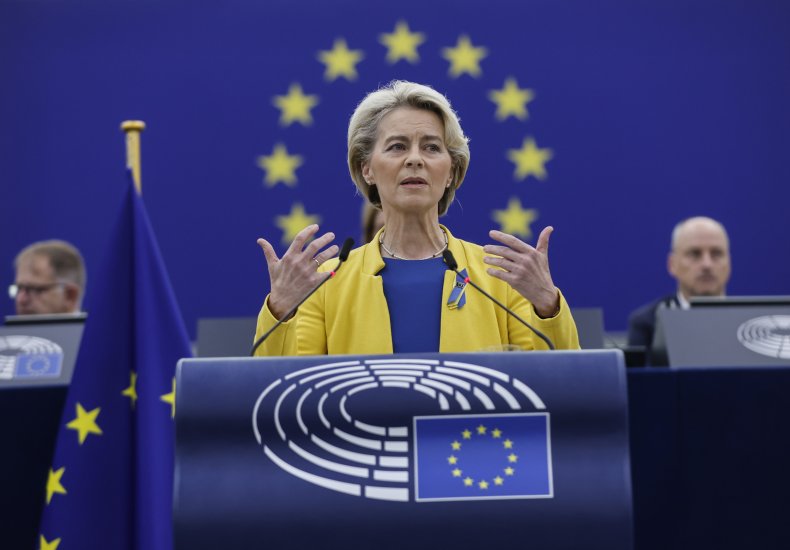 "And I stand here with the conviction that with the necessary courage and necessary solidarity, Putin will fail and Europe will prevail," she said. "Europe's solidarity with Ukraine will remain unshakeable."
Von der Leyen commended the Ukrainian forces for their counteroffensive efforts.
"We have seen in the last days the bravery of Ukrainians paying off," she said.
Ukraine's first lady Olena Zelenska was present for the address.
The EU has committed billions in aid to Ukraine since the invasion began in February. Von der Leyen said the EU will allocate 100 million euro to rebuild 74 schools in Ukraine.
"Heroic resistance to the aggressor, our common actions and perspectives with [EU] are among the crucial topics," Zelsnka said in a tweet. "Great honor to be here on behalf of Ukraine. Great inspiration to see admiration of our country."
Von der Leyen said the sanctions imposed on Russia by the EU and other Western nations are working to cripple the Kremlin.
"Russia's financial sector is on life support. We have cut off three-quarters of Russia's banking sector from international markets," she said, noting that almost 1,000 companies have left Russia.
She said the EU must maintain sanctions pressure on the Kremlin.
"The sanctions are here to stay, this is the time for us to show resolve, not appeasement," she said.
Von der Leyen said the EU will work to become energy dependent, as Russia "keeps on manipulating our energy market."
"This is not only a war unleashed by Russia against Ukraine, this is a war on energy, it's a war on our economy, it's a war on our values, it is a war on our future," she said.
Amid an ongoing energy crisis bringing high costs to costumers, the EU will reform its electricity market "so consumers benefit from the low cost of renewables," von der Leyen said.
Pope Asks for Peace in Ukraine
Pope Francis blasts the destruction of the war in Ukraine during an address in Kazakhstan.
The Pope decried the "senseless and tragic war that broke out with the invasion of Ukraine."
"I have come to echo the plea of all those who cry out for peace, which is the essential path to development for our globalized world," he said.
The Pope told other faith leaders, including the head of the Russian Orthodox church, that religion should never be used to justify the "evil" of war.
"May we never justify violence," he said. "May we never allow the sacred to be exploited by the profane. The sacred must never be a prop for power, nor power a prop for the sacred!"
He also asked at an outdoor mass, "how many deaths will it take" for peace to prevail in Ukraine.
The Pope asked for prayers for "beloved Ukraine."
"How many deaths will it still take before conflict yields to dialogue for the good of people, nations and all humanity?" he asked. "The one solution is peace and the only way to arrive at peace is through dialogue."
Zelensky Visits Liberated City of Izium
Ukrainian President Volodymyr Zelensky visited the recently-liberated city of Izium, in the Kharkiv region Wednesday.
Ukrainian troops recaptured the city from Russian occupation as part of the latest counteroffensive effort that has pushed Russian forces back towards the border.
The president said visiting liberated territories is a "very emotional moment."
"This means that together with the Armed Forces of Ukraine, life is coming back," he said, according to a statement from the president's office.
Zelensky had his hand over his heart as the blue and yellow Ukrainian flag was raised and the national anthem was sung.
"Earlier, when we looked up, we always looked for the blue sky, the sun," he said. "And today, looking up, we and especially the people in the temporarily occupied territories are looking for only one thing - the flag of our state. It means that the heroes are here. It means that the enemy is gone, ran away."
The president thanked his troops for "saving our people, out hearts, children and future." Zelensky presented state awards to the servicemen.
"I want to thank you for your service, for liberating the temporarily occupied territories," he said. "Thank you for protecting the most important thing we have - Ukraine, our sovereignty and territorial integrity."
He also told the "heroic" soldiers to take care of themselves and their families.
"Children and grandchildren will never forget your feat," the president noted.
Zelensky said the Russian occupation will be short-lived.
"Probably, it is possible to temporarily occupy the territories of our state," he said. "But it is definitely impossible to occupy our people, the Ukrainian people."
Zelensky noted the scene in Izium is "shocking."
"What we see is shocking, although we have already seen this in Bucha, in the first de-occupied territories," he said, noting destroyed buildings and dead civilians.
"Unfortunately, this is part of our history today. And this is part of the modern Russian nation – what they did," he added.
Zelensky promised the Office of the Prosecutor General is working to investigate all possible war crimes.
"And then, I am sure, there will be verdicts for all this, there will be a tribunal. I don't doubt it for a second," he said.