As Putin Runs Out of Options in Ukraine, Europe Runs Out of Patience
While Russian President Vladimir Putin appears to be running out of options as he faces Ukrainian advances on several fronts, an energy crisis linked to the ongoing war is leaving Europeans increasingly frustrated.
Europe and Western countries around the world moved quickly to impose unprecedented sanctions on Russia in the wake of its Ukrainian invasion on February 24. Some of these sanctions have targeted Russia's energy industry, a tough blow for a country that relies heavily on revenues from oil and natural gas, according to the International Energy Agency.
Russia has turned some of these sanctions back on Europe in what some have described as energy "blackmail." After a key pipeline that runs from Russia to Germany was closed for several days for maintenance, Russia warned that it would not resume gas supplies to Europe through Nord Stream 1 until sanctions were lifted.
"Pumping problems arose because of sanctions imposed against our country and against a number of companies by Western states, including Germany and the U.K.," Kremlin spokesperson Dmitry Peskov said, according to the BBC. "There are no other reasons that would lead to problems with pumping."
Russia had previously limited or cut off gas supplies since the start of the war to specific European countries through other pipelines, including Poland and Bulgaria after they refused to pay for fuel in Russian rubles. Now, European gas shortages that a Shell chief executive predicted will last several winters due to the cuts in Russian supplies, as well as high energy costs, have left those on the continent concerned and, in some cases, furious.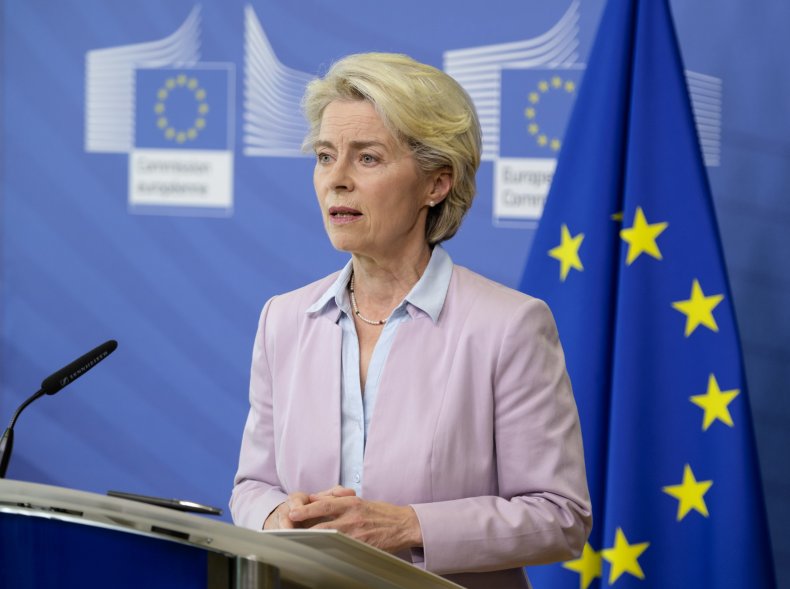 In the Czech Republic's capital city of Prague, an estimated 70,000 people protested earlier this month to demand action on elevated energy costs and call on the country to make sure direct contracts with gas suppliers, including Russia, were in place, Reuters reported. Similar demonstrations have also taken place in Italy, where protesters burned their energy bills, the Daily Express reported, as well as in Germany and Spain, according to Politico.
An analysis released this month by the risk consultancy firm Verisk Maplecroft found that the wealthiest nations in Europe are at risk of seeing civil unrest this winter, including street protests and demonstrations, over energy prices and elevated living costs.
Elizabeth Carter, an assistant professor of political science at the University of New Hampshire, told Newsweek that one of the challenges that European leaders may face this winter in keeping their constituents happy is making sure that people can afford to heat their homes. She noted that the U.K. has already announced a price cap for energy bills that will begin on October 1 and continue for two years.
Other issues European leaders may face include ensuring there is adequate energy supply through winter.
"Typically, energy accumulates during the summer and is spent down during the winter, but this strategy was taxed by the hot, dry summer, as well as the drying up of the pipeline," Carter said. "So a double whammy. European leaders have been actively tapping other sources—often at very high costs—and it remains to be seen if this will be sufficient to get people through the winter."
Roger Daniel Keleman, a professor of political science and law at Rutgers University, told Newsweek that Europeans being unhappy this winter and energy prices continuing to rise are a "foregone conclusion" at this point.
"So, I think their challenge won't be to keep them happy. It'll be to keep them warm, right?" he said, adding that it will come down to what emergency plans can be put in place to help people cope.
A Flash Eurobarometer survey released in May that polled residents of European Union member states found that 80 percent of respondents approved of the economic sanctions against Russia. Carter does not believe that support for Ukraine and European sanctions against Russia will be greatly impacted in the winter despite the potential heating and gas issues.
"I think for the most part, European leaders perceive Putin's behavior as a type of energy blackmail," she said. "Europeans remain resolutely against Russian aggression in Ukraine and support sanctions. I think public support will wane somewhat this winter—as the energy crisis comes into relief—but I would be shocked if the support weakened enough to undermine the sanctions."
Carter also said that she would be "extremely surprised" if discontent among Europeans resulted in leaders easing sanctions against Russia, and predicted that they would first continue looking into other international energy sources and price caps.
"Easing the sanctions would be, essentially, allowing Putin to get away with this energy extortion, and there is a strong resistance to that," she said.
Keleman gave a similar assessment, noting that recent Ukrainian victories may actually encourage backing for the war-torn country.
"There's a lot of support, both among populations and among leadership, for maintaining the sanctions, and I think actually that will be encouraged by these successes Ukraine is having on the military front lately," he said.
Ukraine has been reporting progress in its counteroffensives in the southern Kherson region and eastern Kharkiv region in recent days. A retired U.S. general assessed last month that Putin was "out of ideas" in the war and his military is "operationally in a box."