Ukraine Exploiting Putin's September Deadline With 'Opportunistic' Advances
Ukrainian forces in the southeastern Kharkiv region may be taking advantage of the absence of Russian forces, some of whom were reallocated for a September deadline to take more land, in order to carry out an "opportunistic" counteroffensive in the area, according to a U.S. think tank.
Last week, Oleksiy Gromov, deputy chief of the Main Operational Department of the General Staff of Ukraine's Armed Forces, said at a briefing that Russian President Vladimir Putin issued an order for his forces to push to the administrative borders of Ukraine's eastern Donetsk region by September 15. Newsweek was not able to independently verify the report.
The Institute for the Study of War (ISW), citing Russian sources, wrote in its campaign assessment for Wednesday that Russian troops began sending reinforcements to the Kharkiv area to help defend it against Ukrainian advances. Additionally, "the Russian grouping in this area was likely understrength due to previous Russian deployments to support ongoing efforts to capture the remainder of Donetsk Oblast and support the southern axis," the ISW wrote.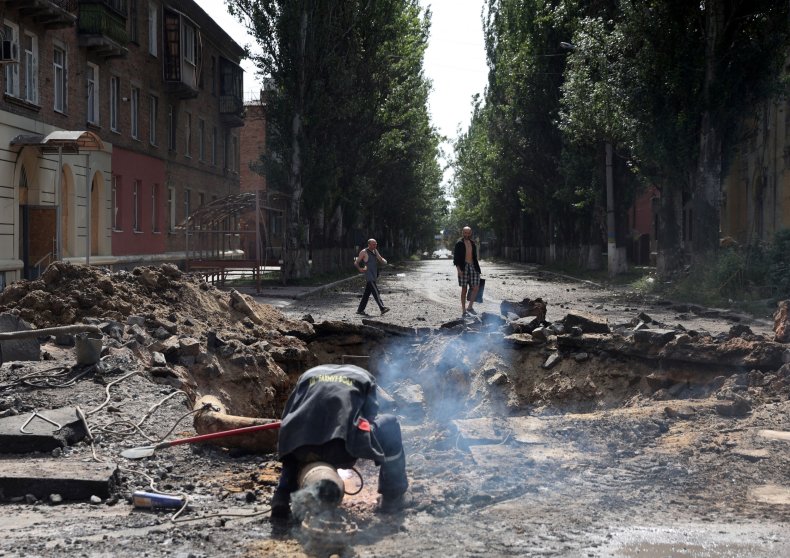 The Ukrainian advances in the Kharkiv region, if true, would be taking place in tandem with an ongoing counteroffensive in the southern Kherson region that has reportedly already resulted in Russia seeing "significant losses." These losses for Putin's army in Kherson have purportedly included air strikes on Russian bases, as well as Ukraine's recapture of the Kherson village of Vysokopillia on Sunday.
In early July, the Associated Press reported that Russian forces were believed to be holding about half of Donetsk in recent weeks, but that it had become unclear where things stood in the region. In its intelligence update for Monday, the U.K. Defense Ministry wrote that it was "highly unlikely" that Russia will make the ordered Donetsk advances by the deadline.
"Despite its effects to contain recent Ukrainian offensive action, Russia's main effort in Ukraine almost certainly remain its Donetsk offensive operation," the update read. "Its principal axes of advance in the Donbas remain at Avdiivka near Donetsk City and, 60 km to the north, around Bakhmut. Although Russia has had the most success in this sector, its forces have still only been advancing around 1km per week toward Bakhmut."
Russia's focus on the Kherson counteroffensive may also be paving the way for Ukrainian advances in southeastern Kharkiv.
"Ukrainian forces likely used tactical surprise to advance at least 20km into Russian-held territory in eastern Kharkiv Oblast on September 7, recapturing approximately 400 square kilometers of ground," the ISW wrote.
It added that Ukraine's Kherson push has "forced Russian forces to shift their focus to the south, enabling Ukrainian forces to launch localized but highly effective counterattacks in the Izium area."
Newsweek reached out to Russia's Defense Ministry for comment and confirmation on the Ukrainian advances in Kharkiv.