Ukraine Gets the Jitters as Fatalities Spike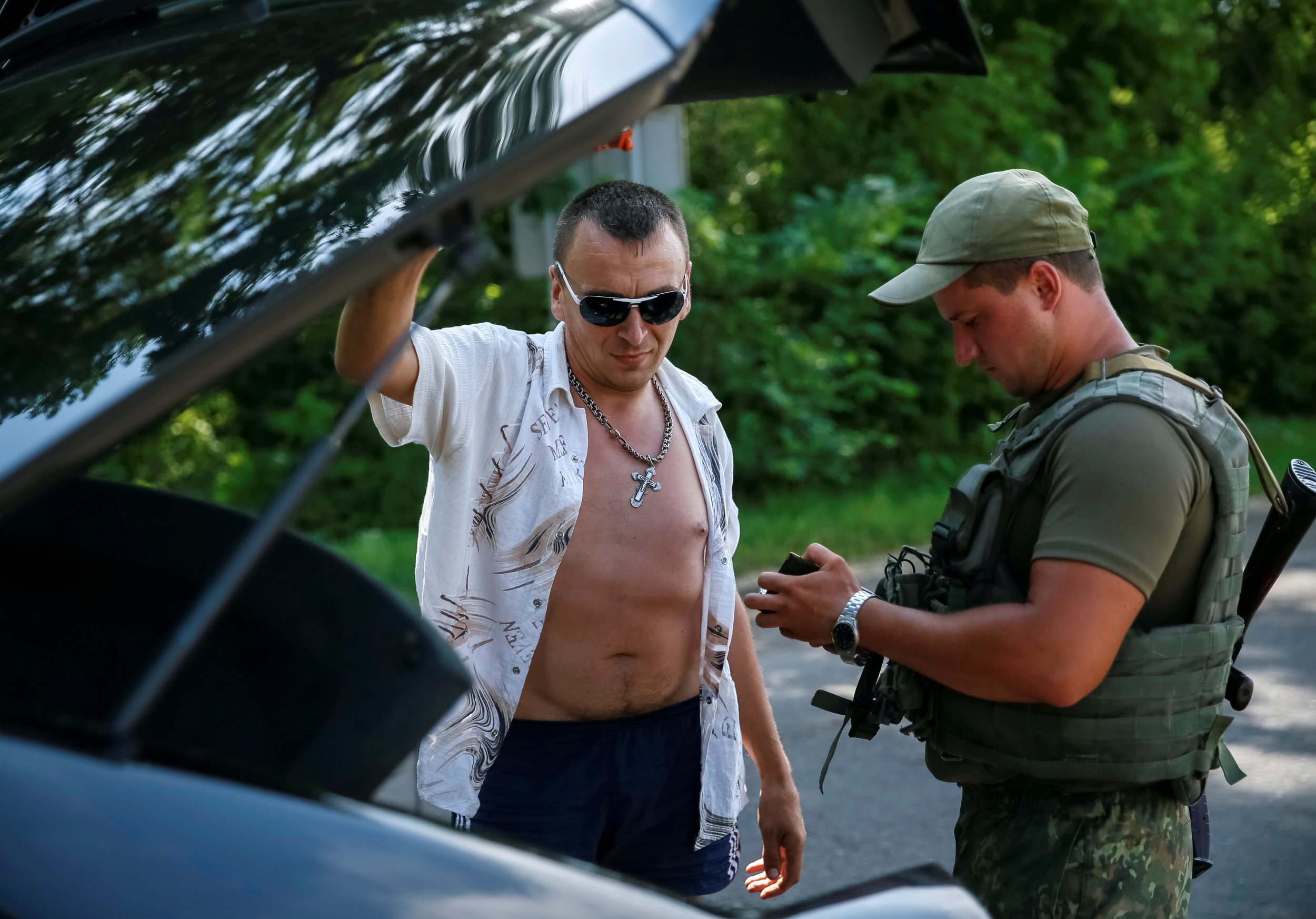 This article first appeared on The Daily Signal.
Little more than two weeks ago, things were looking up for Ukraine. Fighting had tapered off in the ongoing war in eastern Ukraine and Kiev had scored a series of diplomatic wins, including high-profile gestures of solidarity from NATO leaders at the Warsaw summit.
But the good news quickly was overshadowed by events inside Ukraine and abroad that revived, once again, the cyclical worry that events in the war-torn, post-Soviet country could spiral out of control.
Ukraine faces a worsening war in the east, a high-profile assassination of a prominent journalist on the streets of central Kiev that portends a wave of internal violence and a damning report of prisoner abuse and torture.
Not to mention U.S.-Russian military cooperation against ISIS and a NATO alliance that continually makes impassioned statements about standing up for Ukraine's sovereignty, but repeatedly stands on the sidelines as the Kremlin orders punitive heavy artillery and rocket attack jabs in eastern Ukraine.
The Ukrainian mission to the U.N. tweeted July 20 that if violence in Ukraine's embattled eastern Donbas territory did not calm down, Ukraine would "take all measures to protect its territorial integrity and security of its citizens."
U.S. Secretary of State John Kerry, visiting Moscow the previous day, spoke glowingly of the ability of America and Russia to "come together with purpose."
Just the week before, the NATO summit in Warsaw, Poland, on July 8 and 9 was a diplomatic win for Kiev.
Ukraine's ongoing war against combined Russian-separatist forces took center stage in Warsaw. It was also a chance, to Moscow's chagrin, for Ukrainian President Petro Poroshenko to highlight Ukraine's deepening ties to NATO.
During the summit, Poroshenko's Facebook page and Twitter feeds pumped out photos of the Ukrainian president shaking hands with leaders from the U.S., the U.K., France, Germany and Spain.
The alliance pledged closer ties and an aid package for Ukraine, and agreed to deploy troops to NATO's eastern flanks in numbers not seen since the Cold War, to deter further Russian aggression.
"Ukraine is key to North Atlantic security," NATO Secretary General Jens Stoltenberg told reporters in Warsaw during a joint press conference July 9 with Poroshenko.
"NATO stands in solidarity with Ukraine," Stoltenberg said.
The day after the summit wrapped, Canadian Prime Minister Justin Trudeau flew to Kiev to sign a free trade agreement.
Ukrainian officials rolled out the red carpet for Trudeau. Streets in central Kiev were lined with Canadian flags hung on light poles. Ukraine touted the free trade deal with Canada, coming on the heels of the NATO summit, as a high-profile measure of progress after the country's 2014 revolution, and a sign that the country had its foot in the door to long-term aspirations at membership in the European Union and NATO.
"We will stand with our NATO partners, and push on, as you've seen, our friends and partners, to continue to be steadfast in support of Ukraine," Trudeau said at a joint press conference with Poroshenko on July 11.
As quickly as Ukraine's summer weather can change from sunshine to rain, the mood in Ukraine took an about face in the weeks after the Warsaw summit.
The day the Warsaw summit kicked off, fighting in eastern Ukraine spiked to its highest level in months; it remained elevated for the past several weeks.
Last Monday, seven Ukrainian soldiers died in combat and 14 were wounded. It was the deadliest day for Ukrainian soldiers in more than a year.
So far in July, 27 Ukrainian soldiers have died in combat and 123 have been wounded.
According to some experts, the spike in fighting in eastern Ukraine, which began while Poroshenko was posing for photographs with NATO leaders in Warsaw, was a thinly veiled message of retribution from the Kremlin for Kiev's bolstered ties with NATO.
"Russia wants to punish Ukraine for moving toward NATO and they want to make clear to NATO that they can take Ukraine any time they want," Stephen Blank, senior fellow for Russia at the American Foreign Policy Council, told The Daily Signal in an interview. "Russia's policy is to try to force Ukraine to fall apart."
In Warsaw, President Barack Obama and other NATO leaders repeatedly proclaimed their support for Ukraine's territorial integrity and sovereignty. Yet, after the recent spike in fighting, which threatens to precipitate a full-on resumption of hostilities, aid from NATO nations has been limited to perennial calls for Russia to live up to its responsibilities under the Minsk II cease-fire agreement.
Ukraine's post-Warsaw setbacks have not been limited to the battlefields of the Donbas region.
On July 20, a car bomb killed prominent Ukrainian journalist Pavel Sheremet, 44, as he was driving in central Kiev. A Belarusian who lived in Russia before moving to Ukraine five years ago to work for Ukrainska Pravda, an independent Ukrainian news outlet, Sheremet was known for his hard-hitting investigative journalism, which frequently highlighted government corruption.
The assassination, in full public view at a busy intersection flanked by a McDonald's in central Kiev, rattled the country. It was the most high-profile murder of a journalist in more than 15 years and a gut punch to a country looking to show the world that it was making progress toward a stable democracy.
"It seems that this act was done with only [the] intention to destabilize the situation in the country," Poroshenko said, according to a translated statement emailed to journalists Wednesday. "It is possible that we are on the eve of other events. That's why I call for creation of a special investigative group."
It was not immediately clear who was responsible for the assassination, but Poroshenko intimated Russian complicity.
"In the conditions of war and aggression, I'm not excluding [the] possibility of some foreign interest here," the Ukrainian president said.
Kiev was dealt another headache Thursday, when Amnesty International released a report documenting prisoner abuse on both sides of the Ukraine conflict. The report detailed widespread prisoner abuse by Russian-backed separatists, but also said Ukrainian authorities and pro-Kiev paramilitary groups illegally imprisoned and in some instances tortured prisoners.
"The allegations of secret detention by Ukraine are compelling and serious, and they merit thorough investigation," Denis Krivosheev, deputy director for Europe and Central Asia at Amnesty International, said.
Some say the platform adopted last week at the Republican National Convention in Cleveland gives Ukrainians more cause for concern. In its foreign policy planks, the party swapped language from providing Ukraine with "lethal defensive weapons" to "appropriate assistance."
"This is a telling change because it shows the subcommittee that edited down the language seemed to be worried that the call to give Ukraine lethal weapons (the only kind that will make a difference) would be too provocative," The Wall Street Journal editorialized on Thursday. "That's the same argument that President Obama has used to justify withholding lethal aid, and it's a victory for Putin."
Ukrainian officials worry the fight against ISIS will continue to divert media attention from the war in Ukraine. They fear that some NATO members might sell out Ukraine for the sake of securing Russian military cooperation against ISIS in Syria.
Terrorist attacks in Paris, Brussels, and the U.S. repeatedly focused Western media and political attention on the war against ISIS, keeping the Ukraine war in the shadows, only periodically breaking into the headlines.
Most military experts agree that Russia is a graver existential threat to the NATO alliance than ISIS. There is, however, a widening gulf in military priorities between eastern and western NATO member states.
On the eve of the NATO summit in Warsaw, French President François Hollande said:
NATO has no role at all to be saying what Europe's relations with Russia should be. For France, Russia is not an adversary, not a threat.… Russia is a partner, which, it is true, may sometimes—and we have seen that in Ukraine—use force which we have condemned when it annexed Crimea.
Despite the attention paid at the Warsaw summit to deterring Russia, the July 14 terrorist attack in Nice, France, once again refocused attention on the threat of terrorism and military operations against ISIS.
For France, combating ISIS is the top military priority. The country has troops deployed throughout North Africa and the Middle East in operations against Islamist terrorist groups, and has more than 10,000 troops deployed within its own territory to deter more terrorist attacks.
U.S. airstrikes against ISIS began August 6, 2014, shifting media attention away from the war in Ukraine, which was in its most intense phase at the time.
While U.S. warplanes bombed ISIS fighters to spare the lives of Yazidis trapped on Iraq's Mount Sinjar, thousands of regular Russian troops flooded into southeastern Ukraine to support a separatist counteroffensive.
Almost two years later, Ukraine continues to fight a war against combined Russian-separatist forces in eastern Ukraine. Meanwhile, the U.S. has agreed to coordinate military operations with Russia against ISIS in Syria.
Kerry was in Moscow less than one week after the NATO summit for two days of meetings with Russian President Vladimir Putin and Foreign Minister Sergey Lavrov. Kerry and his Russian counterpart drafted plans for U.S. and Russian forces to coordinate military operations against ISIS in Syria.
While in Moscow, Kerry joined Lavrov in laying flowers at the French Embassy on the day after the attack in Nice. At a joint press conference with Lavrov that day, Kerry said:
Russia and the United States have come together with the belief, as Sergey expressed, that when Russia and the United States put their mind to it and try deliberately and with purpose to have an impact on an issue—as we did on chemical weapons in Syria, as we did with respect to the Joint Plan of Action for Iran, as we did in passing a monumental initiative in Paris on climate change—when we come together with that purpose, we have an ability to make a difference.
Kerry's rapprochement with the Kremlin over military cooperation in Syria was a sharp turnaround from statements by U.S. Secretary of Defense Ash Carter in October.
"We are not prepared to cooperate on strategy which, as we explained, is flawed, tragically flawed, on the Russians' part," Carter said at an October 7 press event in Rome.
Oleksiy Melnyk, co-director at the Razumkov Center, a Ukrainian think tank, and a former Soviet air force fighter pilot, said any cooperation with Russia should be regarded with skepticism.
"NATO leaders will need to remain vigilant enough to avoid a temptation of pressing a reset button too quickly," Melnyk told The Daily Signal. "A good gesture from your antagonist may be an act of deception."
Kerry's visit to Moscow left some officials in Kiev wondering whether the fight against ISIS had taken priority over supporting Ukraine.
When a journalist asked about the spike in fighting at a press conference in Washington last Tuesday, State Department spokesman Mark Toner went rifling through the pages of his briefing book to find his talking points.
"Ukraine is always a topic of discussion," Toner told reporters. "I think we're all concerned about it."
Nolan Peterson, a former special operations pilot and a combat veteran of Iraq and Afghanistan, is The Daily Signal's foreign correspondent based in Ukraine.