Ukraine Going After the One Place Putin Can't Afford to Lose
A Crimean official on Thursday reported that Russian air defense forces had thwarted a Ukrainian drone attack on the city of Sevastopol.
Though Ukraine has not accepted responsibility for the alleged attack, Ukrainian President Volodymyr Zelensky has nonetheless made it known for months that regaining control of Crimea—a peninsula in Ukraine that Russia invaded and annexed in 2014—is now a major objective for his country in the war.
Lawrence C. Reardon, a professor of political science at the University of New Hampshire, told Newsweek that if Ukraine took back Crimea, the consequences could extend beyond just ending Russian President Vladimir Putin's goal of uniting Ukrainian territories in a "Novorossiya" (New Russia).
"The loss of Crimea would a deathblow to the Novorossiya dream and threaten Putin's hold on power," Reardon said.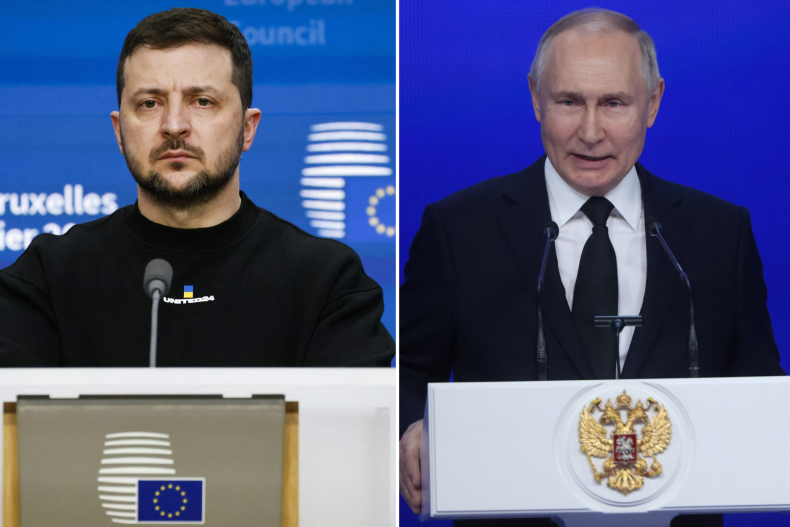 Mikhail Razvozhayev, the Russian-appointed governor of Sevastopol, wrote on his Telegram channel Thursday morning that two Unmanned Aerial Vehicles (UAVs) from Ukraine were "shot down over the sea" and that "our defense forces continue to repel the attack."
Razvozhayev made a similar claim last month when he posted on Telegram that air defenses had downed 10 drones over Sevastopol in what he referred to as a "failed Ukrainian attack."
Those separate incidents have not been independently verified, and Russia has also blamed Ukraine for other attacks in the region since the start of the invasion nearly a year ago.
In October, Russia said its Black Sea Fleet was attacked by Ukrainian drones near Sevastopol, and Russia's Saky air base in Crimea was the site of an August attack that destroyed multiple warplanes.
Like the drone attacks that Razvozhayev reported, Ukraine has not claimed responsibility for the other incidents in Crimea.
George Mason University Schar School of Policy and Government professor Mark N. Katz told Newsweek that people should not to read too much into the reported drone attacks.
"It seems to me that there is a big difference between Ukraine launching UAV attacks on Russian positions in Crimea—some of which are used to strike Ukraine—and a Ukrainian invasion of Crimea aimed at taking it back from Russia," Katz said.
He added that Ukraine would need to undertake a "major military effort" in order to win back Ukraine. However, Katz said that if Zelensky's forces did eventually seize Crimea, Putin would "look extremely weak."
"He and his cronies will fight hard to prevent this from happening," Katz said.
William Reno, professor and chair of the political science department at Northwestern University, told Newsweek that if Ukraine is behind the incidents in Crimea, Zelensky may have additional plans beyond regaining the peninsula.
"While the White House holds to the line that Crimea is part of Ukraine, some officials note that Ukrainian capacity to hurt Russia in Crimea may strengthen Ukraine's hand in eventual negotiations," he said. "Striking rear bases in Crimea also would help Ukraine's forces in recapturing southern portions of other occupied territories where Russian forces are resupplied from Crimea."
Crimea stands to be a major point in any future negotiations or a peace settlement. Putin has long maintained that Crimea, as well as the four territories Russia illegitimately annexed in September, must be recognized as Russian before any peace talks can commence. On the other hand, Zelensky has said all Ukrainian territories—including Crimea—must once again be considered part of Ukraine before his country accepts peace.
The BBC shared a new interview with Zelensky on Thursday in which he reiterates that he is not willing to surrender any territory to Putin.
"Any territorial compromises would make us weaker as a state," the Ukrainian leader said.
Reno explained the difficulties Crimea will eventually present when the war ends in negotiations, a settlement or a ceasefire.
"Right now, a large majority of Ukrainians believe the recapture of Crimea should be a core war aim," he said. "Moscow and most Russians believe Crimea is an integral part of Russia. That's likely not so true of the other occupied territories. Thus Crimea will be a focal point of eventual negotiation."
Newsweek reached out to the Ukrainian and Russian ministries of foreign affairs for comment.