Putin's Invasion Deals Joe Biden a Blow to Struggling Climate Change Agenda
Russian President Vladimir Putin's invasion of Ukraine has had many far-ranging effects across the world, including creating obstacles for some of President Joe Biden's initiatives in regard to climate change.
Biden campaigned for the White House in 2020 with a far-ranging green agenda and later placed climate change as one of the top issues for his administration. But his Build Back Better Bill (BBB), which included ambitious climate and energy initiatives, had already stalled in Congress before it faced the new obstacle of increased demand for more oil caused by the war countering his push for more renewable energy.
Last week, the president announced he would release 180 million barrels of oil from the nation's Strategic Petroleum Reserve over the course of six months as a tactic to offset the price of gasoline that soared after Russia began its military attack on Ukraine on February 24. Republican politicians have also renewed calls to increase domestic drilling in the wake of a ban on Russian oil, and recent polls indicate many voters also favor increased U.S. oil and gas production.
Michael Oppenheimer, a professor of geosciences and director of the Center for Policy Research on Energy and Environment at Princeton University, told Newsweek that he believes "political attention will gravitate away from climate change due to the Russian war on Ukraine."
"The inevitable pressure to replace Russian oil and gas and curtail the price rises will also weaken the administration's determination to get part of the BBB bill passed," he said.
Dale Jamieson, a professor of environmental studies and philosophy at New York University, said to Newsweek that he wouldn't characterize Biden's green agenda as having "stalled," since "climate is not a single thing." But, in terms of oil, he felt the Russian invasion did deal the president "a setback."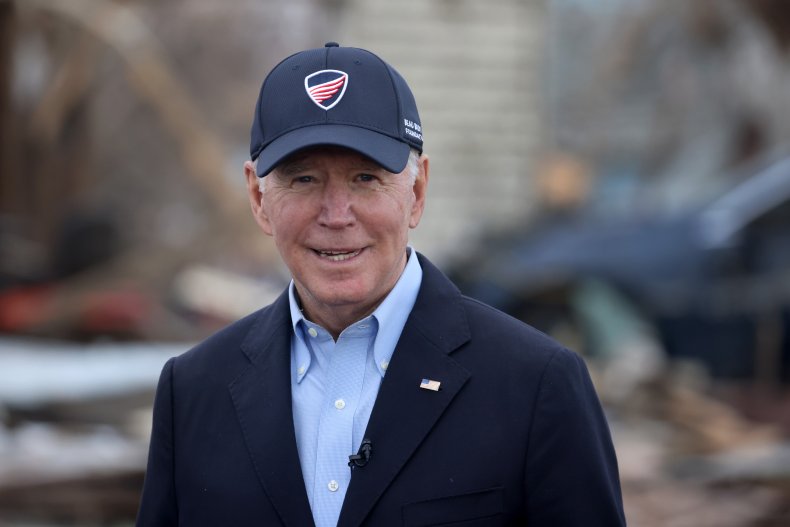 Not all of Biden's climate efforts have failed. He was responsible for the United States signing back on to the Paris Climate Agreement after former President Donald Trump withdrew from it in 2017. In November, the president also signed into law the $1.2 trillion Infrastructure Investment and Jobs Act which included substantial investments in clean energy and provides billions of dollars to areas affected by storms, floods and wildfires caused by climate change.
Jamieson noted there will always be road bumps during the "long march to decarbonization." Nonetheless, he said he feels the president remains committed to seeing his green plans come to fruition, even if there were other impediments beyond the invasion in Ukraine.
"Circumstances change, and sideway steps or even small steps backwards can be in the interests of completing the journey," Jamieson said. "I think the administration wants to make progress on these long-term goals, but it is increasingly hemmed in between these short-term responses and court decisions that increasingly diminish the tools they have at their disposal."
Other experts who spoke with Newsweek agreed that while the invasion hampers Biden's climate goals in the short term, it may also eventually win support for his plans in the long run.
"On one hand, the war has increased the calls for more domestic drilling of oil. On the other hand, it has also resulted in calls for more renewable electricity and electric vehicles," Mark Z. Jacobson, a professor at Stanford University and an energy expert, said. "In fact, some countries, such as Germany and Portugal among others, have announced accelerated transitions to 100 percent renewable energy since the start of the war to counter the reliance of these countries on imported fossil fuels. The U.S. too has also seen increased calls for more renewable energy."
Mark Brownstein, a senior vice president of energy at the Environmental Defense Fund, told Newsweek that the "invasion actually refocuses the conversation and maybe helps people see that there are advantages to moving in the direction of decarbonization that have nothing to do with climate change and everything to do with enhancing national energy security."
Brownstein spoke of how oil and gas are often used as geopolitical weapons. He said the oil market is naturally volatile, and conflicts overseas sometimes cause drastic spikes in the price of gasoline.
"How many times do you have to see this movie before you decide you want to write a different ending?" he said.
During his public statement last Thursday about releasing the 180 million barrels of oil from the strategic reserve, Biden also announced plans to increase domestic production of critical minerals and metals needed for technologies like electric vehicles.
"We need to end our long-term reliance on China and other countries for inputs that will power the future," Biden said.
Oppenheimer said such a push could cause "any acceleration of U.S. oil exploitation" to be "overshadowed by the momentum toward electric cars, and natural gas may become sufficiently expensive again as it was 15 years ago that the bridge to renewables envisioned by many just collapses. In that case, if energy storage becomes cheaper fast, as seems to be happening, there may actually be a clearer path to a carbon-free future."
However, time is still a big factor for Biden's agenda, Oppenheimer added. He noted that while current setbacks the president faces for his green energy goals could be resolved in a couple of years, it may be too late for his administration.
"Climate change will push its way back high up on the policy agenda in all likelihood, assuming the situation in Ukraine is resolved in that timeframe," Oppenheimer said. "By then, however, we will have a new Congress and be approaching a presidential election and could be dealing with unfavorable political circumstances—this is just one plausible scenario, not a prediction."