Ukraine Journalist Killed After Fighting in War, Called 'Hero' by Zelensky
Ukrainian President Volodymyr Zelensky has paid tribute to a journalist who was killed while fighting invading Russian forces.
Oleksandr Makhov, 36, was killed amid Russian shelling on Wednesday, according to Ukrayinska Pravda. Makhov had been an on-air reporter for Ukrainian television prior to volunteering for military service at the beginning of the war with Russia. He died near the northeastern city of Izium in Ukraine's Kharkiv region. Zelensky offered praise for the "hero" during an address to Ukrainians early on Thursday morning.
"Today I will start with a story about one person. About Oleksandr Makhov—a well-known journalist," Zelensky said, according to a translated transcript from the Ukrainian president's office. "I'm sure you've seen his reports on Ukraine and Dom TV channels. You may have seen his comments, his posts. He has always been like that—with his own position. Patriotic and sincere... he was always among the bravest."
"From the first day of the full-scale war, he was on the frontline," added Zelensky. "Volunteer. ATO veteran. Warrior of the 95th assault brigade... Russia will bear responsibility for this death. We will definitely gain victory for Ukraine... Eternal memory to him and to all our heroes who gave lives for Ukraine!"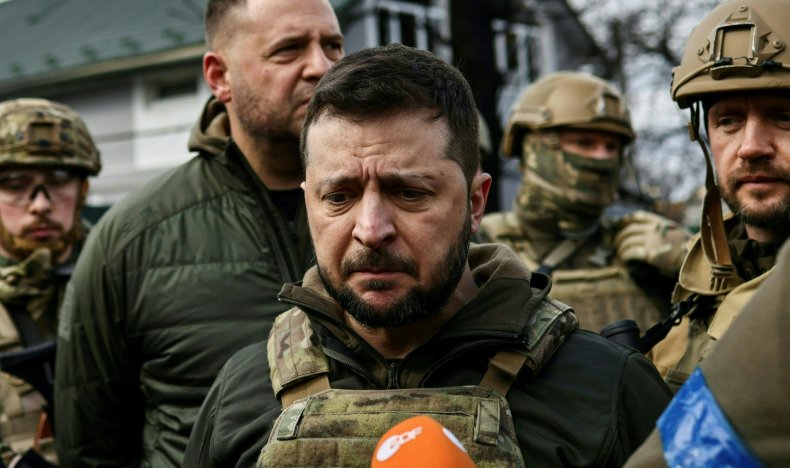 On April 28, Makhov shared a photo of himself with a bloody shrapnel wound to Facebook, while explaining that he had been hit with "fragment" during the ongoing fighting. His post also expressed confidence that "all wounds will heal" before his planned wedding to fiancée Anastasia Blyshchyk.
"I don't believe it!" Blyshchyk wrote on Facebook after news of Makhov's death emerged. "This can't be the truth! My Sasha wanted to live! And he is alive! Please tell me this is a mistake !!! Tell me."
Before the war, Makhov worked for the Ukrainian television channels Ukraine and Ukraine24, where he "covered events on the front line," according to Ukraine24. His reporting also included travels to Antarctica. Makhov is at least the eighth journalist to be killed during the war, according to Reuters.
This year was not the first time that Makhov took a break from his journalism career to serve in the Ukrainian military. He enlisted as a soldier amid a conflict with Russian separatists in the Donbas region in 2015, before returning to journalism the following year.
"I felt that what I did as a journalist was not enough," Makhov said during an interview with Coffee or Die Magazine weeks before the current conflict began in February. "I wanted to fight the enemy as a soldier."
"War is much harder as a soldier," he added. "As a journalist, you know you could die. You know the other side might kill you, but you also feel like you're not the target. As a soldier, on the other hand, you know the enemy wants to kill you. They are trying to kill you. It's a much different feeling... I'm ready to go to war again."
Newsweek reached out to the Embassy of Ukraine in Washington, D.C., for comment.