Ukraine Leaving Bakhmut Would Be More 'Symbolic' Than Strategic: Austin
Ukraine pulling out of Bakhmut would not be considered a significant "strategic setback," despite the intense conflict surrounding the area, U.S. Defense Secretary Lloyd Austin said Monday.
Bakhmut is in the Eastern Ukrainian region of Donetsk, one of the two regions that comprise the Donbas breakaway area that was central to Russia's justification for its invasion on February 24, 2022. Donetsk is one of the four regions—along with Kherson, Luhansk and Zaporizhzhia—that Russia said it annexed from Ukraine last fall, a claim that has been broadly rejected by other nations.
The city, having suffered major damage during the year-long conflict, remains under Ukrainian control despite Russia's attempted annexation. Russian forces have led an intense assault against Ukrainian forces in Bakhmut since August, gradually encircling the area amid reports that Kyiv could soon withdraw from the city.
On Monday, Austin downplayed the potential damage that a Bakhmut withdrawal would do to Ukraine's overall defensive efforts. As tweeted by CNN's Kaitlan Collins, the secretary said he would not "view [a possible withdrawal] as an operational or strategic setback," and argued that it would be "more of a symbolic value" for Russia and would not "necessarily mean the Russians have changed the tide of this fight."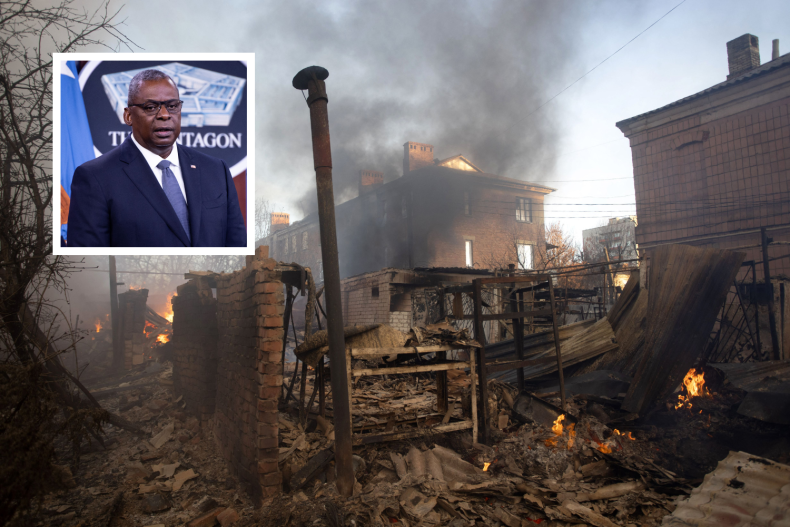 Austin's comments echo observations made about the battle of Bakhmut on Friday by the Institute for the Study of War (ISW), which said that the recent destruction of two key bridges in the city could be the prelude to Ukrainian forces withdrawing from the area.
"Ukrainian forces appear to be setting conditions for a controlled fighting withdrawal from parts of Bakhmut," the ISW said, adding that the destruction of bridges might be intended to limit Russian mobility in the city.
Philip Ingram, a former British military intelligence officer, previously told Newsweek that he believes Ukraine is preparing for a withdrawal. He also said that the defense of Bakhmut had been intended to keep Russian troops fixated on an area of little strategic value for a long period of time.
"It is clear that the Ukrainians are setting the conditions to potentially withdraw from what I see as a hugely successful 'fixing' operation over the last seven months," Ingram said.
Ukrainian officials have downplayed the idea that they are preparing to withdraw from Bakhmut. Ukrainian Army spokesman Serhiy Cherevatyi told CNN on Saturday that the main conflict remains just outside the city.
"The fighting in Bakhmut is more on the outskirts, with the city controlled by Ukrainian defense forces: the Armed Forces of Ukraine, the Border Guard and the National Guard," Cherevatyi said. "There is also no mass withdrawal of Ukrainian troops. There were 21 enemy attacks with the use of various artillery systems and MLRS near Bakhmut alone, and nine combat engagements. One hundred and thirty-one attacks and 38 combat engagements took place on this front in total."
In an email statement to Newsweek, retired Lieutenant Colonel Daniel Davis of the Defense Priorities think tank disputed Austin's view of the situation and argued that defending Bakhmut remains a major strategic goal for Ukraine.
"That is wishful thinking on Austin's part," Davis wrote. "It has been graphically demonstrated that the Ukrainian side most assuredly views the holding of Bakhmut as a crucial objective, as they have held on to it even when military utility would have argued it be abandoned for a new line of defense three or four weeks ago."
He continued: "These are troops the [Ukrainian Armed Forces] desperately needs to conduct a spring offensive, yet Kyiv views holding Bakhmut to be of a higher priority, and are sacrificing key formations that will put at risk their ability to launch a successful offensive in the spring. The loss of Bakhmut would be a major victory for Russia - and preventing Wagner's capture of it would be a major strategic victory for Ukraine. Both sides are employing remarkable effort, troops' lives, and resources to taking or holding the place, showing with actions just how important both sides believe Bakhumt is."
Updated 03/06/2023, 6:30 p.m. ET: Article updated with comments from defense expert.