Ukrainian officials could be looking for help from Pope Francis to end its current conflict with Russia.
The country is open to a Vatican mediation as tensions boil at the border with Russia, and would like Pope Francis to visit Kyiv, Ukraine's ambassador to the Holy See, Andriy Yurash, told Reuters. The Vatican has been influential in mediating conflicts among other nations, like Chile and Argentina's Beagle conflict in 1978, and as Russia amasses more than 100,000 troops near Ukraine, it could prove helpful once again.
"Ukraine is completely in favor of (using) this very influential, very spiritual place for a meeting," Yurash said. "If Russia confirms its will to sit at the table, immediately Ukraine will respond in a positive way."
Specific details about a potential meeting were not disclosed. "As I understand it, the Vatican would be ready and happy to create this possibility for meeting leaders from both sides," Yurash told Reuters.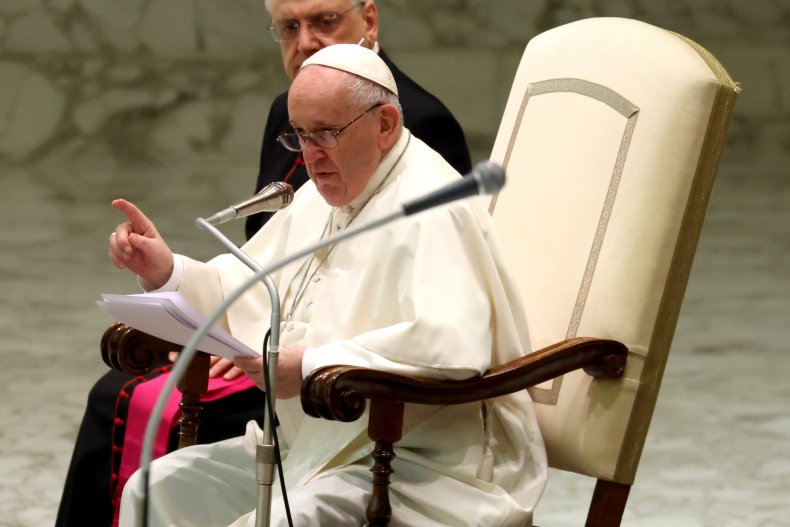 While the vast majority of Russians and Ukrainians subscribe to Orthodox Christianity, Catholicism has a sizable following in both nations. Ten percent of Ukrainians identify as Catholic, and around 200 Roman Catholic associations are registered in Russia, according to the Russian Embassy to the United Kingdom of Great Britain and Northern Ireland.
Yurash, who is expected to visit Italy this month, told Reuters that a visit from Pope Francis could greatly benefit both countries and that he has a standing invitation from Ukraine's Catholic leaders.
"Ukraine would be very happy to see the pope even now because we are absolutely sure that we are controlling our borders," said the ambassador. "We are controlling the situation inside the country and we will be ready to protect everyone."
However, that control could be at risk. Newsweek previously reported that Ukrainian officials have refused to rescind their NATO membership bid despite Russia's insistence. Ukrainian ambassador to the United Kingdom, Vadym Prystaiko, told BBC Breakfast that the membership remains integral, but Ukraine will do what it can to avoid war with Russia at all costs.
"We are not a member of NATO right now and to avoid war we are ready for many concessions and that is what we are doing in our conversations with Russia," Prystaiko said. "It has nothing to do with NATO which is enshrined in the constitution."
While Russia has troops lined up near the border with Ukraine, the country has denied that it is planning an invasion, and Ukraine has downplayed the situation, as well. However, other European nations and the United States believe an attack is imminent. On Monday, the U.S. moved its embassy from Kyiv to the western city of Lviv. The move comes after the U.S. government urged all Americans to evacuate Ukraine last week.
Update 02/14/2022, 4:25 p.m. ET: This article has been updated with more information and context.
Update 02/14/2022, 2:40 p.m. ET: This article has been updated to include more information.