Ukraine Making Progress Repairing Russian-Controlled Chernobyl
Ukrainian technicians are restoring electricity to the Chernobyl power plant to keep an eye on radiation levels at the infamous facility, according to an international nuclear energy monitor.
Rafael Mariano Grossi, director general of the International Atomic Energy Agency (IAEA), said Friday that Ukrainian officials have reported that technicians have begun repairing damaged power lines to the plant, which has come under Russian control after Russia's invasion of Ukraine.
Chernobyl is the site of the world's worst nuclear disaster, when in 1986 a sudden power surge destroyed a unit of the nuclear power station. Although a broader catastrophe was averted, the power plant has required ongoing monitoring and the IAEA has expressed grave concern of the threat the war poses to Ukraine's nuclear energy facilities.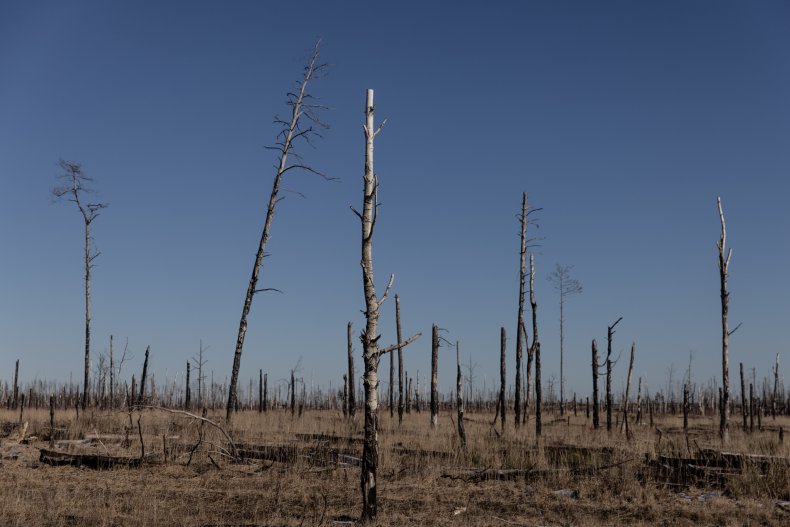 Ukrainian officials on Friday accused Russian President Vladimir Putin of orchestrating a "terrorist attack" on the Chernobyl nuclear power plant after the electric supply was cut off.
But the IAEA said that "the disconnection from the grid will not have a critical impact on essential safety functions at the site, where various radioactive waste management facilities are located."
Diesel generators have provided emergency backup power to the site since Wednesday. The generators have power for safety functions, including for spent nuclear fuel and water control, and chemical water treatment, according to the IAEA.
Even if emergency power is lost, the IAEA said Ukrainian authorities could continue monitoring the water level and temperature of the spent fuel pool. However, inadequate ventilation means staff would face worsening radiation safety conditions and they couldn't follow procedures, the IAEA added.
"The repair efforts would continue despite the difficult situation outside the (Chernobyl power plant)," the IAEA said, citing Ukrainian officials.
Ukrainian officials said crews had successfully repaired one section of damaged power lines, but the plant still wasn't receiving electricity due to damage in other locations, the IAEA said. The 211 technical workers and guards have been living at the site for more than two weeks, raising concerns about access to food.
The IAEA said Ukrainian authorities report having lost communication with the plant on Thursday and have been unable to provide information on radiological monitoring, but are keeping an eye on it with off-site staff.
Elsewhere in Ukraine, the Zaporizhzhia nuclear power plant has enough power lines and backups. Although a nuclear research facility in war-torn Kharkiv was struck by a Russian missile, the IAEA said the risk of radiological contamination is low.
Eight of the country's 15 nuclear reactors are operating, including Zaporizhzhia, the IAEA said.
Newsweek has reached out to the IAEA for additional comment.