Ukraine Has Million-Strong Force to Fight With Western Weapons: Minister
Ukraine has a "million strong" force to fight Russian President Vladimir Putin's troops with Western weapons, the country's defense minister has said.
Oleksii Reznikov, Ukraine's defense minister, in an interview with British newspaper The Times emphasized that as Volodymyr Zelensky's troops push to recapture its southern territories from Russia, the country is seeking to arm all soldiers with weapons provided by Western allies.
"We're people of the free world and with a real sense of justice and liberty," Reznikov said in the interview published Sunday. "We have approximately 700,000 in the armed forces and when you add the national guard, police, border guard, we are around a million strong."
Reznikov, 56, urged Western partners to provide Ukraine with additional weapons and military equipment at a faster pace.
"We need more, quickly, to save the lives of our soldiers. Each day we're waiting for howitzers, we can lose a hundred soldiers," he said.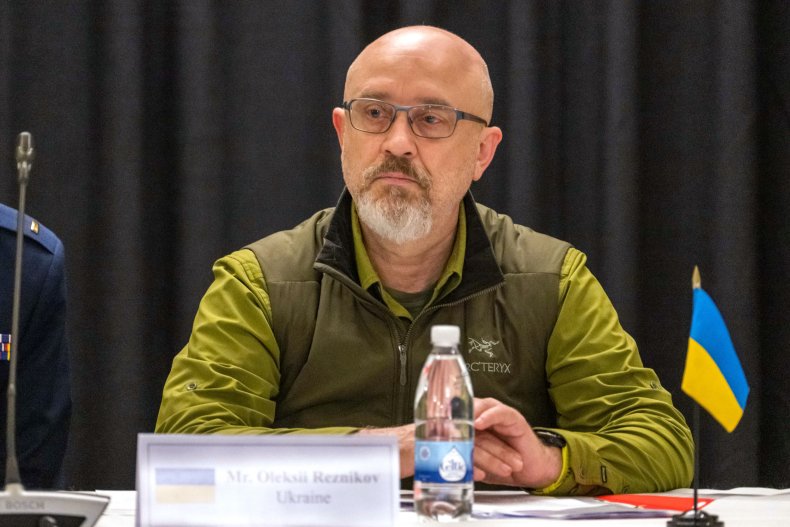 Ukrainian presidential adviser and peace talks negotiator Mykhailo Podolyak made similar remarks in a Twitter post on Saturday, as he named three components that he says will turn the tide of Putin's war in Ukraine.
"Do we want a turning point in the war? 3 components... HIMARS for high-precision targeting rear bases, logistics," he tweeted. "Heavy artillery on the frontline allows matching number parity. APC [armored personnel carriers] for "breakthrough fists"... More tools faster we'll clean our land of the Russians."
President Joe Biden signed a new $400 million weapons package for Ukraine on Friday, including four additional high mobility artillery rocket systems (HIMARS). The U.S. began to supply Ukraine with the system in June, after Ukraine said it would not use HIMARS to attack Russian territory.
In a separate interview with The Wall Street Journal, Reznikov said Ukraine urgently needs more supplies such as armored vehicles, drones, tanks, unmanned aerial vehicles, and longer-range weapons.
Ukraine is seeking to recapture territory lost since Putin launched a full-scale invasion of the country on February 24, he said.
"We are waiting for more armor, more weaponry from our partners. We need to rebuild some directions and to refresh our fortifications and plan a new operational strategy," said Reznikov.
HIMARS have been a "game changer" for Ukraine, he said, but added: "The war is grim...We need more. We need it quickly."
Russia is continuing its offensive in eastern Ukraine's Donbas, which comprises the Luhansk and Donetsk regions. Putin's forces are ramping up attacks on the Donetsk region, after Russia claimed to have seized Luhansk last weekend.
Reznikov stressed to The Times that Ukraine's withdrawals from two cities in the Luhansk region were tactical losses to prevent troop casualties.
"We are sure the anti-Kremlin coalition was born. Our partners in London and Washington D.C. and other capitals, they are invested in us, not only with money but the expectations of their people that we have to make the Kremlin lose. We have to win this war together," the defense minister said.
Newsweek has contacted Russia's Foreign Ministry for comment.