Ukraine Mother Finds Son's Body Thrown Down Well in Harrowing Video
A mother in Ukraine broke down in tears as her son's body was discovered down a well in a video that has circulated widely on social media.
A video, posted by the Russian-language digital news network Current Time TV, on Monday showed the mother's heart-breaking reaction after finding her son's dead body.
"Mom identifies the body of her son, thrown into a well in the Kieve region, April 10, 2022," Current Time TV wrote as a caption for the video on Twitter. The video has so far been viewed over 300,000 times.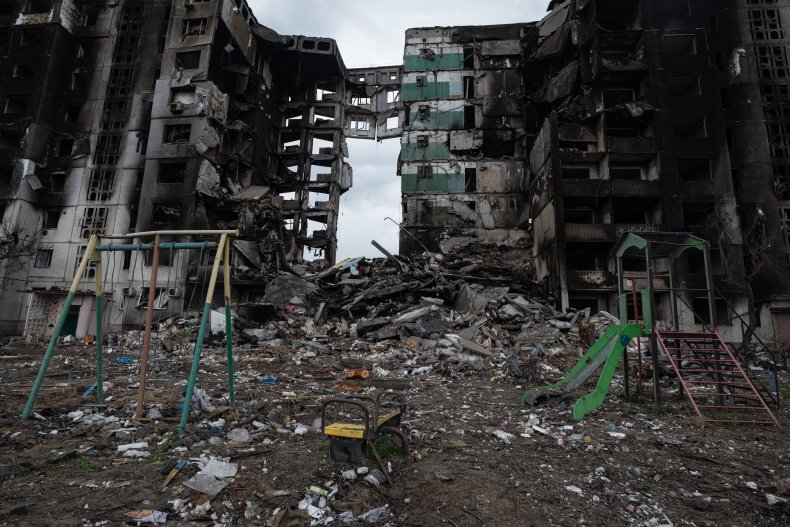 In the footage, the woman is told it is not clear whether the body is of her son. She then kneels by the destroyed well and screams (as translated by Newsweek): "My son, my son. The [shoes] are his" while weeping loudly.
She is then shown being led away from the well while a perimeter is set up.
A group of men managed to recover the body from the well. The mother then rushed forward to get a look at the body.
However, she is prevented from doing so by the men who recovered the body, as she begins to weep loudly again.
Taras Didych, head of the Dmytrivka community, spoke to local media after the body was recovered.
"As we inspected the territory of this gas station, we found two bodies in the well," Hromada said.
"One of them we were able to identify. They are locals, townsfolk from the Buzovaya village. They are boys from the territorial defense."
It is not clear how the woman's son died or if his death was linked to Russian soldiers.
Newsweek has contacted the Ukraine Ministry of Defence for comment.
Russia has faced significant criticism and accusations of poor conduct since it began its invasion of Ukraine. This has included accusations of torture, intentionally targeting civilians and sexual assault. The Kremlin has denied all of these claims, accusing Ukraine of staging attacks and creating false reports.
On Monday, the head of U.N. Women, Sima Bahous, expressed concerns after human rights organization La Strada Ukraine told a meeting that "violence and rape is used now as a weapon of war by Russian invaders in Ukraine."
"We are increasingly hearing of rape and sexual violence," Bahous said during the meeting. "The combination of mass displacement with the large pressure results of conscripts and mercenaries and the brutality displayed against Ukrainian civilians has raised all red flags."