Ukraine Isn't Leaving Bakhmut Without a Fight
Ukrainian forces may attempt to "exhaust" Russia's manpower and equipment even as they likely begin a limited withdrawal from the contested city of Bakhmut, according to a new assessment.
Ukraine's defending fighters are unlikely to withdraw from the embattled Donetsk city "all at once," the Washington-based Institute for the Study of War think tank said on Sunday, adding Kyiv's troops "may pursue a gradual fighting withdrawal to exhaust Russian forces through continued urban warfare."
The Donbas city has seen months of some of the fiercest fighting of the full-scale war in Ukraine, and Ukrainian President Volodymyr Zelensky had vowed to hold the "fortress" settlement. But reports in recent days have suggested Ukraine is preparing to pull out of the city, and that Russia may be maneuvering for Ukraine to abandon its defensive positions.
On Sunday, the ISW said Ukrainian forces are likely starting a "limited tactical withdrawal in Bakhmut," but Kyiv's commanders have not yet confirmed whether they intend to retreat from the city.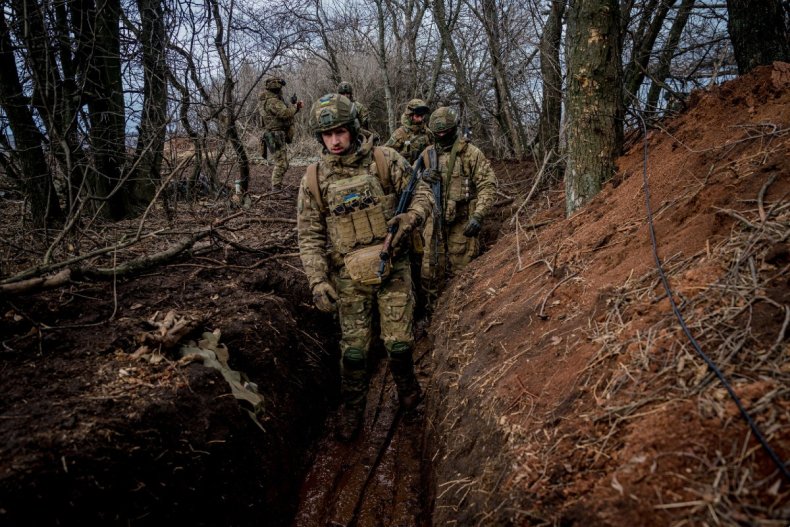 Urban warfare would hinder Moscow's fighters' territorial gains, but would let Kyiv's soldiers rack up high casualty counts on advancing Russian troops even as Ukraine withdraws, according to the think tank.
On Monday, the General Staff of the Armed Forces of Ukraine said "Russia does not stop trying to storm the city of Bakhmut," but did not make further mention of the fate of the destroyed settlement.
Ukrainian fighters in Bakhmut have come up against Russian conventional military forces as well as Wagner Group mercenary fighters, headed up by the Russian oligarch Yevgeny Prigozhin.
In an undated video widely published on social media over the weekend, Prigozhin said that Russia's entire eastern front line would collapse if Wagner Group fighters pulled out of Bakhmut. But on Friday, the Russian billionaire had said Russian forces had "practically surrounded" the city.
On Saturday, the ISW said the Wagner Group had sent its "most advanced and prepared elements to assault operations" in Bakhmut, while the British defense ministry said Kyiv was also "reinforcing the area with elite units."
Yet despite reported Russian gains in and around Bakhmut, Moscow's offensive will likely run out of steam whether Russian forces capture the city or not, the ISW said on Sunday.
The fighting in Bakhmut will also likely jeopardize Russian offensives in Ukraine in the next few months, the think tank argued. Should Moscow claim control over Bakhmut, Ukraine's armed forces may still have a window of "opportunity" to launch a counter-offensive in the area, the ISW evaluated.
Newsweek has reached out to Russia's and Ukraine's defense ministries.
Source: Institute for the Study of War and AEI's Critical Threats Project.