Wagner Chief Claims Bakhmut Victory: 'The City Is Surrounded'
Yevgeny Prigozhin, the financier of the Wagner mercenary group fighting for Moscow, has claimed Russian troops have encircled Bakhmut, although Ukraine's military has said that it has repelled attacks on the city in Donetsk over the last 24 hours.
Prigozhin posted a video message on his Telegram channel on Friday in which he said that subdivisions of the Wagner private military company had "surrounded" Bakhmut and that there was only one road left out.
Where previously his forces had been fighting professional Ukrainian troops, he said that "now we see old people and children more and more frequently.
"They fight, but their life in Bakhmut is short—a day or two," he said in the video address. "Give them an opportunity to leave the city. The city is actually surrounded."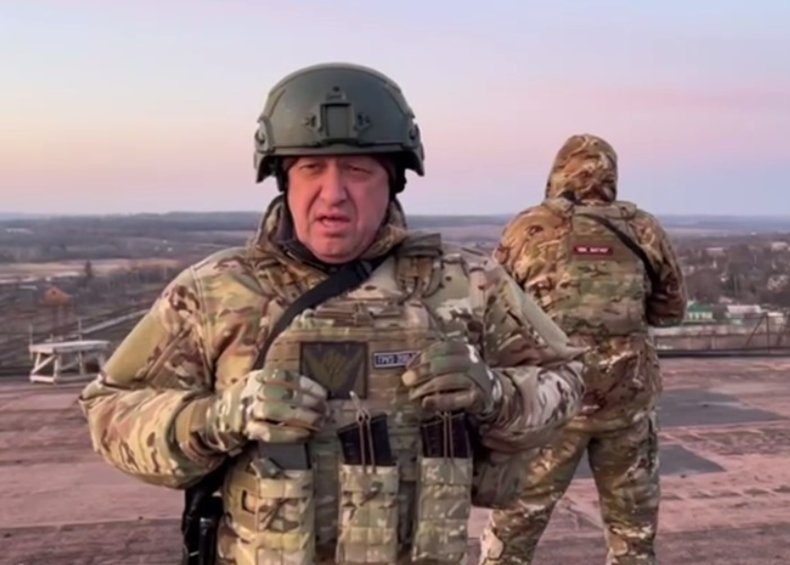 The camera then turns to his right where three men are standing. The elder of the three then makes a personal plea to President Volodymyr Zelensky, saying: "Volodymyr Oleksandrovych, we address you as the president of our country, give us the chance please to return home to our families, to our homeland. Do not ignore this request." It is not clear if the men were captured soldiers or residents.
But on the same day as Prigozhin's claims, the commander of Ukraine's Ground Forces, Colonel General Oleksandr Syrskyi, visited Bakhmut.
On Saturday, Ukraine's Special Operations Forces Commander, Viktor Khorenko, also inspected his troops there and insisted that Ukrainian units are "clearly fulfilling their assigned tasks" despite the "extremely difficult conditions."
However, British defense officials said on Saturday that the Ukrainian defense of Bakhmut was "under increasingly severe pressure" with Wagner and regular Russian troops making advances into the northern suburbs of the city.
The U.K. Ministry of Defense said that Ukraine is reinforcing the area with elite units and that over the last 36 hours two key bridges in Bakhmut had been destroyed, "including a vital bridge connecting the city to the last main supply route from Bakhmut to the city of Chasiv Yar."
The Institute for the Study of War think tank (ISW) said on Friday Ukraine had probably destroyed the bridges to prepare for a withdrawal from the city, which has been the scene of a bitter months-long fight which has caused heavy casualties on both sides.
The commander of the tactical aerial reconnaissance group of the Armed Forces of Ukraine, Birds of the Magyar, said in a Telegram post his group has been ordered to leave Bakhmut for redeployment although it is not known if this is connected with reports the city is encircled.
In a Twitter thread, military analyst and retired Australian general Mick Ryan said that for a Ukrainian withdrawal to preserve Ukrainian troops "deception is vital." This might be achieved by increased fire support, decoys, simulating normal activities and communications discipline.
Key to such a move is deciding when and how "to evacuate logistic stocks, headquarters, recon elements and ground combat forces."
"The Ukrainians will need enough forces in place—with their own mobility—to prevent a rout but not so much that they lose a large part of the force," Ryan wrote.
"The Ukrainians will want to achieve a 'clean break' This is disengagement of the Russians in a way that avoids their ability to follow up & pursue the withdrawing force," Ryan wrote. "A lot of artillery, attacking concentrations of Russian reinforcements & fire support will be required."
Newsweek has contacted the Ukrainian and Russian defense ministries for comment.