Bakhmut on the Brink as Russia Bids to Encircle City
The grueling battle for Bakhmut appears to be reaching a tipping point, with Russian troops pushing to close off the industrial city in the eastern Donetsk region.
The situation in Bakhmut is "extremely tense," the commander of Ukraine's ground forces, Oleksandr Syrskyi, said on social media.
Russia has been pouring its troops into the battle for the city of Bakhmut since July, desperate for its first major battlefield victory since the summer. Russia is fixated on seizing Ukraine's eastern regions of Donetsk and Luhansk, collectively known as the Donbas—a stated war goal of Russian President Vladimir Putin.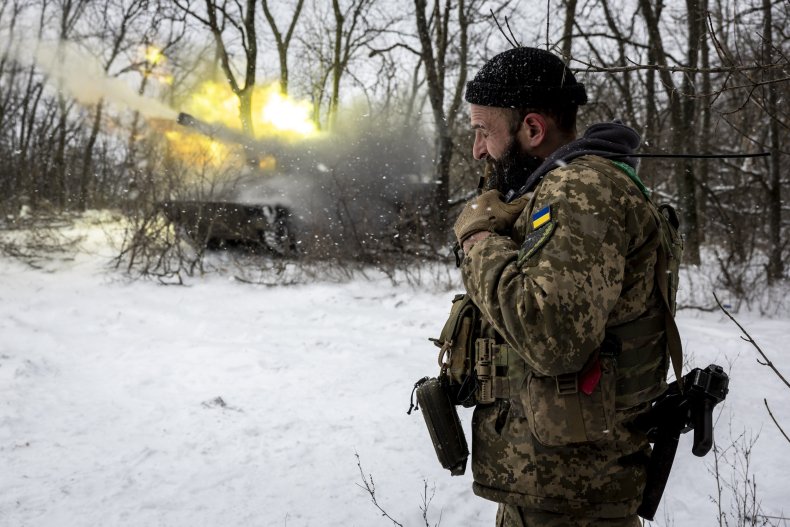 "Despite taking significant losses, the enemy has dispatched its best-trained Wagner assault units to try to break through the defenses of our troops and surround the city," he said, referring to the paramilitary outfit that has been leading an assault with conventional Russian troops on the city.
The General Staff of the Armed Forces of Ukraine in an update on the conflict on Tuesday said Bakhmut remains one of Russia's main focuses. Earlier, Ukraine's military said Russia had strengthened its forces in near Bakhmut and was shelling settlements around the city.
Bakhmut, which had a pre-war population of 70,000, is a shadow of its former self. Earlier this month, Pavlo Kyrylenko, governor of the Donetsk region, said that just 5,000 civilians, including 140 children, remained in the war-ravaged city.
Ukrainian President Volodymyr Zelensky has vowed to protect Bakhmut, saying it's important to hold on to the city, but not at any cost.
"It's not a particularly big city. Like many others in the Donbas devastated by the Russians. It is important for us to protect it, but not at any cost, so that everyone dies. We will fight as long as it makes sense," Zelensky said last week.
"We are resisting, and in the meantime we are preparing the next counteroffensive."
Zelensky said that if Russian troops are successful in capturing Bakhmut, they will want to continue their offensive in Kramatorsk and Slavyansk, "up to the borders of Donbas and to the Dnieper, if they can."
Many analysts say Bakhmut holds little value itself in strategic terms, but believe Russia will use the city as a stepping stone toward its goal of capturing the entire Donbas region.
Anton Gerashchenko, an adviser to Ukraine's minister of internal affairs, told Newsweek on February 17 that Bakhmut is "a live wall that allows to prepare our troops for de-occupation"—implying that a successful defense of the city could put the Ukrainians in a position to launch a counteroffensive.
Bakhmut holds "huge symbolic value" for Russia, Gerashchenko added.
Dmitry Polyanskiy, Russia's first deputy permanent representative to the United Nations, previously told Newsweek that it will be impossible for his country to achieve Putin's war aims in Ukraine unless Bakhmut is captured.
"I know that there is no way to liberate Donbas without capturing Bakhmut and I know that liberation of Donbas is one of the tasks of our military operation," Polyanskiy said.
Newsweek has contacted Russia's foreign ministry for comment.
Do you have a tip on a world news story that Newsweek should be covering? Do you have a question about the Russia-Ukraine war? Let us know via worldnews@newsweek.com.