Blown-Up Bakhmut Bridges Suggest Ukraine May Pull Back: ISW
Ukrainian forces have strategically destroyed bridges near Bakhmut as part of a "likely" preparation for a withdrawal from the embattled city, according to the Institute for the Study of War (ISW).
An ISW report released on Friday indicates that Ukraine is anticipating Russia will succeed in its prolonged plan to conquer the settlement in Donetsk—one of four regions that Russian President Vladimir Putin claimed to have annexed for Russia last year. ISW said Ukraine was preparing for a "controlled fighting withdrawal."
"Geolocated footage posted on March 3 confirms that Ukrainian troops have destroyed two critical bridges in the Bakhmut area—one across the Bakhmutivka River in northeastern Bakhmut and one along the Khromove-Bakhmut route just west of Bakhmut," the report states.
"The preemptive destruction of bridges is likely an indicator that Ukrainian troops may seek to inhibit Russian movement in eastern Bakhmut and limit potential westward Russian egress routes out of Bakhmut," it continues.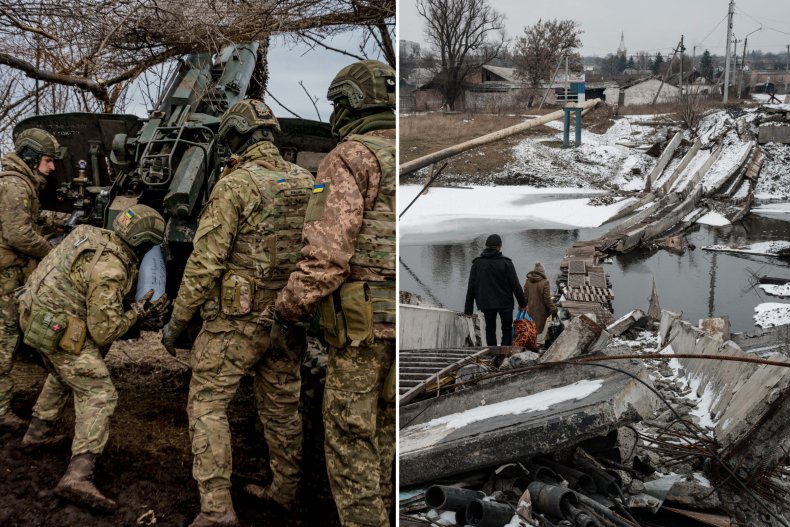 The bloody battle for control of Bakhmut has been a focal point of the war since the summer. While some experts have said that the city is of little strategic value, capturing it would represent a massive symbolic win for Moscow and Russia's first major battlefield victory in months.
Russia has made significant advances in the area in recent days. ISW on Wednesday reported that geolocated footage showed Russian forces were closing in on the southern outskirts of Bakhmut.
Yevgeny Prigozhin, leader of the mercenary organization Wagner Group, said in a video shared online Friday that the city was "practically surrounded" by Russian troops.
The Russian military has been attempting to finish the job by hammering Ukrainian routes in and out of the city with artillery attacks, according to Reuters. A Ukrainian soldier told CNN that a Russian missile had destroyed a bridge that was a vital part of a supply route.
Ukrainian President Volodymyr Zelensky's economic adviser Alexander Rodnyansky told CNN earlier this week that Kyiv would "weigh all of the options" regarding Bakhmut, including the option to "strategically pull back."
Last month, Zelensky indicated that Ukraine would attempt to keep control of Bakhmut but acknowledged the possibility of withdrawing, stressing that Ukraine would not be willing to keep control "at any cost."
Zelensky noted that the city had been "devastated by the Russians" before saying that it was "important for us to protect it, but not at any cost, so that everyone dies."
The Ukrainian president said troops would continue fighting for control "as long as it makes sense."
Newsweek has reached out to the Russian Ministry of Defense for comment.