Ukraine 'Kamikaze' Drone Blows Up Russian Tank
The destruction of a Russian tank by Ukrainian forces using a kamikaze drone provided by the United States was captured on video and is now making the rounds on social media.
The clip, shot from an aerial point of view and accompanied by the iconic theme music from the Star Wars films, shows Ukrainian special operations forces (SSO) targeting, locking on to and then firing at the tank using the drone. The result is a massive explosion followed by a plume of white smoke. The Twitter account Ukraine Weapons Tracker has since identified the drone as a Switchblade 300, which was supplied by the United States.
The short clip, which was posted to a number of official Ukrainian social media accounts and captured by a camera on the drone, ends much like a TV program. Following the explosion, credits roll as the song made famous by the popular HBO series Curb Your Enthusiasm is heard.
The clip of the Russian tank being destroyed comes as Russia has experienced recent setbacks in its military assault on Ukraine, including its failure to take the capital city of Kyiv. Russian forces have reportedly experienced a high number of fatalities during the three-month invasion. The death toll is likely similar to the number lost by the Soviet Union during its nine-year war in Afghanistan, according to an intelligence report from the British government.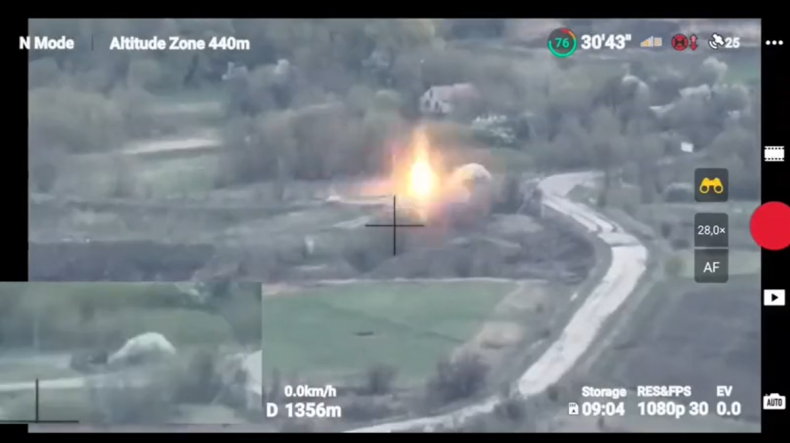 Ukraine's military intelligence chief has called Russia's invasion of the Eastern European country a "strategic defeat" for Russia. Major General Kyrylo Budanov went on to say that he believes Russian President Vladimir Putin "is at an absolute dead end."
The caption accompanying the Russian tank video, according to Google Translate, says the clip showcases how SSO operators in Ukraine have "developed skills in owning another type of modern weapon."
The caption adds that in the clip "Russian occupiers were quietly drinking alcohol at one of the positions" and that "the usual Russian occupation was abruptly interrupted by an unexpected attack from the air."
The video's caption notes that "this is another destruction of an enemy tank along with the enemy's manpower" and shows what is possible thanks to "the help of our foreign partners together with the training and professionalism of our soldiers."
It's unclear when the Ukrainian forces destroyed the Russian tank. The caption says this is the first time the video has been made available to the public but doesn't indicate when the strike occurred.
Newsweek reached out to Russia's Foreign Affairs Ministry and the Special Operations Forces of the Armed Forces of Ukraine for comment.