Ukrainian Foreign Minister Dmytro Kuleba slammed French President Emmanuel Macron on Saturday for saying Russia should not be humiliated for its invasion of Ukraine.
Throughout the widely-condemned Russian invasion, Macron has joined most European leaders in backing Ukraine and has sought to balance his support alongside efforts to mediate diplomacy between the two countries as the war continues to rage on. He has also continued dialogue with Russian President Vladimir Putin in an effort to continue diplomacy in a war-torn Europe.
During an interview with French media published Saturday, Macron spoke of France's role in the conflict as a "mediating power," adding that he does not believe Russia needs to be humiliated by the end of the war.
"We must not humiliate Russia so that the day when the fighting stops we can build an exit ramp through diplomatic means," he said, adding that he told Putin that the invasion is a "historic and fundamental mistake for his people, for himself and for history."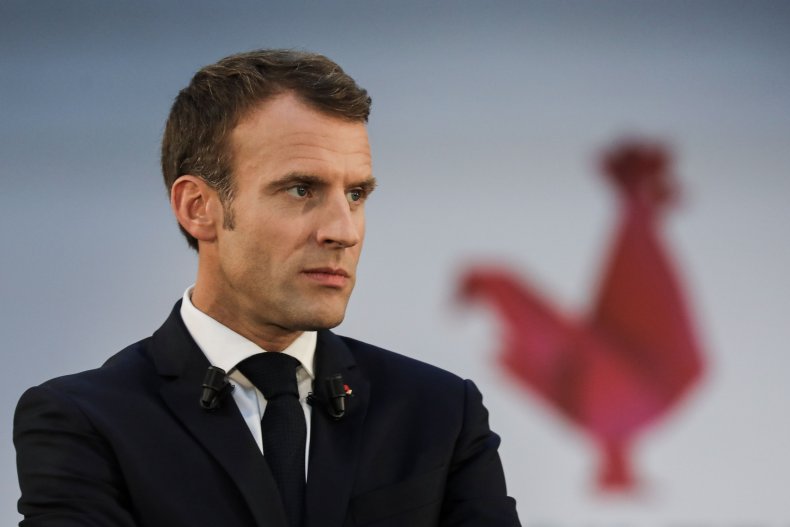 His comments received pushback from Ukraine's Kuleba, who blasted his remarks in a tweet.
"Calls to avoid humiliation of Russia can only humiliate France and every other country that would call for it. Because it is Russia that humiliates itself. We all better focus on how to put Russia in its place. This will bring peace and save lives," he wrote.
Macron's comments echoed previous remarks he made on Europe Day on May 9.
"We will have to do this with Ukraine and Russia around the table. The end of the discussion and the negotiation will be set by Ukraine and Russia. But it will not be done in denial, nor in exclusion of each other, nor even in humiliation," he said, according to European news outlet Euractiv.
United States lawmakers also criticized Macron's statement on Saturday on social media.
Representative Adam Kinzinger, an Illinois Republican, tweeted that the French president is "humiliating himself."
"Russia has already been humiliated, and true to their reputation the French are trying to raise the white flag," he wrote.
Representative Ted Lieu, a California Democrat, tweeted: "This speech by Macron shows a fundamental misunderstanding of Putin and the war in Ukraine. Russia is gaining ground in Ukraine, although slowly. Putin believes he is winning. There are only two ways to stop this war. Let Ukraine lose. Or show Putin he cannot win militarily."
As Macron seeks to support an eventual diplomatic end to the war, world leaders have expressed conflicting viewpoints on what the end will look like.
Last month, Ukrainian President Volodymyr Zelensky set conditions for peace talks that included Russian forces being completely out of Ukrainian territory. Meanwhile, U.S. Secretary of Defense Lloyd Austin said last month only Ukraine can determine the end goals of the conflict.
Ukrainian presidential adviser Mykhailo Podolyak said there was "no point in holding negotiations" with Russia until their troops are pushed "as far back as possible to the borders of Ukraine" when asked about Macron's mediation comments on Saturday, according to Reuters.
Newsweek reached out to the French government for comment.