Ukraine Says It's Time for 'Peace with Russia.... People Are Tired of War'
Ukrainian President Petro Poroshenko announced Tuesday that he sought peace with Russia, despite accusing his rivals in Moscow of sponsoring an eastern insurgency and interfering in Kiev's internal affairs.
Poroshenko made the remarks as he officially announced his bid for re-election during a forum entitled "From Kruty to Brussels. We are going our way" at Kiev's International Exhibition Center. The Ukrainian leader came to power after a 2014 revolution that expelled a pro-Moscow president and saw Russian annex the Crimean Peninsula in an internationally-disputed referendum, followed by two more eastern regions declaring autonomy.
Battles between the Ukrainian armed forces and pro-government militias on one side and separatist groups allegedly backed by Russia on the other have killed more than 10,000 people as the two were locked in a bloody stalemate. Amid a spike in tensions that followed a November encounter between Russian and Ukrainian forces in the contested Kerch Strait, Poroshenko warned of imminent conflict, but on Tuesday appeared to soften his tone.
"Of course, we need peace with Russia. Cold, yet peace. People are tired of war," Poroshenko told the audience. "Russian propaganda and its liars in Ukraine tirelessly play with this painful emotion."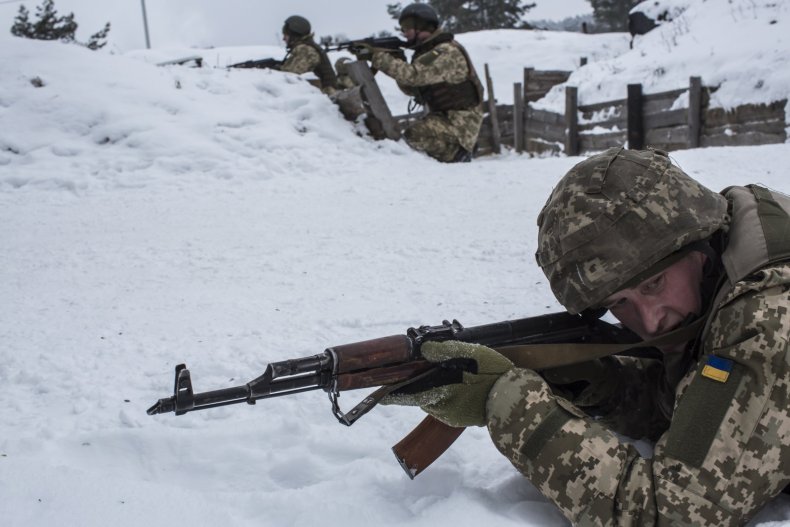 Russia has blamed Ukraine's uprising on pressure from the United States and the NATO Western military alliance it leads. Moscow also justified its 2014 intervention in Crimea by arguing that the political unrest in Kiev threatened the neighboring peninsula's majority-Russian-speaking population, but it has denied supporting separatist groups in Ukraine's Donbas region, where two self-ruling people's republics have been declared.
"Peace is a complete restoration of territorial integrity, sovereignty and independence of Ukraine, nothing else. Peace is Moscow's undeniable recognition of our right to walk our own path. We must do everything for Ukraine not to ask Moscow where to go ever again. This is an exclusive right of the Ukrainian people. And this path is called—away from Moscow," Poroshenko said.
"We will continue the line for restoring the territorial integrity of Ukraine in the political and diplomatic manner, ensuring the unity of the pro-Ukrainian coalition in the world and in the European Union, using the instrument of sanctions and the mechanism of international U.N. mission throughout the territory of the occupied Donbas," he added.
Allegations of Moscow's involvement in the conflict have fueled the wider escalation in military mobilization between Russia and NATO, which have both bolstered their presence along mutual borders in Eastern Europe, including deployments at land, air and sea. In a direct standoff between the two ex-Soviet allies, Russia fired upon and seized three Ukrainian naval ships, accusing them of violating international law as they sailed through the disputed Kerch Strait, located between the Black Sea and Sea of Azov near Crimea.
Poroshenko warned of "full-scale war" and ordered military drills as the Russian armed forces moved anti-missile and anti-aircraft systems to Crimea. While no conflict ensued, nearly two dozen Ukrainian service members remain detained in Russia following the incident, despite calls from the E.U. and the U.S. for their release.
Despite President Donald Trump's vow to reset broken U.S.-Russia ties on the campaign trail, relations between the two countries have suffered during his time in office, especially over Ukraine, where the Trump administration has enhanced military support. As a result, Russian Security Council Secretary Nikolai Patrushev warned earlier this month that "the U.S. administration actually controls the Kiev authorities and Poroshenko personally" and that "such a policy by the Kiev authorities may contribute to Ukraine's loss of statehood."