Ukraine Predicts Two Ways War With Russia Will End
The war in Ukraine could be over no later than mid-May, according to an adviser to the Ukrainian president's chief of staff.
In a video shared by Ukrainian media, Oleksiy Arestovich said that Russia is likely to run out of resources to keep attacking Ukraine in the next two months.
"I think that no later than in May, early May, we should have a peace agreement, maybe much earlier, we will see, I am talking about the latest possible dates," Arestovich said, according to Reuters.
Arestovich couldn't predict the exact day the war will end, as he said that will depend on the Kremlin's decision to either forgo its campaign in Ukraine or scramble to find enough resources to keep its invasion of the country running.
"We are at a fork in the road now: there will either be a peace deal struck very quickly, within a week or two, with troop withdrawal and everything, or there will be an attempt to scrape together some, say, Syrians for a round two and, when we grind them too, an agreement by mid-April or late April," Arestovich said.
Arestovich also said that Moscow might decide to send freshly trained conscripts to the war zone. But the government adviser said that even if these newly trained troops are sent over to Ukraine in early May, the war would still end by mid-May.
He also said that the war could still be ended through negotiations.
Arestovich is not personally involved in the ongoing diplomatic talks between Ukraine and Russia, which will continue on Tuesday. Despite four rounds of talks, Ukrainian and Russian officials have not made any significant progress in ending the conflict.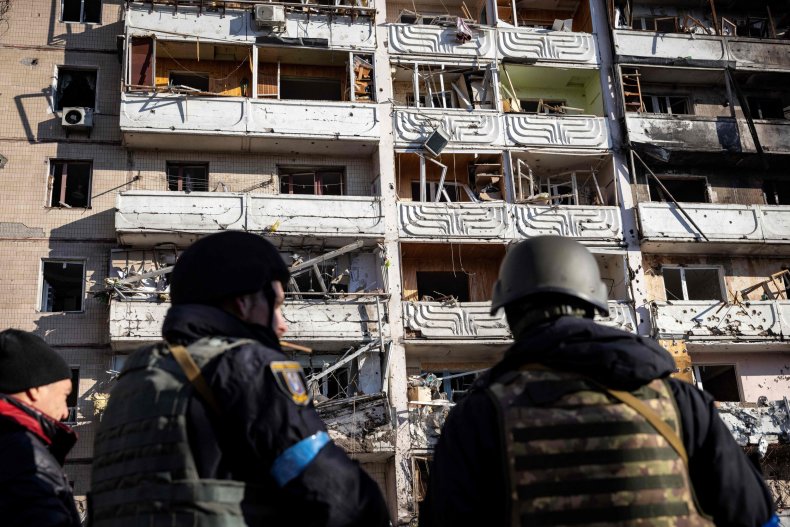 The situation in Ukraine is getting even more dire for those who have remained in the country.
After days of fighting in the suburbs of Kyiv, on Tuesday the capital woke up to the sound of explosions. At least two people were killed by shelling at the time this article was written, according to Ukraine's emergency service, after strikes hit apartment buildings in Kyiv.
Russian President Vladimir Putin might be well aware that he's running out of resources to continue his attack on Ukraine, Arestovich said, but it would appear that he's already working on a solution.
U.S. officials revealed that Moscow has asked Beijing for military equipment to support its invasion of Ukraine and economic assistance to keep the sanction-stricken country afloat. China might already have decided to back Russia, U.S. officials now fear.
Russia and China have both denied such a request for help from Moscow to Beijing ever existed. Emergency talks in Rome on Monday between U.S. national security adviser Jake Sullivan and his Chinese counterpart Yang Jiechi didn't achieve any more clarity on the situation.
Meanwhile in Ukraine, President Volodymyr Zelensky is trying to speak directly to the frustration and discouragement Russian troops might be feeling.
In his latest video address, Zelensky called for Russian soldiers to "surrender" to Ukrainian forces to be given a chance to survive, promising they would be treated with dignity, "the way your army doesn't treat our people."
Follow our live blog for updates on the Russia-Ukraine conflict.