Ukraine's New Comedian President Was 'Obvious' Choice, Says Russia
Russian President Vladimir Putin's spokesperson Dmitry Peskov responded Monday to the outcome of Ukraine's election, which saw comedian and actor Volodymyr Zelensky beat incumbent Petro Poroshenko to become the former Soviet Union nation's president.
"Moscow respects the choice of Ukrainian people," Peskov said, asserting that "this choice" of electing Zelensky "is rather obvious," according to Russia's Tass news agency. The Kremlin spokesperson said that "it will only be possible to judge [Zelensky] by his actions.
"It is too early to talk about President Putin's offering his congratulations to Zelensky, as well as speaking about the possibilities of working together," Peskov continued.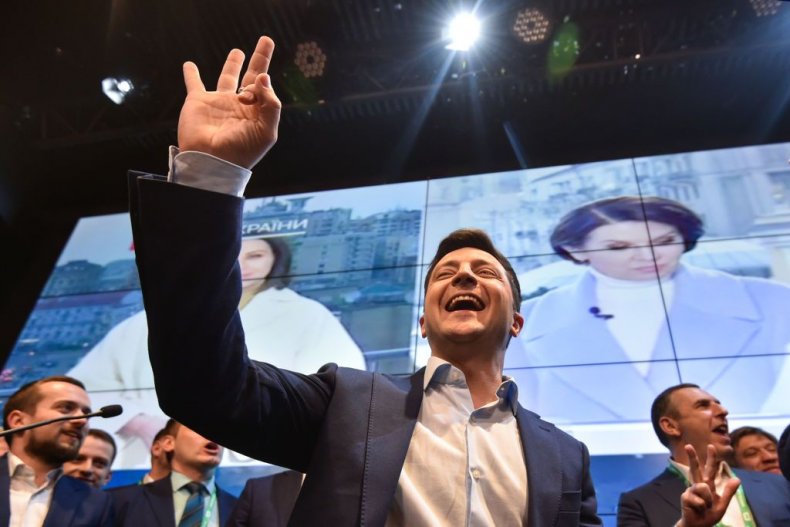 Zelensky, 41, won in a landslide victory after a runoff on Sunday against incumbent President Petro Poroshenko, who has served as Ukraine's head of state since 2014. With nearly 100 percent of the votes counted, Zelensky took about 73 percent of the votes compared with Poroshenko's approximately 24 percent. Although Zelensky, who has played the president on a popular Ukrainian television show, lacked any previous political experience, he drew support for his popular message to tackle corruption.
"I will never let you down," the comedian turned politician vowed in his victory speech.
The new president, who will take office in May, comes to power as tensions remain high between his country and Russia. The former Soviet Union nation has been embroiled in a military conflict with Russian-backed separatist rebels since 2014, after a popular revolution ousted former pro-Kremlin President Viktor Yanukovych. Separatists in Crimea and other regions of Ukraine have been in open rebellion against Kiev ever since, preferring to maintain close ties with Russia. Putin moved quickly to annex the strategic Crimean region in 2014; a move that drew international condemnation and led Western nations to implement sanctions against Moscow.
Brian Taylor, a professor of political science at Syracuse University and an expert on Russia, told Newsweek that he believes the situation between the two countries will not change significantly with Zelensky's election. "First of all, he hasn't articulated a clear road map for his plans as president with respect to the conflict," Taylor explained.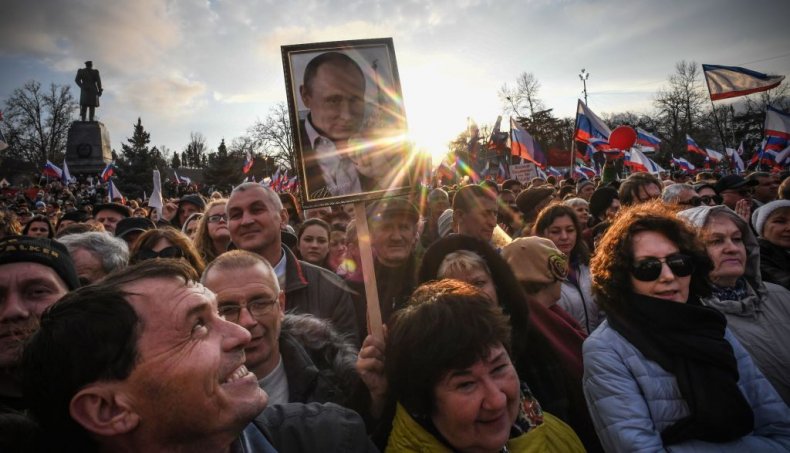 "This conflict has been frozen for the last four years, and it seems unlikely that they're going to come up with a new format that will resolve the issue once and for all," he said. Taylor also explained that Russia does not have the "motivation to radically change their policy at the moment." While Moscow aims to keep the Eastern European nation within its orbit, it doesn't seem to have a "clear policy" to achieve that goal.
"I think that Russia will probably wait and see for a while to see what Zelensky does," he said.
Ekaterina Zolotova, Geopolitical Futures' Moscow-based analyst, also told Newsweek that the Russia-Ukraine relationship would remain largely the same for the time being.
"We do not see that the first year of Zelensky's presidential term can have a significant impact on relations between Ukraine and Russia," she said, pointing out that upcoming parliamentary elections could have a greater influence on the two countries' relationship. For now, she said "there will be less hostile rhetoric, but no significant decisions should be expected."
Taylor said, however, that Zelensky's victory signals that Democracy is working in the former Soviet Union country.
"Certainly the fact that Ukraine has, on three separate occasions since the Soviet Union collapsed, had a president lose an election, accept the results and step down and transfer power to a successor, is a positive sign," he said. "Something that is in stark contrast to what we've seen in Russia."