Ukraine Reveals When Counteroffensive Against Russia Will Begin
Ukraine has revealed when its counter-offensive against Russia in the nearly year-long war will begin.
Anton Gerashchenko, an adviser to Ukraine's minister of internal affairs, laid out a potential timeline in an interview with Newsweek, shortly after Ukrainian officials and Western officials discussed a planned spring counter-offensive by Kyiv.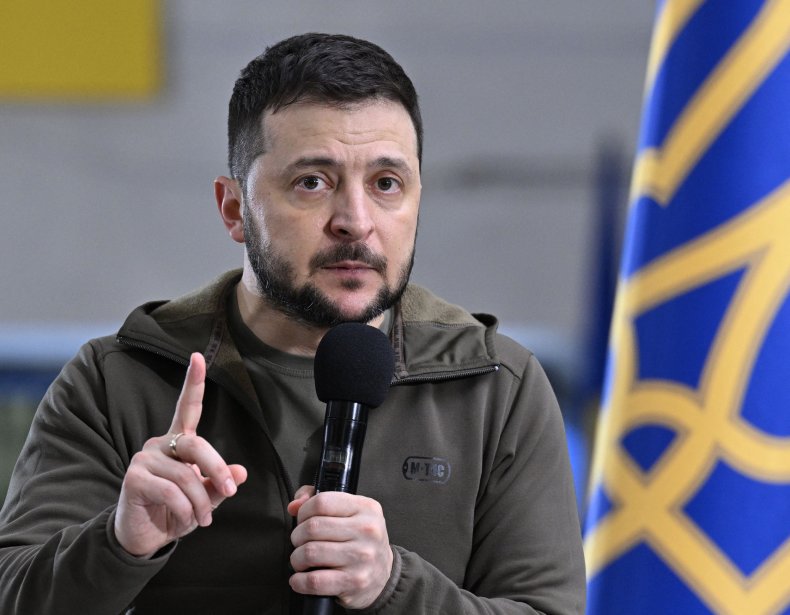 Kyiv's Ambassador to the U.K., Vadym Prystaiko, said on February 15 that NATO nations are training Ukraine's troops abroad for a planned spring counter-offensive by Kyiv, teaching them skills to use against Russian troops.
A day earlier, Defense Secretary Lloyd Austin told reporters that the Ukraine Defense Contact Group, an alliance of 54 countries supporting the defense of Ukraine in response to Russia's full-scale invasion, would help Kyiv "hold and advance during the spring counter-offensive."
Gerashchenko told Newsweek that Russia's own offensive has already begun in Ukraine.
"[A] Russian offensive is ongoing—they are attacking us and we have seen that combat intensified on several parts of the frontlines," he said.
Ukraine is "waiting for the supplies of Western equipment to start our own counteroffensive," Gerashchenko said.
Both the U.S. and Germany announced on January 25 that they would send a number of M1 Abrams and Leopard 2 main battle tanks to Ukraine. The U.K. has also said it would send 14 of its Challenger 2 main battle tanks to Kyiv.
Denmark, Germany and the Netherlands have agreed to send Ukraine up to 178 older Leopard 1A5 tanks that were largely manufactured during the Cold War and were not in use.
In total, Kyiv is expecting its allies to provide up to 320 Western tanks. However, The Times of London reported Sunday that barely 50 will arrive at the front lines in Ukraine by the start of April.
Tanks aside, last month, the U.S., France and Germany pledged to send Ukraine scores of new armored infantry fighting vehicles—Bradley, AMX-10 RC and Marder, respectively.
Germany also announced it would provide Ukraine with a U.S.-made Patriot surface-to-air missile platform. The U.S. donated Ukraine its first Patriot system, and Ukrainian operators are being trained to use the system.
Geraschenko also said his country needs hundreds of thousands of combat drones to assist in its grueling fight against Russia.
"They are the super weapon here," he said. "We will win faster and with fewer losses if we have tens of thousands, hundreds of thousands of reconnaissance and combat drones."
"Weapons are the only thing Russia understands. So, weapon supplies, ammunition supplies, training Ukrainian military are the base to de-occupy our territories and stopping the war," the official said.
"We need combat aviation which has been discussed a lot recently. And also, as I say often—this war is a war of drones, they are the super weapon here."
Drones, Gerashchenko pointed out, cost "much less" than tanks and allow Ukraine to destroy Russian forces "at large distances without entering direct combat contact."
He added, "This allows to save lives of our defenders."
Gerashchenko's remarks come amid an anticipated fresh onslaught by Russia this spring.
"We suppose that Belarus will not join the war—but if that happens, we will respond and will fight," he said, responding to a question about what Ukraine is expecting in the coming months.
"Ukrainian military leadership is aware of the enemy's plans and is preparing accordingly. They are working together with our allies to ensure the Ukrainian Army has enough weapons and ammunition. Ukrainian Army is able to withstand the push of the Russian army," he added.
Do you have a tip on a world news story that Newsweek should be covering? Do you have a question about the Russia-Ukraine war? Let us know via worldnews@newsweek.com.