Biden and Putin Face Off in Major Ukraine Speeches
Presidents Joe Biden and Vladimir Putin will today detail very different views of Russia's ongoing invasion of Ukraine, as the full-scale conflict approaches its one-year anniversary with fighting set to grow more intense before any peace deal can be reached.
Fresh off his surprise visit to Kyiv on Monday, Biden will deliver a speech in Poland, which is where last year he said that his Russian counterpart cannot "remain in power." In Moscow, Putin will give his annual state-of-the-nation speech in which the president will address the national parliament.
Putin has not done so since April 2021, making this year's event all the more notable. Both houses of parliament will hold unscheduled sessions—potentially to rubber stamp any major announcement Putin makes on Tuesday—the following day, when a large rally and concert will also take place.
The convergence of public events has prompted suggestions that Putin's Tuesday speech will include important announcements related to his war on Ukraine.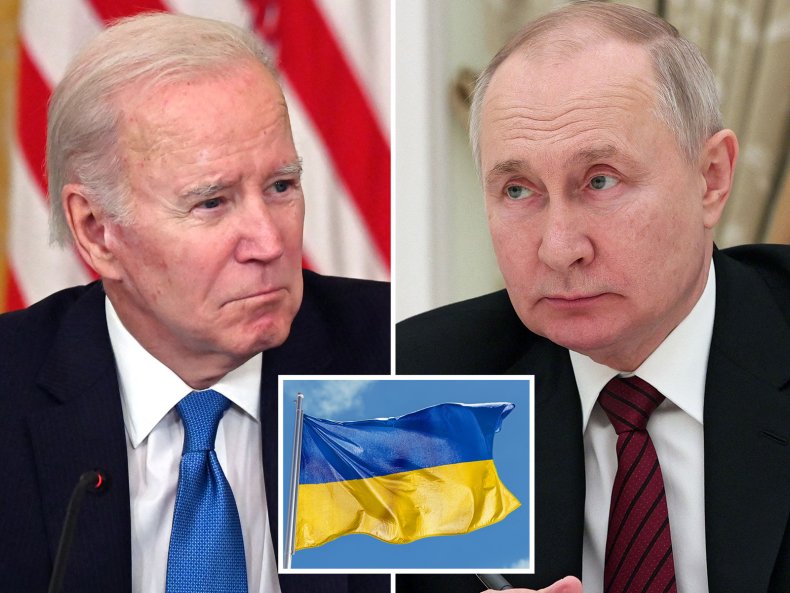 Biden's Poland Speech
White House Press Secretary Karine Jean-Pierre told reporters last week that Biden is planning to deliver "a strong message of solidarity" with his visit to Poland, which will "reaffirm" American backing for Ukraine and its NATO allies along Russian frontiers.
"It's important to show our partnership and…that we are indeed supporting our NATO allies," Jean-Pierre said. "We're going to show that it is important to be there when a country is fighting for their democracy, fighting for their sovereignty. And that's what you're going to see from the president."
"And, of course, anytime the President speaks…he's, of course, speaking as well to the American people," she added.
Biden is expected to note NATO's reinforcement of its eastern flank over the past year, which has included the deployment of thousands of additional American troops to central and eastern Europe.
Biden will speak in Warsaw a day after walking the streets of Kyiv with Ukrainian President Volodymyr Zelensky, in a surprise visit that saw the announcement of a new $500 million arms package for Ukraine.
"One year later, Kyiv stands. And Ukraine stands. Democracy stands," Biden said Monday alongside Zelensky. "The Americans stand with you and the world stands with you."
Zelensky hailed the trip as the "most important visit" in the history of bilateral relations, while other prominent Ukrainian officials and lawmakers said the surprise event was a clear message of U.S. intentions for Kyiv to emerge victorious from eight years of open conflict with Moscow.
Biden is not expected to make any significant announcements on new weapons for Ukraine in his Warsaw address. Rather, negotiations with Kyiv and within NATO are ongoing about the eventual supply of main battle tanks, and the proposed provision of fighter jets and longer-range strike capabilities.
Putin's Moscow Address
The Russian president is expected to regurgitate his long list of historic grievances with Western and Ukrainian conduct, and frame the conflict as a defensive war against NATO rather than the Kremlin's latest bout of revanchist aggression against its neighbors.
Kremlin spokesperson Dmitry Peskov told reporters that the "current situation" in Ukraine will be one of the main themes of the address, though a detailed run-down of the speech will not be made public beforehand.
"Our entire life spins around the special op issue," Peskov said according to the state-run Tass news agency, a reference to what Moscow terms its "special military operation" in Ukraine. "Therefore, of course, it would be reasonable to expect that the president will pay a lot of attention to the operation."
Peskov added: "Everyone is waiting for the address, hoping to hear the assessment of the affairs, the assessment of the special military operation, the assessment of the international situation and the president's vision of how we manage it and how we will develop in the future."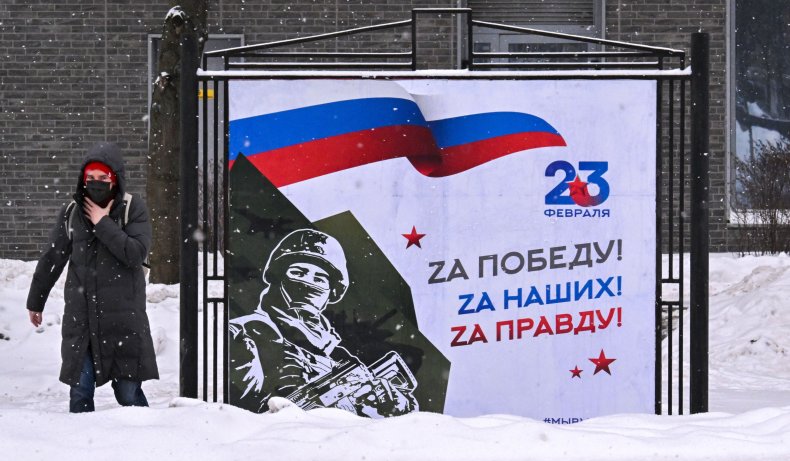 Putin will see Biden's Kyiv visit as further evidence that Moscow is battling the full might of the NATO alliance, which for decades Russians have considered an existential threat and a plot to surround and smother the country into submission.
Observers will be on the lookout for signs of further escalation: new waves of mobilization; an official declaration of war; fresh threats against Moldova, the Baltic states, the Nordic nations, or Georgia; any indication that Belarusian troops might soon enter the fray; and nuclear brinkmanship.
The coming days might also see new laws regarding the partially occupied Ukrainian regions Moscow claimed to have annexed in September. The Kremlin has said no peace deal is possible without recognition of its control of Ukraine's Zaporizhzhia, Kherson, Donetsk, and Luhansk oblasts, and Putin may seek to tie the regions closer to Moscow before Ukraine's coming spring counter-offensive.
The president may also be looking to other Russian-occupied disputed regions—Transnistria in Moldova, plus South Ossetia and Abkhazia in Georgia—to apply further pressure to his adversaries and broaden his war.
Putin badly needs a win after a year of disappointment and humiliation. Russia's spring offensive appears to be underway, though few experts believe Moscow can soon capture the rest of Donetsk and Luhansk oblasts in the east of Ukraine, or collapse the Ukrainian military through its costly attritional strategy.
The British defense ministry has suggested that political pressure may prompt Putin to claim the capture of the Donetsk city of Bakhmut, where for months Russian regular and mercenary troops have proved unable to break the Ukrainian defense at high cost to both sides.
There is no sign that Putin is looking for a way out. Russia is pivoting to a wartime economy, any hint of dissent has been suppressed, the military is being lionized and mobilization continues.
If Putin intends to outlast the West, as many analysts have suggested, Tuesday's speech will reflect his long-term vision and include patriotic appeals for national unity.
The president is also likely to laud Russia's economic strength in the face of the ever-expanding Western sanctions campaign, and tying any related hardships to eventual Russian victory.